The preliminary results of the nationwide 2021 Updating of the List of Establishments (ULE) showed that more than 1.08 million establishments were in operation and generated 8.57 million total employment during the reference year.
Compared to the results of the 2018 ULE, the number of establishments increased by 7.7 percent while total employment declined by -5.2 percent.
The 2021 ULE was conducted generally to update the status and characteristics of establishments in the Philippine Statistics Authority's (PSA) List of Establishments (LE) and to provide information on the distribution of establishments and employment across areas and industries. The LE serves as the source of sampling frame for all establishment-based surveys and censuses conducted by the PSA.
Table A. Summary of Results of the 2021 ULE(p)
The National Capital Region (NCR) remained as the hub of business and industry with 201,080 establishments comprising 18.6 percent of the total number of establishments in 2021. More than one-third (33.6%) of the total employment was generated by these establishments.
Next to NCR are two adjacent regions, CALABARZON, and Central Luzon, with 160,056 (14.8%) and 137,528 thousand (12.7%) establishments, respectively. CALABARZON and Central Luzon also generated the next highest employments with 1.30 million and 0.84 million, respectively.
Figure 1. Total Number of Establishments In Operation by Region: 2021(p)
(In Thousand)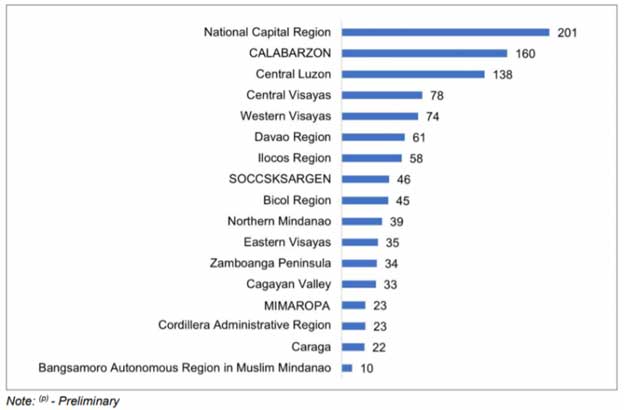 Almost half (49.9%) of the total number of establishments in operation are engaged in Wholesale and Retail Trade; Repair of Motor Vehicles and Motorcycles (Industry Section G) with more than 539,741 establishments which also generated the highest employment of 2.4 million in 2021.
Establishments with total employment of 1 to 9 (Micro) dominated the count of establishments with 977,670 comprising 90.5 percent.
The combined count of establishments with 10 to 99 (Small), 100 to 199 (Medium), and 200 and over (Large) total employment was only 102,968 or 9.5 percent of the total establishments in operation by MSME.
Of the total 1.08 million establishments which are in operation, 478,576 were newly listed in the LE. Almost half (47.8%) of these newly listed establishments started operation in 2020 and 2021, with 111,944 and 116,919 establishments, respectively. The total employment generated by these newly listed establishments was 2.20 million or 25.6 percent of the total employment of all establishments which operated in 2021.
The nationwide 2021 ULE operation captured 259,707 establishments with permanently closed status, majority of these establishments (53.5%) ceased operation within 2020 to 2021.
On the other hand, there were 56,971 establishments captured with temporarily stopped operation status. The combined total employment displaced due to permanent closure and temporary stoppage of operation was 1.47 million.