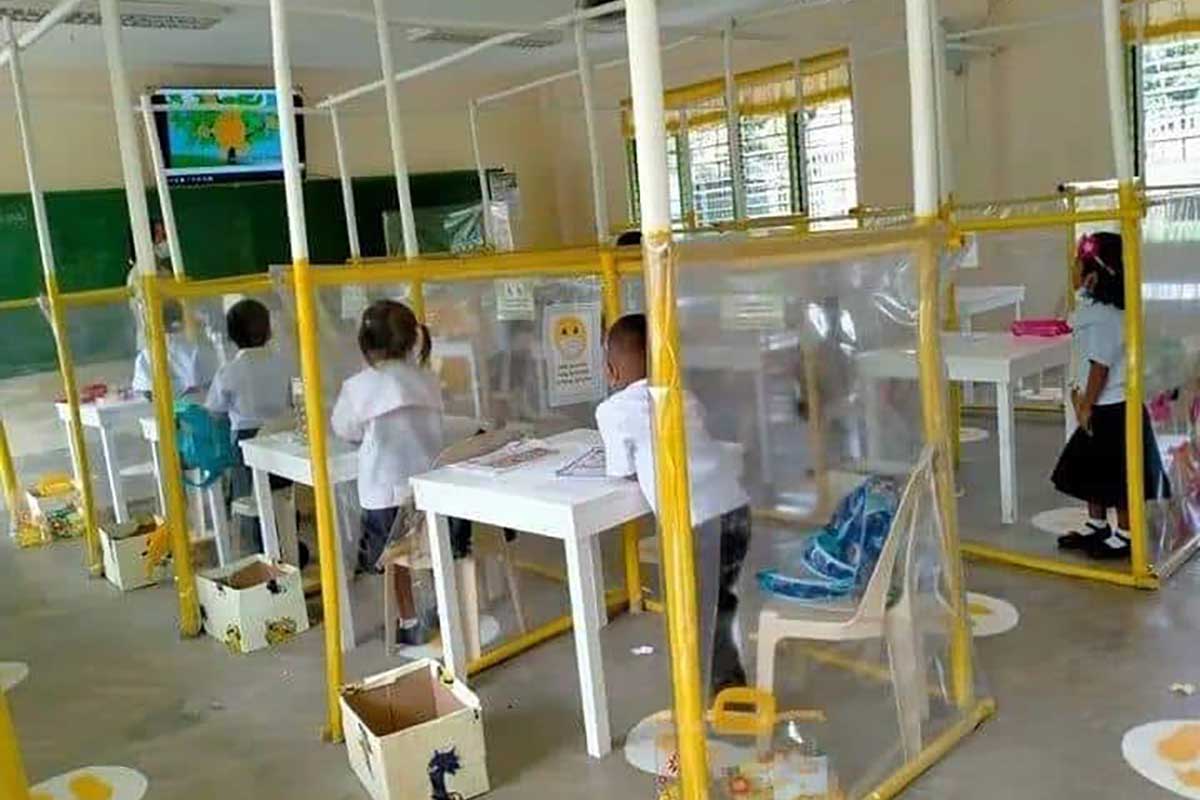 By Dolly Yasa, Glazyl Y. Masculino, and Felipe V. Celino
BACOLOD City – Eleven elementary and secondary schools in Negros Occidental and Bacolod City will hold face-to-face classes today, Dec 6, 2021, according to the Department of Education (DepEd).
They are part of the 17 schools in Western Visayas that will hold physical classes almost two years after the COVID-19 pandemic broke out.
Marsette Sabbaluca, Negros Occidental Schools Division superintendent, said the schools passed the safety assessment conducted by both DepEd and the Department of Health (DOH).
The Negros Occidental schools include
-Hiyang Hiyang Elementary School in Cadiz City;
-Mabini Elementary School in Escalante City;
-Raymundo T. Tongson National High School in Himamaylan City;
-Valladolid National High School in the town of Valladolid;
-Aguntilang Elementary School in the town of Isabela;
-Colinia Divina Integrated School in Sagay City;
-Don Carlos Ledesma National High School in San Carlos City;
-Patag Diotay Elementary School in Silay City;
-Mauboy Elementary School in Sipalay City; and
-Victorias National High School in Victorias City.
Alangilan National High School at Barangay Alangilan, Bacolod City will also hold physical classes.
A total of 177 schools selected by the DepEd were selected for the pilot face-to-face classes, on top of the 118 schools which already began face-to-face classes last month.
According to DepEd, the assessment period for the initial run of pilot face-to-face classes runs until Dec 22. The pilot study is set to end on Jan 31, 2022.
Ian Arnold Arnaez, spokesperson of DepEd-Negros Occidental, said the schools were 100-percent ready for the face-to-face classes, although he noted that some schools have limited resources.
What's fortunate was that other nearby schools which have yet to hold the face-to-face classes extended help to fill in the gaps.
Arnaez said that they tapped the Barangay Health Emergency Response Teams (BHERTS) and barangay watchmen to ensure that the health and safety protocols will be observed.
Arnaez said they will prioritize the students and pupils who are residing near the schools to avoid exposure to the virus when taking public transport.
He, however, said that it would be better if barangays or the local government units (LGUs) can provide transport vehicle for the students.
Only 12 pupils per classroom will be allowed for the kindergarten to Grade 4, while 20 students will be allowed in a lecture room and 12 students in the laboratory for senior highs school (Grade 11 and 12), Arnaez said.
Group works are prohibited in the meantime.
Arnaez also said that teachers will only be allowed to conduct four and a half hours of classes in a week.
After which, the blended learning system will be implemented the following week.
"Daw alternate siya to give way for the disinfection of the school," he said.
He said teachers were also advised to conduct psychosocial support for students to guide and check their mental health, considering that children were isolated at their homes for a long time.
"Ma kamustahan gid sila anay before they begin the classes, kay basi ang iban wala mayo social interaction outside their homes," he said.
He said that students who are not covered of the face-to-face classes will continue with their modules at home.
Meanwhile, Arnaez said he could not speak for the other schools since they are under different schools division.
Meanwhile, the Roxas City Schools Division announced that Olotayan Integrated School in the island village of Olotayan will also start holding face-to-face classes today.
Dr. Feliciano Buenafe, City Schools Division superintendent, confirmed the information Saturday following a meeting called by the Deped regional office.
Buenafe said they are ready for the face-to-face classes with the establishment of a wash area for the students and temperature check measures. The school clinic is also ready.
He clarified that blended learning is still in effect as face-to-face classes will only be held on certain days.
Parents may or may not allow their children to attend school classes.