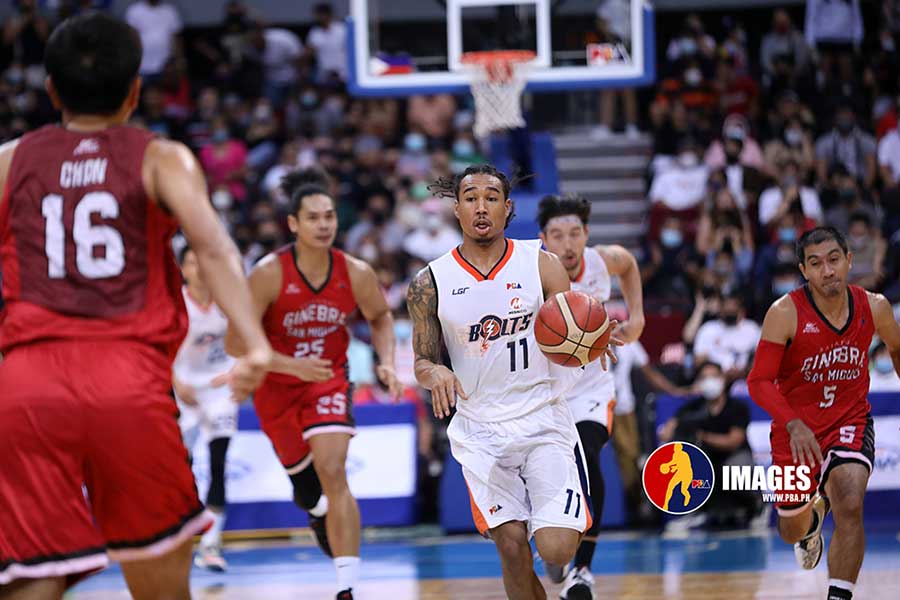 By Leobert Julian A. de la Peña
After six long years, the Meralco Bolts finally decoded the Barangay Ginebra San Miguel in a playoff series.
Desperate to pull off the much-needed win, Meralco survived a gutsy Ginebra run in the final canto and booted them out of the 2022 PBA Philippine Cup, 106-104, during their do-or-die quarterfinal duel.
The Bolts were locked in from the get-go after immediately establishing a 21-point lead led by their balanced offensive attack.
Every time the Gin Kings started to execute their post plays for Japeth Aguilar and Christian Standhardinger, the Bolts countered quickly with their speed advantage and ran the break to avoid any defensive setups that became the story of the game.
Chris Newsome had another strong showing and dropped a clutch triple-double outing with 21 points, 12 assists, 10 rebounds, and two steals.
However, Meralco had to survive a near meltdown in the last 12 minutes of the ball game after the Gin Kings weathered the storm and erased their 21-point lead.
All hell broke loose in the fourth and final period of the rubber match after Ginebra trimmed Meralco's lead to just single digits and unleashed another "never-say-die" spirit.
Standardinger sank a big basket with five minutes remaining in the game that put the Gin Kings within a point, 97-96.
Determined to provide a cushion in the winning stretch of the game, Newsome took matters into his own hands and extended their lead to five points after drilling a shifty fade-away jumper in the right baseline.
The see-saw battle didn't end until the last minute that saw two hungry teams trade shots. With 1:13 remaining and Ginebra down by two points, veteran point guard LA Tenorio buried a clutch trey that put them ahead by one point, 103-104.
Meralco kept their cool and executed one last offensive scheme to save their franchise and finally break the 0-6 Ginebra curse.
Raymond Almazan, Meralco's top defensive star manning the paint, quickly answered the Tenorio shot and converted a wide-open three-pointer, helping the Bolts regain the lead and punch their first-ever playoffs win against Ginebra.