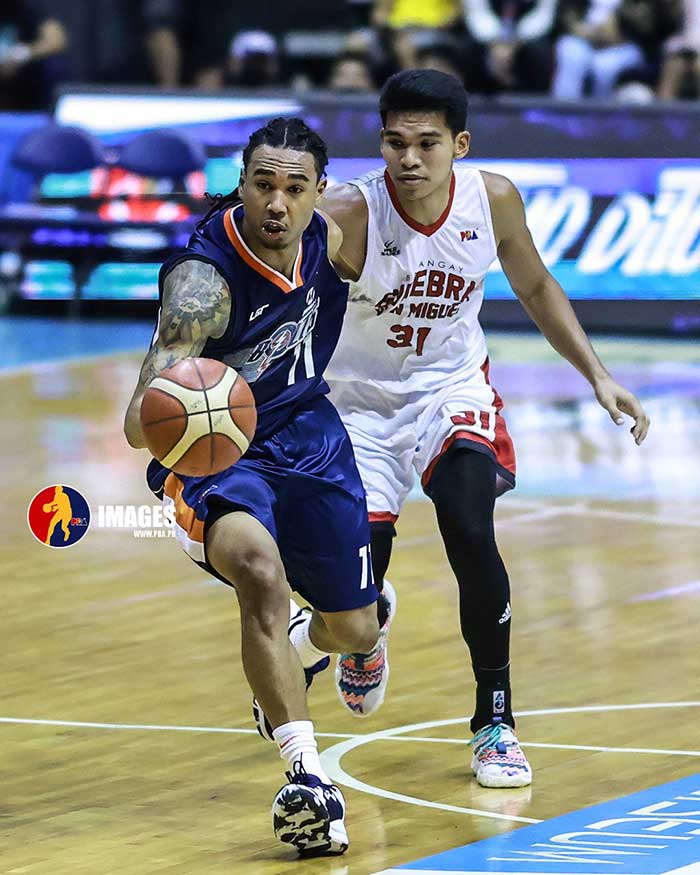 By Leobert Julian A. de la Peña
The Meralco Bolts' hunt for a higher playoff spot is still on track after crushing rival team Barangay Ginebra San Miguel, 90-73, and are now winners of two straight games in the ongoing 2022 PBA Philippine Cup.
It was a high-octane offensive display for the Meralco Bolts after immediately catching fire in the first half, outscoring Ginebra 51-33 after the end of the first two quarters.
Ginebra did a good job keeping up with Meralco's scoring led by Christian Standhardinger and Stanley Pringle but once Allein Maliksi buried a wide-open three-pointer from the top of the key, the Bolts suddenly flipped the switch and ballooned their lead to eight, 24-16, after the first quarter.
The Bolts kept their offensive pace and took control of the game midway through the second quarter after scoring four three-pointers in just two minutes.
Ginebra retaliated with their own run after Nards Pinto scored on back-to-back possessions and LA Tenorio sinking a stop-and-pop trey to cut Meralco's lead, 32-26, but another Bolts counter run overwhelmed the Gin Kings that opened up another double-digit hole.
The Gin Kings were on the verge of a near comeback after cutting Meralco's lead to just 11 points with six minutes remaining in the third quarter but a huge Chris Banchero trey halted the Bolts' scoring drought.
After the Banchero trey, things began to crumble in the Ginebra side after failing to cut Meralco's lead to single digits until the fourth quarter.
"It was nice to see multiple guys chip in from our team. The last game against Rain or Shine the first group played well, the second group needed improvement and we talked about that," said Meralco assistant coach Luigi Trillo.
Chris Newsome and Banchero led the way for Meralco after chipping in 17 points each while the hardworking Cliff Hodge filled the stat sheets with 14 points, eight rebounds, four blocks, and two steals.
Meanwhile, the struggling Ginebra got 14 points from reigning Most Valuable Player (MVP) Scottie Thompson but wasn't enough to prevent his team's second-straight blowout loss.