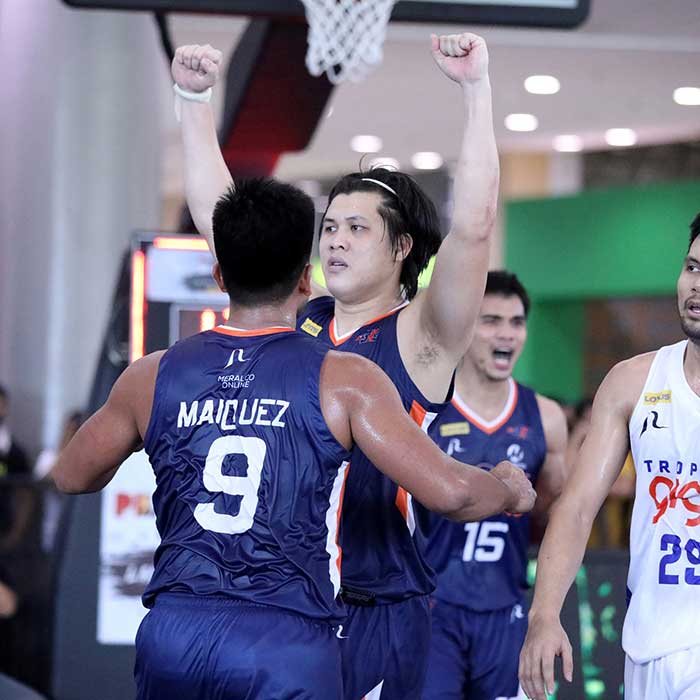 By Leobert Julian A. de la Peña
The Meralco Bolts' squad gave their all and did the unexpected after completing their grand-finals comeback against Cavitex in overtime, 18-17, to grab the PBA 3×3 Leg 2 third conference championship title.
Marching into battle with a banged-up team, the trio of Dexter Maiquez, Alfred Batino, and Joseph Sedurifa showed heart and rallied from an 11-16 deficit to force an extra period and win in emphatic fashion.
The Bolts faced Cavitex without solid scorer Maclean Sabellina who injured his knee during their semifinals stint.
Also, a big blow was dealt to Meralco as veteran leader and super-scorer Tonino Gonzaga wasn't at 100 % due to a separate injury and could only watch his teammates battle.
Cavitex was on the verge of raising the Leg 2 third conference championship title after Bong Galanza's conversion, but Maiquez's never-say-die attitude propelled them to the title after hoisting the game-winning two-point shot.
It was a courageous run for the Bolts after trailing for most of the game but Sedurifa's back-to-back long shots and Batino's score in the paint sparked the Meralco offense to tie the game at 16-all.
The overtime period was a nip-and-tuck affair as both teams could not gain full control and establish their desired rhythm until Maiquez's game-winning shot.
Meralco's championship is already their third in three conferences and are looking to win more and add another 100,000 pesos to their bag.
Meanwhile, for the PBA 3×3 battle for third, the Barangay Ginebra San Miguel edged Terrafirma, 20-19 off Denice Villamor's game-winning jump shot.