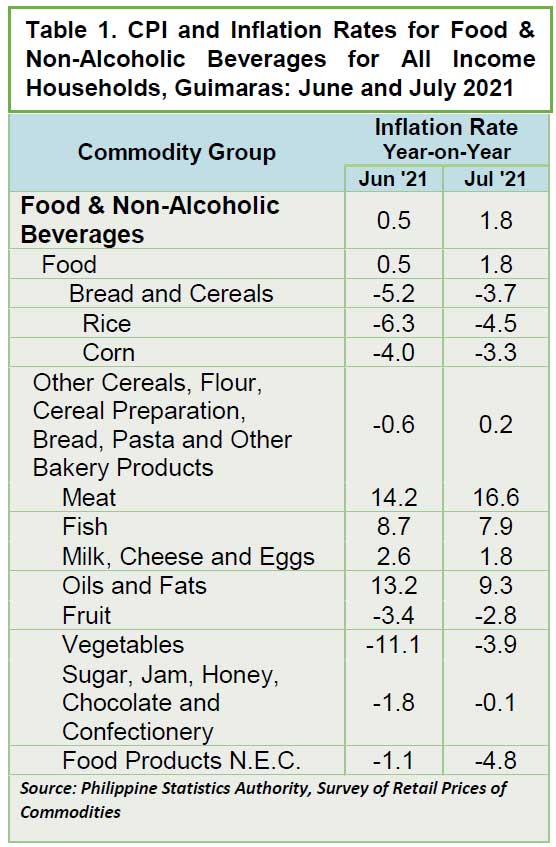 Food inflation, or the annual rate of change in the prices of food commodities, in Guimaras climbed to 1.8% in July 2021.
Last month's inflation is faster than the 0.5% inflation in June 2021, due to quicker increments on the prices of five food commodity groups led by meat (16.6%) and fish (7.8%).
Other food groups that contributed to the 1.3-percentage points increase in July 2021 were: Oils and Fats (9.3%), Milk, Cheese, and Eggs (1.8%), and Other Cereals, Flour, Cereal Preparation, Bread, Pasta and Other Bakery Products (0.2%).
Five food commodity groups managed to deflate price changes in July 2021 relative to the same month a year ago: Bread and cereals (–3.7%), Fruits (–2.8%), Vegetables, (–3.9%), Sugar, Jam, Honey, Chocolate and Confectionery, (–0.1%), and Food Products N.E.C (–4.8%).
"The annual inflation in July 2021 was much slower than the 2.3% recorded in July 2020, the fastest annual rate of change for the past 13 months," Provincial Statistics Officer Nelida B. Losare said.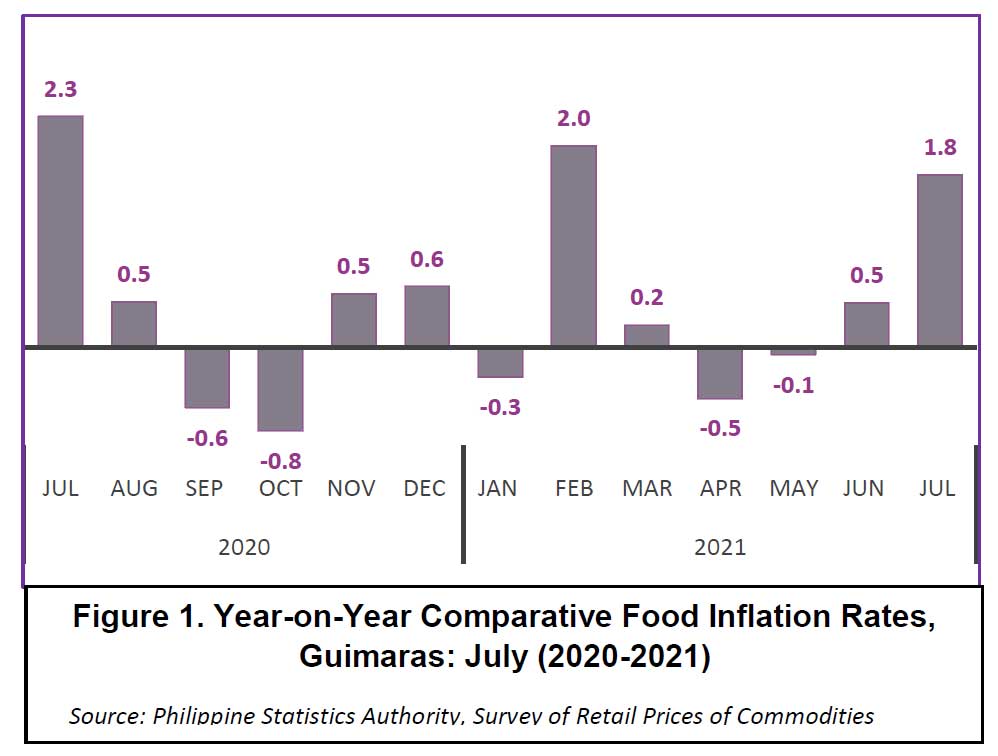 Comparing Inflation trends or price movements for 13 months, July 2020 posted a swifter rate of change at 2.3%.
"From July 2020, inflation continued to drop for three consecutive months until it reached its slowest rate at –0.8% in October 2020 but, inflation picked up to 0.5% and 0.6% in November and December, respectively," Losare said.
In 2021, food inflation started at a slower pace of -0.3% in January, moved quicker in February reaching its peak at 2.0% before dropping again for three (3) consecutive months, diving to its slowest rate at –0.5% in April, then escalated again in June and July at 0.5% and 1.8%, respectively.
"The 1.8% inflation in July 2021 is the second-highest rate of change in the first seven months of 2021, next to 2.0 rate in February, and it was the third-fastest rate of price movements for 13 months," Losare said.