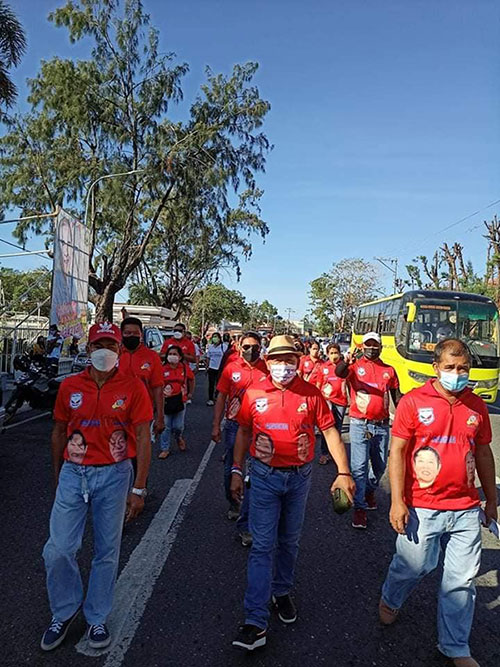 By Jennifer P. Rendon
A mayoral candidate running under Partido Federal ng Pilipinas was arrested inside his campaign headquarters at Barangay Gines, Miagao, Iloilo.
Police collared Anthony Ticorda, 52, a resident of Barangay Baybay Norte, Miag-ao, Iloilo, hours after he participated in a peace covenant signing along with other local candidates on Tuesday, February 15.
Members of Sara Police Station, together with personnel of the PNP Anti-Kidnapping Group and Miag-ao PNP, served to Ticorda an arrest warrant for six counts of estafa docketed as Criminal Case Numbers 9560-S, 9561-S, 9562-S, 9563-S 9564-S, and 9579-S.
Judge Gonzalo Espa of the 3rd Municipal Circuit Trial Court in Sara- Ajuy-Lemery issued the arrest warrant on Oct. 26, 2021.
Bail for his temporary liberty was P18,000 for each count.
Major Jose Nemias Pamplona, Sara police chief, said Ticorda was subsequently released after posting bail.
Six complainants filed the charges against Ticorda after he allegedly failed to fulfill their agreement to process the documents on some purchased lots.
Pamplona said that while Ticorda was an engineer, he reportedly acted as a broker to several properties sold in Sara town.
The complainants allegedly paid him to process the documents, but he did not deliver.
Ticorca has relatives in Sara but has been residing in Miagao.
He was also charged for estafa before, but he settled the cases.
Ticorda did not resist when he was arrested. Some of his party mates and supporters were present during his arrest.
He also told police that he would soon settle the case with the complainants.
On Wednesday morning, Ticorda went around the town proper to prove that he is still in the mayoral race.