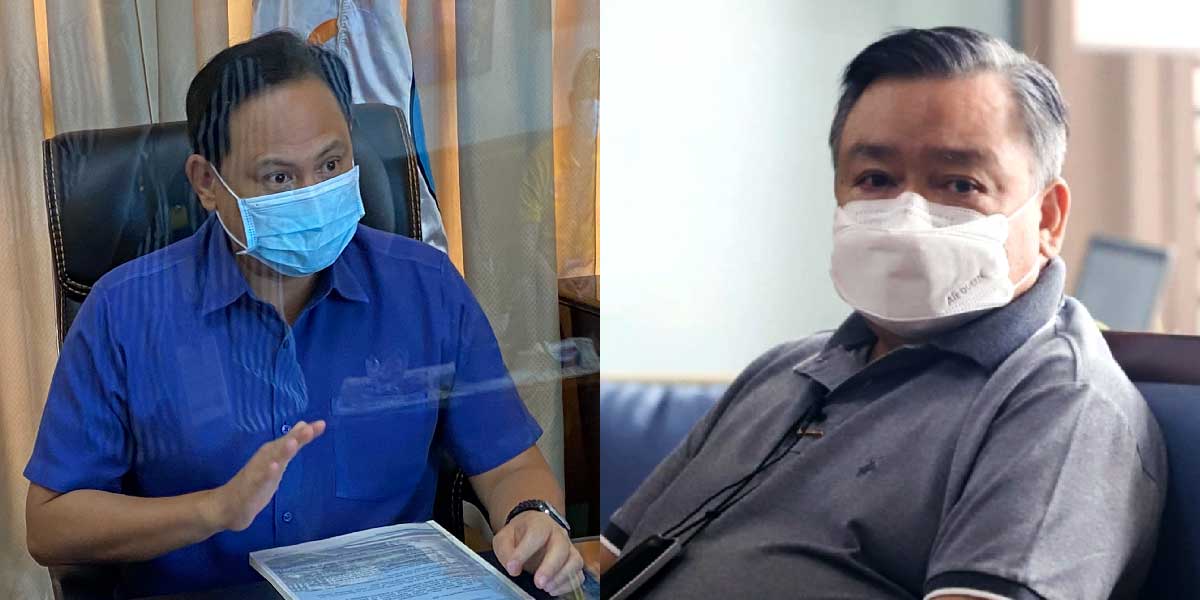 By Joseph B.A. Marzan
Iloilo City Mayor Jerry Treñas and Iloilo Gov. Arthur Defensor Jr. are sticking to their guns and keep supporting Vice President Leni Robredo's presidential even if their party, the National Unity Party (NUP) has officially endorsed her top rival, Ferdinand Marcos Jr., in the 2022 presidential elections.
Treñas, a top official of the NUP, said their party's decision will not affect his support for Robredo.
"I will still be supporting VP Leni," he said in a text message to Daily Guardian.
Even before NUP came out with its endorsement of Marcos, Treñas appeared in a campaign video of Robredo that was uploaded to the latter's YouTube channel Thursday morning.
"We found it very nice to have someone at the national level who was always around to help us. VP Leni is a sincere, dedicated, and well-qualified candidate for president. For me, she is the best candidate for president, who should be supported not only by Ilonggos, but by everyone in the country," Treñas said in the video.
Treñas is NUP's Vice President for Special Projects, according to the party's website, and one of Robredo's earliest local endorsers to come out in October 2021.
Iloilo Governor Arthur Defensor Jr., on the other hand, confirmed that he was at the NUP's gathering in Manila Wednesday evening where Marcos Jr. was invited to speak.
Defensor said in a press conference on Thursday afternoon that while the former senator was invited to speak during the party's event, NUP still respected his decision to endorse Robredo.
"Many [NUP] members support [Marcos Jr.]. I have come out and said that I support [Robredo] and Senator Kiko [Pangilinan]. I am very thankful that [the NUP] respected our decision in the same manner that they respected the decisions of other members of the party as well," the governor said.
The governor later told Daily Guardian in a phone interview that local NUP candidates in the province will also retain their support for Robredo.
Only one NUP candidate in Iloilo province has endorsed Marcos Jr. prior to the party's announcement, 1st district Rep. Janette Garin, who voiced her support last Feb. 24.
"We only have a few [NUP] candidates here [in Iloilo], and they can follow our lead. Our mayors [and other local NUP candidates] will follow our lead. Even the non-NUP mayors have also declared that they will support Vice President Leni Robredo," Defensor said.
Another NUP member, the governor's brother and Iloilo 3rd district Rep. Lorenz Defensor, told a radio station that he respects the party's decision and thanked them for likewise respecting his support for Robredo.
"We respect the decision of NUP to endorse [Marcos]. I am thankful to the NUP leadership for also respecting my decision to support VP Leni," he told them.
NUP Deputy Secretary-General Reginald Velasco said in a press release that they endorsed Marcos Jr. due to his "call for unity".
"BBM's [Marcos Jr.] call for unity as the basic strategy for economic recovery, amidst the continuing COVID-19 pandemic and global uncertainties, is consistent and supportive of the NUP's primary vision of 'one nation, one future' as enshrined in the party constitution," Velasco said.
Marcos Jr. has received support from other political bigwigs in Iloilo, with former 4th district representative and returning congressional candidate Ferjenel Biron as his provincial campaign manager.
Apart from Biron and Garin, Iloilo 5th district Rep. Raul Tupas also expressed his support for Marcos Jr.