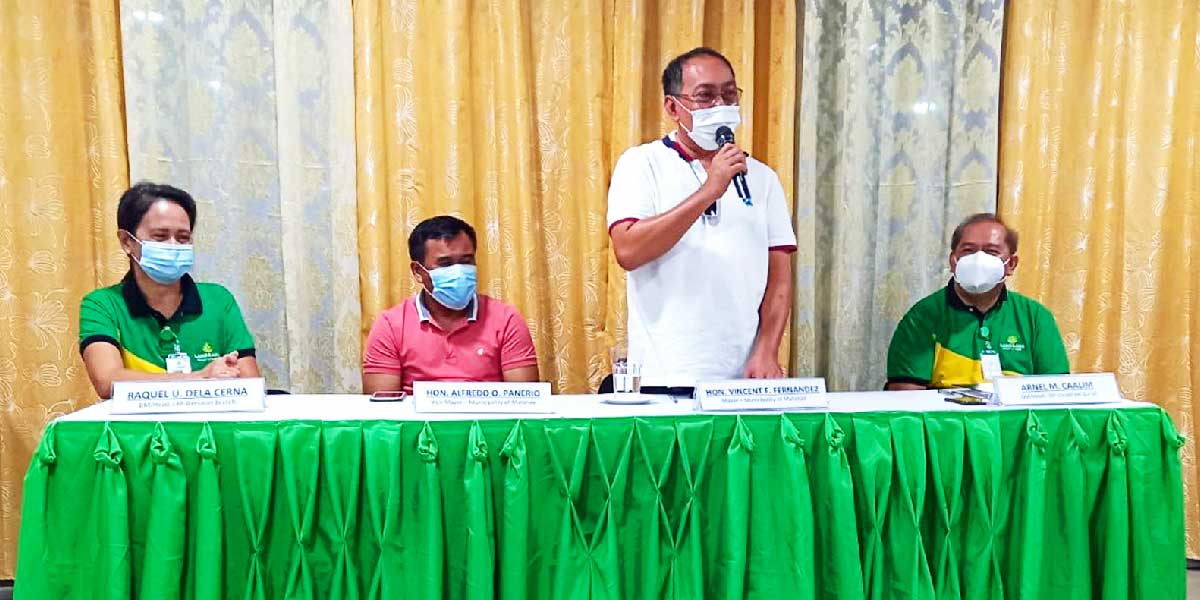 MATANAO, Davao del Sur – Recovery efforts of this 2nd class municipality against the ongoing health crisis, as well as natural calamities such as frequent earthquakes that rock the region, will receive crucial financial support from the Land Bank of the Philippines (LANDBANK) as the Municipality of Matanao signed six (6) term loans totaling P200 million on March 15, 2021.
The Matanao local government unit (LGU) availed of the financial recovery package under the RISE UP LGUs (Restoration and Invigoration Package for a Self-sufficient Economy towards UPgrowth for LGUs) Lending Program, designed to provide the necessary funding requirements of provincial, city, and municipal LGUs to revive their local economy and recover from the adverse impact of the COVID-19 pandemic.
"We continue to encourage our LGUs to utilize their borrowing capacity to bolster local healthcare services and economic recovery programs. The LANDBANK RISE UP LGUs Lending Program provides for responsive and accessible financing for these requirements," said LANDBANK President and CEO Cecilia C. Borromeo.
Part of the loan will be used by Matanao to bolster its healthcare services, which include maintenance of COVID-19 isolation and monitoring units, as well as temporary treatment facilities for residents suspected or have tested positive with the virus.
The loan will also replenish funds used by the LGU to procure food and medical supplies that are distributed to the poorest and most affected members of the community who are mostly engaged in rice farming and banana cultivation.
Under Republic Act No. 11494 or the "Bayanihan to Recover as One Act," loans availed by LGUs during this time for such purposes will receive an interest subsidy until December 31, 2022 or until the total P1-billion subsidy fund under the Act is fully utilized.
For his part, Matanao Mayor Vincent F. Fernandez said the LGU will strive to keep Matanao as one of the most competitive municipalities in the Davao Region.
"We are very thankful to LANDBANK for immediately responding to the urgent request of the LGU for assistance. Thank you for a decade of partnership. We hope that through this financial package with concessional terms, we can recover faster, not only from the damages brought about by the recent quakes, but also from this pandemic," said Mayor Fernandez.
He added that one of the term loans will be used to reconstruct the Municipal Hall building—previously financed by the Bank in 2013—after it was severely damaged by earthquakes in 2019 and rendered unusable.
Another term loan will be used to acquire heavy equipment for the ongoing development of road networks and other infrastructure prospects within the Municipality that will pave the way for the enhanced mobility of people and goods.
Moreover, the loan package will also fund the construction of a public market building that will benefit small farmers and fishers, as well as micro, small and medium enterprises (MSMEs).
Interested LGUs may contact the nearest open LANDBANK Lending Center or Branch nationwide, or call LANDBANK's customer service at (02) 8-405-7000 or at PLDT Domestic Toll Free 1-800-10-405-7000.
Updates are regularly posted on the official LANDBANK Facebook, Instagram and YouTube accounts (@landbankofficial), Twitter (@LBP_Official), and in Viber Community (@LANDBANK), or in the LANDBANK website (www.landbank.com).