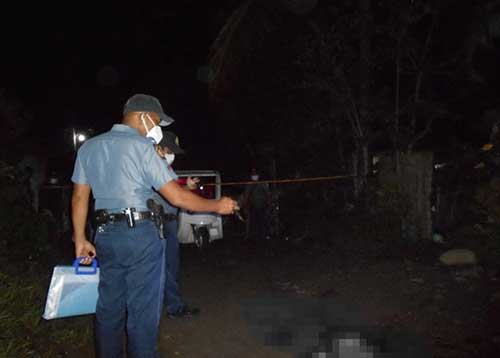 By Glazyl Y. Masculino
BACOLOD City – A misunderstanding due to drunkenness triggered a man to kill his neighbor at Purok Santan, Barangay Balabag, La Carlota City, Negros Occidental last Saturday.
Police identified the victim as Edmar Pasigado, 26, of the said village.
Lieutenant Colonel Lowell Garinganao, city police chief, said Pasigado and the suspect identified as Edilito Salazar, 29, were drinking liquor at the latter's house when a heated argument ensued between them.
Garinganao said the victim went home and later returned with a bolo. However, the suspect allegedly attacked the victim first.
Pasigado tried to evade the attack, but he was hit on his right hand. He was declared dead on arrival at a hospital.
"Naghagaray sila inom, pero naglalisay sila asta nagpukutay sila," Garinganao said.
Garinganao said the suspect was arrested in a pursuit operation in the said barangay.
Police also recovered the bladed weapon used in the incident.
Garinganao said they are waiting for the decision of the victim's family on the filing of charges against the suspect.