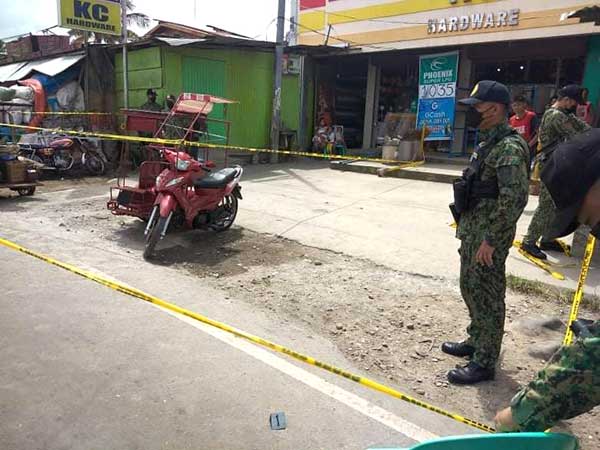 By Glazyl Y. Masculino
BACOLOD City – Police arrested two persons for the killing of a man in front of a hardware store at Barangay Ma-ao, Bago City, Negros Occidental last Monday.
Jonas Luhan, 30, of Barangay Bacong, allegedly shot Efraim Alinsoring, 30, of Barangay Binubuhan, in front of his wife and children, while Luhan's nephew – Renejon Flores, 20, of Barangay Bacong – drove the getaway motorcycle, according to Police Lieutenant Colonel Joem Malong, city police chief.
Prior to the killing, Luhan and Alinsoring's brother figured in an altercation over a parking space in front of the hardware, Malong said.
Luhan left and later returned to the area where he kicked Alinsoring's brother from behind, as shown in a closed-circuit television (CCTV) camera footage.
Alinsoring then allegedly punched Luhan, who fell to the ground.
Luhan then drew a gun and shot Alinsoring's abdomen at close range.
Malong said Luhan and Flores fled while the victim was declared dead on arrival at a hospital.
Malong said that the incident was witnessed by Alinsoring's wife and children who were sitting on a tricycle.
Police arrested Flores later in the evening while he was confined in a hospital here. It was learned that he got shot by a soldier who mistook him for a rebel assassin while they were escaping.
Malong said Luhan was arrested at his residence even before he sent surrender feelers to the Criminal Investigation and Detection Group (CIDG).
Malong said that Luhan refused to comment on the allegations against him while being detained at the police station.
Murder charges will be filed against the two suspects, according to Malong.