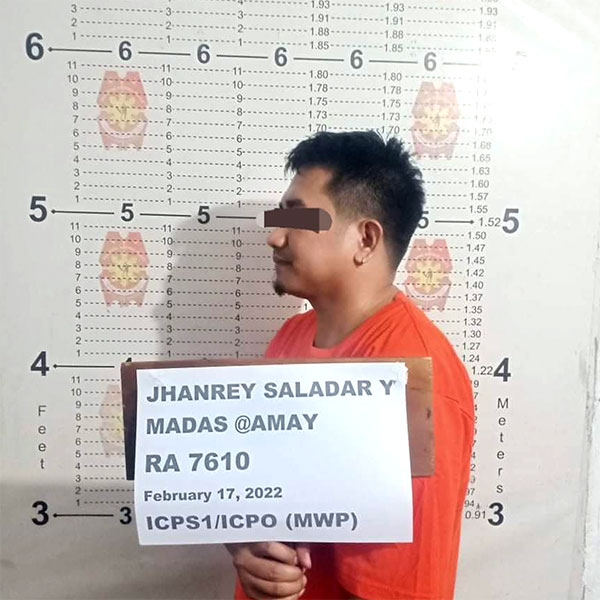 By Jennifer P. Rendon
A 32-year-old man was arrested for child-abuse charges evening of Feb 17, 2022 in City Proper, Iloilo City.
Jhanrey Mad Saladar, 32, a resident of Barangay Malipayon, City Proper district, was collared by members of the Iloilo City Police Station 1 for violation of Section 5 (B), Article II of Republic Act 7610 (Special Protection of Children Against Abuse, Exploitation and Discrimination Act) docketed as Criminal Case No. 22-87178.
Section 5 (b), Article III of RA 7610 (Child Prostitution and Other Sexual Abuse) provides that "Children, whether male or female, who for money, profit, or any other consideration or due to the coercion or influence of any adult, syndicate or group, indulge in sexual intercourse or lascivious conduct, are deemed to be children exploited in prostitution and other sexual abuse."
Judge Elijo Sharon Herrera-Bellones of the Regional Trial Court Branch 27 in Iloilo City issued the warrant of arrest on Feb. 17, 2022.
Bail for his temporary liberty was fixed at P200,000.
Major Shella Mae Sangrines, ICPS1 commander, said the charges against Saladar was booked with their station in January 2021.
The complainant, who was then 15 years old, claimed that the suspect fondled her genitals
while she was sleeping.
Saladar also allegedly forced her to take off her shorts and underwear then assaulted her.
The suspect is now detained at ICPS1 lock-up cell.