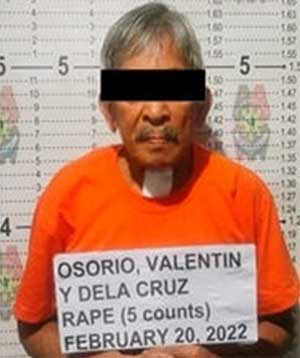 By Jennifer P. Rendon
A septuagenarian was arrested in Patnongon, Antique over accusations that he allegedly raped his own granddaughter.
Valentin Osorio, 77, was nabbed 6 p.m. of Feb 20, 2022 at his home in Barangay La Rioja, Patnongon.
Osorio is facing five counts of rape.
Judge Mario de Guzman Andres of the Regional Trial Court Branch 64 in San Jose, Antique issued the arrest warrant on Nov. 23, 2021.
No bail was set for his temporary liberty.
Osorio is listed as Patnongon town's second most wanted person.
According to reports, the suspect allegedly sexually molested his granddaughter between June 2009 and December 2009.
Osorio is now detained at the lock-up cell of Patnongon Municipal Police Station for proper disposition of his case.