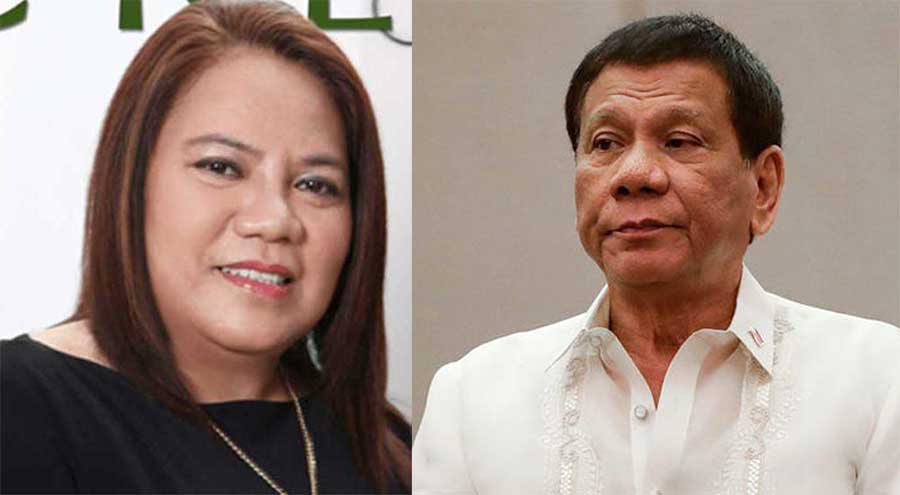 By Jennifer P. Rendon
Ma. Victoria "Marivic" Mabilog, wife of embattled former Iloilo City Mayor Jed Patrick Mabilog, will never back down whenever her husband is under fire, especially from the land's highest official.
Marivic has once again come to Jed's defense amid renewed tirades by no less than President Rodrigo Duterte.
"Pati si Mayor Mabilog. Iyong mayor ng Iloilo, tingnan mo ang p***** i***** bahay parang palasyo….tanong siya kay Bong, 'Bong, galit ba si Mayor sa akin?' Sabi ko, 'Sabihin mo Bong, siya na ang isusunod ko.' Kaya lumayas, hindi na bumalik, lalo na ang another six years. Siguro 'pag nanalo 'yung kabila," Duterte was quoted to have said in a speech on Sunday, June 12.
Duterte has been ridiculing and tagging Jed in the illegal drug trade, which the latter has repeatedly denied.
Marivic responded on her Facebook account by telling Duterte to "get a life."
She sarcastically started off by saying, "Miss ya man gyapon si Jed? LOL. And he still thinks our 140 sqm house is a palace."
The palace she was referring to was their house in Molo, Iloilo City which their critics called out for its "palatial design and size."
Without mincing words, Marivic said Duterte has not proven anything.
"Ulianon ang mal-am ni nga yawa. Old news. You had six years to prove to the world that Jed is guilty of your charges and you came up empty.  Zero. Zilch. That is why you could never get over him. Your lies just blew in your face."
Marivic added, "who else in this country doesn't know that lying is Digong's way of life?"
She claimed that even Duterte's supporters know about his life but chose not to care.
Still, "everyone knows that he is lying."
Had Digong not been a "yawa," a Hiligaynon word for demon, Marivic said she would have thanked him because they're better off now.
She also told Duterte to direct his energy in finding the real drug lords. This, she added, could have made her happy for the president.
"Oh, but wait, normally you can't smell the stink that is right under your nose, di ba? Look around you and look into the mirror. You will find the drug lords you have been pretending to look for," she said.
Marivic also questioned who has been protecting a certain Peter Lim, who was also linked to illegal drugs, all along.
In September 2021, Marivic also defended Jed after Duterte brought up his name again amid the alleged overpricing in the government's procurement of supplies for its COVID-19 response.
The outgoing president even declared war against senators who investigated the issue.
Duterte also brought up Senator Franklin Drilon's ties with Mabilog, former general Marcelo Garbo Jr. (who was also tagged in the illegal drug trade), and Janet Lim Napoles of the pork barrel controversy.
Marivic directly answered Duterte, claiming that her husband is Drilon's cousin.
"They share the same bloodline.  You see?  Decency, honesty and the desire for public service run in their blood. Both are not tainted with any proven cases of corruption. You can't say the same for most of the political clans in the country," she said.
As to Duterte again bringing up Mabilog's name, "You miss him that much? Sorry, but he's taken. I am the better choice, er, the best choice," she said.
Marivic also challenged Duterte to be "honest for one single moment in your life and tell the people that you lied about him."