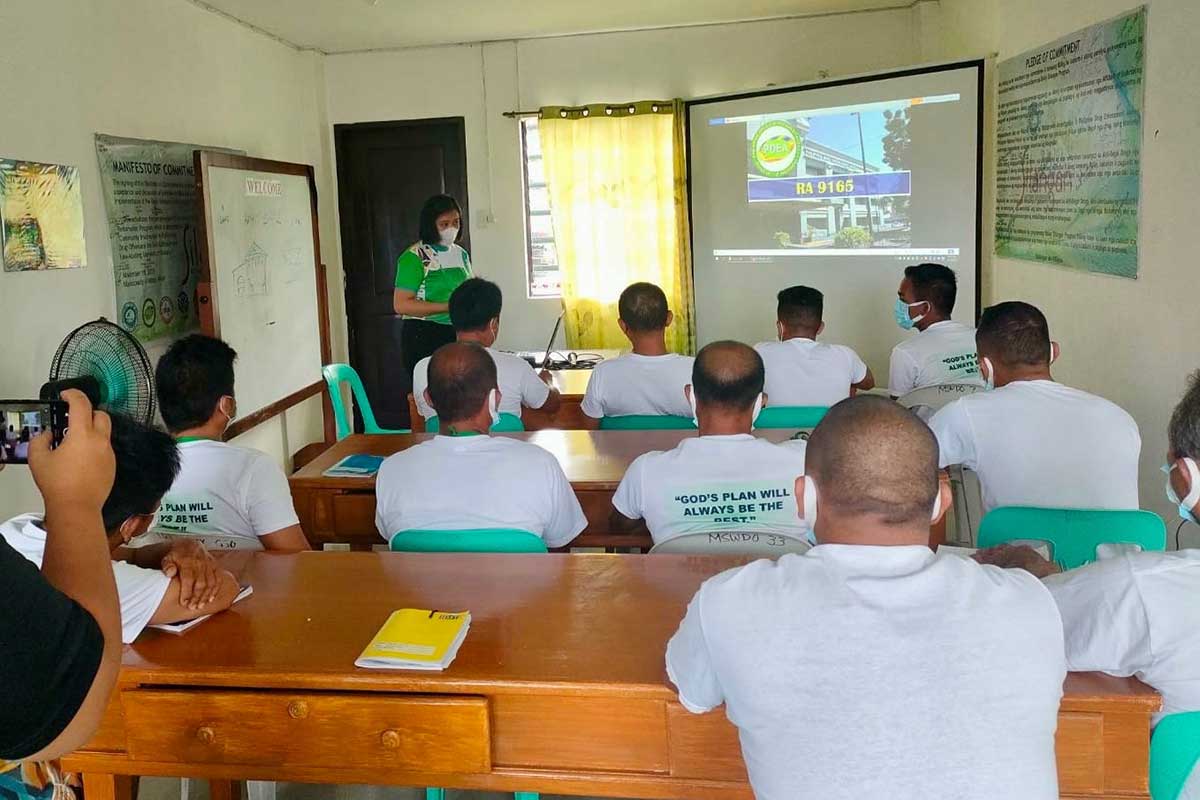 By Jennifer P. Rendon
Currently, 87.90 percent of Western Visayas' 4,051 barangays have been declared "drug cleared."
While Region 6 generally performed well in its Barangay Drug Clearing Program (BDCP), at least three areas were seen lagging.
As of May 2022, Iloilo City and Negros Occidental only managed to breach the 50 percent mark.
Negros Occidental was able to clear 336 from its 601 barangays or 55.90 percent.
Iloilo City, on the other hand, has cleared 93 of its 180 barangays or 51.66 percent.
But Bacolod City has a long way to go as only 14 of its 61 villages have been declared drug cleared or 21.31 percent.
And what could be the main factor why these areas lag behind?
"It's because they haven't complied with their community-based rehabilitation program," Philippine Drug Enforcement Agency (PDEA)-6 regional director Alex Tablate said.
A number of "drug surrenderers" should have undergone Community-Based Rehabilitation Program (CBRP).
The CBRP is a holistic approach in rehabilitating the surrendered drug personalities and aims to focus on the healing of the body, mind, and soul through counseling and other therapeutic sessions.
"Like sa Iloilo City, hindi natutuloy. May mga delay din during the pandemic kasi nga bawal 'yung face-to-face activities," he said.
He said that CBRP is very crucial since it is one of the parameters for an area to be declared as "drug-cleared."
But Tablate said that it is not within the PDEA or even the PNP to push for the CBRP but it's with the Department of Health or city and provincial health offices and the local government units.
"Wala kaming direct tasking diyan," he said.
Tablate explained that for a barangay to be declared as drug cleared, it must undergo validation by the Regional Oversight Committee (ROC).
The BDCP, which does the deliberation and validation, is a multi-agency group composed of PDEA, Philippine National Police (PNP), Department of the Interior and Local Government (DILG), and the Department of Health (DOH), as well as the respective local chief executives (LCEs) that have jurisdiction of these barangays.
"Kapag hindi kumpleto ang CBRP, even if other complainers are okay, it couldn't be declared as drug cleared," he said.
Even other regions have also the same dilemma, Tablate said.
While the three areas are lagging, the other provincial areas in Western Visayas have registered remarkable barangay drug clearing rate.
Records from PDEA-6, which chairs the ROC, showed that Aklan posted a 100 percent rate after all its 327 villages have been declared drug-cleared.
Antique tailed with 586 barangays or 99.32 percent while Iloilo province was able to clear 1,690 barangays or 98.19 percent.
Guimaras has 95 drug-cleared barangays or 96.93 percent and Capiz has 424 villages or 89.64 percent.
Tablate has earlier said that some villages breezed through the deliberation easily because they submitted administrative requirements that are complete.
He also pointed out that it's crucial in the deliberation process that the consolidated list of drug personalities by the PNP and PDEA have already been neutralized.
"And most of these drug personalities happened to be in highly-urbanized cities kaya expected na the clearing operations would take some time," he said.
On July 21, another deliberation will be conducted on 37 barangay-applicants.
Once a barangay is considered certified drug-cleared, a certificate signed by the chief of police, mayor, and PDEA regional director is issued.
For a barangay to be finally declared as "drug-cleared" or officially "unaffected," they have complied with all the requirements and parameters set forth under DDB Regulation No. 3, Series of 2017 on Strengthening the Implementation of BDCP.
These requirements include:
Non-availability of drug supply
Absence of drug den, pusher, user
Absence of clandestine drug laboratory
Active involvement of barangay officials in anti-drug activities
Existence of drug awareness, preventive education and information
Existence of voluntary and compulsory drug treatment and rehabilitation processing desk
These requirements are mandated under Dangerous Drugs Board Regulation No. 3 series of 2017.