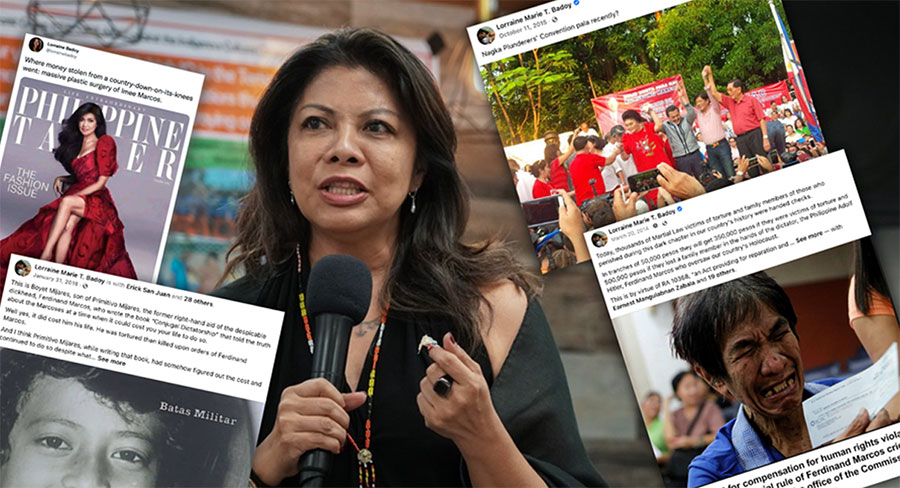 By Sean Rafio
In 2014, Lorraine Badoy said those who support the Marcoses have "not learned to think critically" of what she called back then as a fact: ousted dictator Ferdinand Marcos and his family "are to the Philippines what Adolf Hitler was to the Jews."
This is just one of Badoy's social media posts against the Marcoses that surfaced anew after cheering the dictator's son Ferdinand "Bongbong" Marcos Jr. during the SMNI presidential debate on Feb. 15.
Never forget Lorraine Badoy in her past life but now resurrected as pulgas. pic.twitter.com/mFGOeArKBG

— Maria Sol Taule (@soltaule) February 17, 2022
Badoy joined the crowd that seemingly applauded the statements thrown by Bongbong, while other presidential hopefuls like labor leader Leody de Guzman received boos from the audience watching live at Okada Manila.
A video has gone viral where Badoy could be seen laughing over De Guzman's answer of recognizing that poverty and injustice in society are the main reasons why armed struggle exists in the country, and vowed to continue the peace talks with the communists if elected president.
Another post from Badoy made on Oct. 11, 2015, called then-senator Bongbong's declaration of his candidacy for vice president a "plunderers' convention."
Joining Bongbong on stage was his mother Imelda Marcos, former president and pardoned plunder convict Joseph "Erap" Estrada, and then-senator Juan Ponce Enrile. Three years later, Imelda was convicted of graft convict for maintaining illegal Swiss firms.
The post gained traction anew after Badoy further supported Marcos' bid to reclaim Malacañang.
"Akalain mo nga naman talaga. Pagnasupalpal talaga ng pera nag iiba ang prinsipyo sa buhay. Hahahaha" wrote one commenter before Badoy disabled Facebook users to comment on her post.
"What happened here? Hello? Ano na po? Where did your principles go?" another user commented.
Badoy seemingly took down her Facebook post that claimed government funds were used by the ousted dictator's daughter Sen. Imee Marcos for her "plastic surgery."
As of this posting, Badoy still has several posts against the Marcoses here and here. One notable post celebrated the indemnification of Marcos' Martial Law victims, where she said "Never Forgive. Never Forget."
Badoy's turnaround is just the latest of many. She is now known for red-tagging groups and individuals criticizing the administration that appointed her as spokesperson of the National Task Force to End Local Communist Armed Conflict.