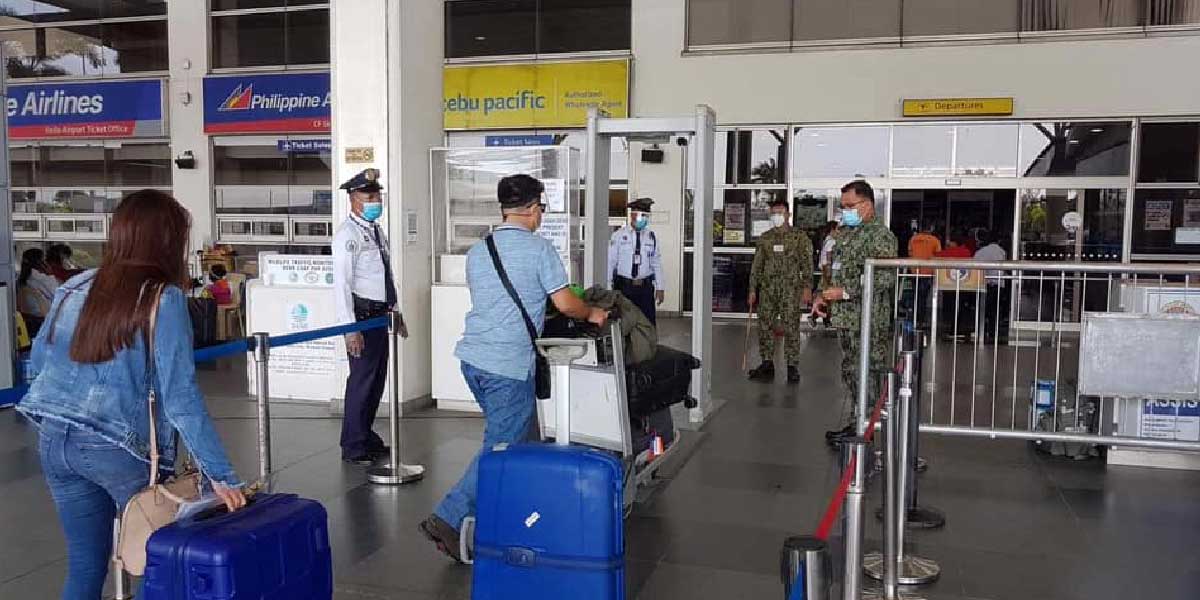 By Joseph B.A. Marzan
Local chief executives in Western Visayas on Thursday sought an extension on the prohibition of all trips to Western Visayas to continue curbing the spread of the coronavirus disease 2019 (COVID-19) and to determine whether or not more contagious variants of the virus have entered the region.
In a post on the Iloilo City government's official Facebook page, Iloilo City Mayor Jerry Treñas shared his text message to vaccine czar Carlito Galvez and Department of Interior and Local Government (DILG) Undersecretary Epimaco Densing III regarding the request for extension of the travel moratorium.
Treñas said the region's local chief executives (LCEs) decided in a meeting to request for the extension of the moratorium on trips to the region from the National Capital Region (NCR) and the provinces of Bulacan, Cavite, Laguna, and Rizal, or collectively called "NCR plus", as well as from Cebu and Davao.
"NCR plus" has been under the Enhanced Community Quarantine (ECQ) since March 29 and until April 11.
Iloilo Governor Arthur Defensor Jr. also confirmed the agreements in a press conference on Thursday saying that Treñas would communicate in behalf of all governors and mayors in the region.
As of this writing, the Iloilo City Government has not confirmed whether a formal request has been sent to the national Inter-Agency Task Force for the Management of Emerging Infectious Diseases (IATF-MEID).
Treñas reiterated the extended moratorium in an interview with Aksyon Radyo Iloilo, which he said would run from April 11 to 17 if approved by the IATF-MEID.
He clarified that returning Overseas Filipino Workers (OFWs) will not be covered by the suspension, saying that this matter will be left to their respective LGUs.
"Regarding OFWs, we can't do anything about them because they've been stranded for too long in Manila. It will depend only on the LGUs on what protocols will they be following," Treñas said in the radio interview.
In addition to the extension, Region 6 leaders are also set to request additional COVID-19 vaccines to provide doses to remaining eligible medical frontliners.
They will also ask the national government to add the LCEs as well as members of local COVID-19 task forces of the provinces and highly-urbanized cities to the list of frontliners in the vaccination priority.
In an advisory dated April 5, the National COVID-19 Vaccine Operations Center named several LCEs in "critical and high-risk areas" in the region to be moved up to vaccine priority group "A1.5", including six Iloilo town mayors.
Treñas said that after all medical frontliners have been vaccinated, local governments can start providing vaccines to immunocompromised individuals and senior citizens.
"Our request for additional vaccines is because we've seen that we haven't exhausted all medical frontliners, but in other areas they've started vaccinations on those immunocompromised and senior citizens," he added.
Treñas also said that collected specimens would be sent to the Research Institute for Tropical Medicine in Muntinlupa City for genome sequencing, to determine if new COVID-19 variants have entered the region.
A new COVID-19 variant, P3, was confirmed by the Department of Health (DOH) on March 13 this year and was identified as a localized variant.
Other COVID-19 variants from the United Kingdom, South Africa, and Brazil which were reported to be more contagious and more infectious were also identified to be present in the country in the past months.
"All LCEs also saw that cases were rising and there are greater infections and more contagious than the ones last year. We saw that there was one case becoming positive, and the whole family became positive. We also agreed to send specimens to the RITM to have them undergo genome sequencing to ensure if the new variants have entered our LGUs," Treñas said.
He also expressed optimism that the IATF-MEID will be granting their request.