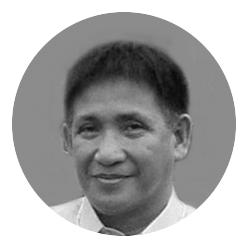 By Dr. Rex Casiple
Last year, President Rodrigo Duterte announced a "no vaccine no class" policy in schools. In other words, no school opening would happen without a vaccine.
Few days before the first anniversary of the declaration of Enhance Community Quarantine (ECQ) in the Philippines in March 2020, the national vaccination program started with the availability of Sinovac's Vaccine from China. Furthermore, several coronavirus vaccines against the COVID-19 virus had been approved for use.
The guidelines for the gradual reopening of colleges and universities for limited face-to-face classes in the country was already approved for implementation. Priority shall be given to health-related programs, preferably, Medicine, Nursing, Physical Therapy, Medical Technology or Medical Laboratory Science and Midwifery. These are health-related degree programs regarded as vital in providing additional manpower support in the health system during the pandemic. Specialized laboratory courses under these programs or hospital-based clinical clerkship/internship/practicum shall be allowed for limited face-to-face delivery subject for approval of the government.
Degree programs not identified as priority shall continue to be delivered through flexible distance learning modalities. These include lectures, fieldwork, military drills and physical education subjects.
Limited face-to-face classes will be conducted by qualified higher education institutions (HEIs) for effective delivery of related learning experiences among the graduating students aged 20 years old and above. Limited face-to-face delivery by the higher education institutions is not mandatory. Students who opted not to attend face to face classes will be provided with alternatives close to the quality of learning as experienced through face-to-face activities.
Students who preferred and allowed to attend limited face-to-face classes should have medical insurance that covers medical expenses related to COVID-19. They shall strictly adhere to the health and safety protocols of their school and be transparent in declaring their and their family members' health conditions.
Higher education institutions approved to conduct limited face-to-face classes shall have contingency plans ready to be implemented when students, faculty and staff develop COVID-19 symptoms while inside the campus. They must strictly implement a minimum physical distance of 1.5 meters among students, faculty and staff at all times. They must implement other health and safety measures, including requiring personal hygiene kits and screening at the point of entry.
They must establish specific protocols in classrooms, laboratories, libraries and other school facilities, as well as during break-time periods. They shall establish a crisis management committee to assess the readiness to reopen for limited face-to-face classes, take charge in the application process and oversee the implementation of health and safety protocols.
Flexible learning is deemed the most appropriate and safest pedagogical approach during this pandemic. Limited face-to-face classes are not mandatory. It is within the discretion of HEIs to decide when they intend to conduct limited face-to-face classes. They may choose not to conduct limited face-to-face classes and may continue to implement flexible learning. Hence it is advised for HEIs that have no capability to conduct limited face-to-face classes to conduct a gradual approach in reopening their campuses until safe and effective COVID-19 vaccines are distributed or made available to all students.
In basic education, the proposal to conduct face-to-face classes in low-risked areas was turned down by the President amid the threat of new coronavirus variant. Again, it is a "no vaccine, no class" policy. The country aims to commence vaccinations from June 2021 with about 25 million people or about 25% of the population.