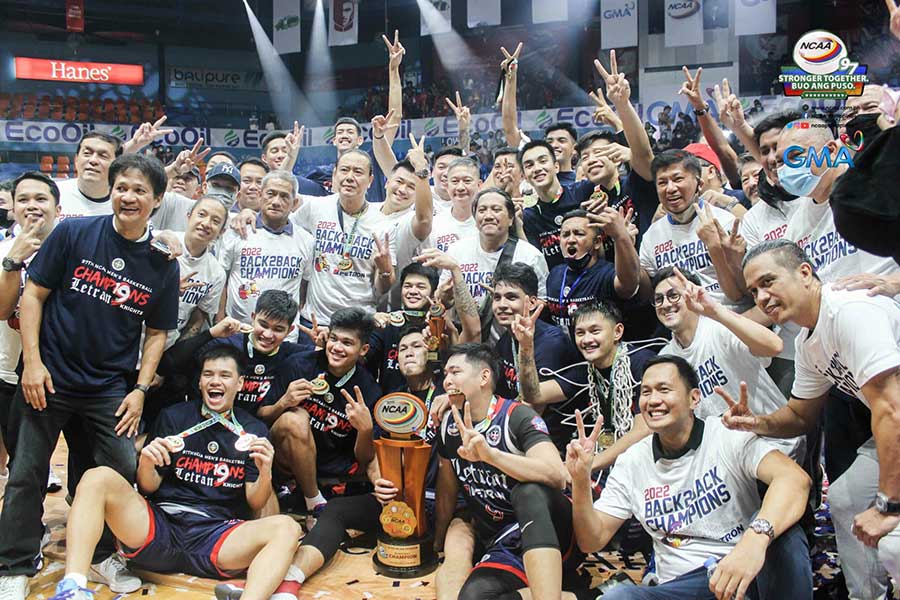 By Leobert Julian A. de la Peña
The Colegio de San Juan de Letran Knights completed its historic regular and post-season sweep after beating the Mapua University Cardinals, 75-65, during Game 2 of the NCAA Season 97 grand finals.
Despite a newly-built roster while facing doubts to win the title, the Knights overcame the odds as Rookie of the Year and Season 97 Most Valuable Player (MVP) Rhenz Abando delivered his promise to Letran right after his shocking move from the University of Santo Tomas (UST) Growling Tigers.
Abando was all over the floor during Game 2, setting his shooters up, blocking shots in the paint, and doing what he does best, score.
The six-foot-two swingman capped off his magnificent season with 14 points, including eight in the final canto, and 12 big rebounds.
Letran was off to a blitzing start as their firepower immediately hurt Mapua after building an enormous 44-23 lead in the third quarter.
Newly drafted PBA rookie Jeo Ambohot also delivered when his team needed him the most and operated in the shaded area to backstop Abando with 13 points and nine rebounds while taking home the NCAA Finals MVP award.
Mapua showed some fight and awakened their supporters in the arena when they trimmed Letran's 21-point lead to just six during the last three minutes of the game.
Paolo Hernandez's sweet-shooting helped Mapua get out of the 20-point hole while Arvin Gamboa's aggressiveness helped them regain the momentum and a chance to force a do-or-die Game 3.
However, the sensational Abando took matters into his own hands and spearheaded the last Letran offensive avalanche in the last 2:30 of the ball game.
The high-leaping superstar scored six of Letran's last seven points and cemented his name as one of the best players to ever don the blue and black NCAA jersey.