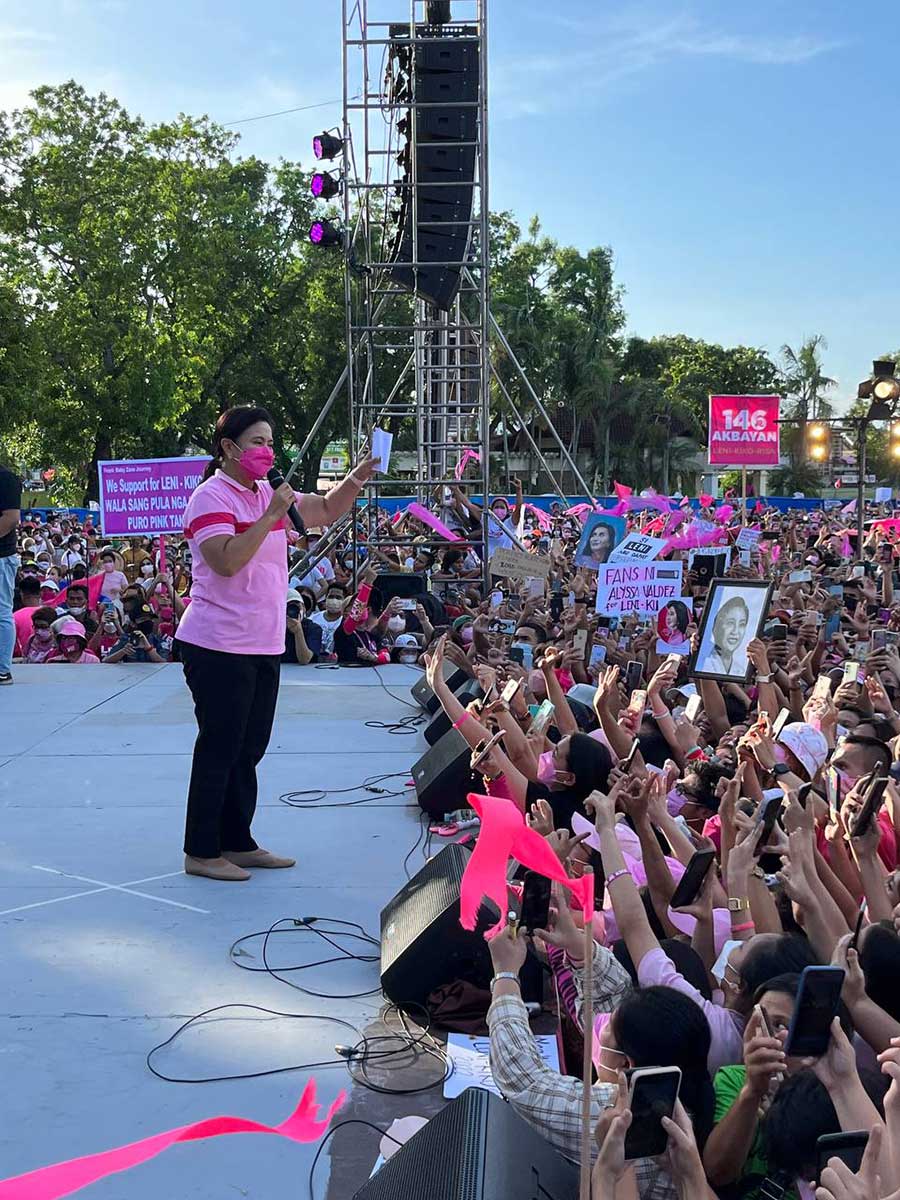 By Joseph B.A. Marzan
Even with a smaller venue and fewer attendance, Vice President Leni Robredo's homestretch gathering in Iloilo City on Tuesday, May 3, 2022 matched her previous appearances here.
Estimates by her staff and other organizing team members indicated that the Grand Pasasalamat at the La Paz Plaza gathered around 1,500 people.
But in a statement, Iloilo City Mayor Jerry Treñas claimed that up to 50,000 "kakampinks" showed up, including in the caravan which started from the Ungka Terminal in Jaro district and passhed through El 98 Street and Jaro Plaza, before ending at the mini-rally venue.
It was unclear if the supporters who joined the stationary caravan also showed up at the La Paz event.
But while the numbers were fewer compared to her Feb 25, 2022 grand rally at the Iloilo Sports Complex which drew 40,000 people, the energy was very much alive.
On the way to the main event, Robredo stopped multiple times to touch hands, take pictures, and receive gifts from supporters.
She was joined at the La Paz event by Treñas, Iloilo Governor Arthur Defensor Jr., former Iloilo governor Arthur Defensor Sr., Representatives Michael Gorriceta (Iloilo, 2nd district) and Lorenz Defensor (3rd district), and Iloilo City Lone District Rep. Julienne Baronda who appeared publicly in a Robredo campaign event for the first time.
Also in attendance were Iloilo province 3rd district Board Member Matt Palabrica, and town mayors Carina Flores of Oton and Suzette Alquisada of Tigbauan.
'THANK YOU RALLY' 
At the event, Robredo said she expected smaller crowds as it was not supposed to be a grand rally-type, but only to show gratitude to volunteers who had been doing house-to-house campaigns for her.
Volunteers also went on house-to-house campaigning and market "swarm" that day in various districts, with Frankie Pangilinan, the daughter of Robredo's running mate Senator Kiko Pangilinan, tagging along to barnstorm with voters on the ground.
"Our agreement was that we wouldn't have any rally, Mayor Jerry. [It] was only supposed to be to thank those who went on house-to-house [campaigns]. But many of you still went out of your homes, and many went here, so thank you," Robredo told the crowd.
"This is a thanksgiving for those who went on house-to-house [campaigning], this is a thanksgiving to all supporters, who, from the time we announced [candidacy], have put in great sacrifices, you who paid from their own pockets," she added.
She said that her eagerness to go around to meet people would be reflective of her governance should she be elected president.
The Office of the Vice President's flagship Angat Buhay program, according to its website, has brought projects to Iloilo City and the towns of Anilao, Batad, Cabatuan, Carles, Concepcion, Dueñas, Lambunao, Oton, Pavia, and San Joaquin.
"You know that the promises we have been making will be the kind of governance we believe in—a governance where your public servants are keen and excellent, a governance which ensures that the money of the people are well-taken care of so that it can go to those who need it most," she said.
"We have shown this in our service, especially in the Office of the Vice President. In six years, with limited mandate and limited funds, we have brought projects to the province of Iloilo, also in Iloilo City, which I will not enumerate because they are many," she added further.
The city was only the third stop in the vice-president's one-day, whirlwind tour of the Western Visayas region, which started in Aklan and later to Antique.
Prior to the Iloilo City thanksgiving, she also appeared to supporters in the second district in Pavia, where Gorriceta reaffirmed his support for her.
Also present in the Pavia event were mayors Geefre Alonsabe of Alimodian, Lina Holipas of Leon, and Rema Somo of Santa Barbara.
Iloilo has been one of Robredo's most visited places since she filed her candidacy for the top post, with yesterday's sortie her third.
The first visit was in December 2022 to Angat Buhay beneficiaries as well as in Maasin and Leganes towns. The second was to turn over donations to Typhoon Odette victims in the city and province of Iloilo.
Her visit on Feb 25, 2022 at the Iloilo Sports Complex, apart from smaller rallies in five towns and Passi City, set the trend for a healthy competition among which pro-Robredo rallies can draw bigger crowds, dubbed by some supporters as the "Olympinks".
The city and province of Iloilo are crucial to Robredo's candidacy, together making up 1.6 million votes. Iloilo is also the eighth most vote-rich province in the country in the 2022 elections.
Robredo defeated her chief rival Ferdinand Marcos Jr., in the 2016 vice-presidential race here, but these appearances are here to show that she does not fall complacent on her past laurels.