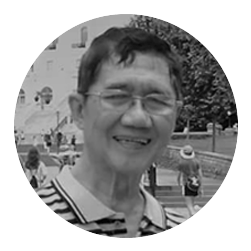 By Herbert Vego
FOR whatever it's worth to readers, I am writing about unforgettable childhood experiences that have helped me survive adversities through the years.
My earliest childhood memory takes me back to age three in the year 1953 in San Pedro, a barrio in San Jose, Antique. My youngest brother Walter, three months old, was aching from a rare skin disease. Since the nearest doctor was five kilometers away, we could only reach him by borrowing a private car.
There was only one car owner in San Pedro, a certain Palermo. His car was available for hire during emergency situations. In fact, Palermo himself would drive us to the doctor for Walter's treatment.
But dermatology in 1953 had barely gone beyond the "primitive" stage. The prescribed ointment failed to save my brother, who died at the age of six months.
The trips to the doctor on borrowed car must have motivated my father to buy his own second-hand jeepney. It cost him three thousand pesos, a princely price at that time.
"From now on," my father told the family, "we will go where we want to, when we want to."
I remember the day my parents took me to a photography studio for my first picture. I cried on being left alone on a chair in front of a big camera, until my father handed me his fountain pen. I was toying with the pen when the photographer "clicked" his black cloth-draped camera.
Of course, I did not know then that it was a good omen of the career I would tread for a living — journalism.
To regain his investment on our jeepney and earn, too, Tatay registered it as a "public utility" vehicle. It was the first passenger jeepney plying the seven-kilometer San Pedro-San Jose route. The fare was only ten centavos per passenger.
One day, my Lola Maria gave me a silver ten-centavo coin. She said I could trade it for bread or candy. So I ran to the corner store and pointed at a jar full of rounded candies called dulce de limon. The smiling storekeeper wrapped 20 of them and handed me a bigger-sized five-centavo coin as change.
In my childhood innocence, I thought that I would always get a change each time I bought with a coin. But I got none the next time I took my coin to the same store for the same dulce de limon. Anyway, it taught me a lesson on the perishable value of money.
The biggest-sized coin at the time had the smallest value. One centavo, bigger than today's five pesos, could buy a piece of wrapped candy.
I was five years old when I sat in a grade-one classroom as "visitor." Nursery and kindergarten schools were unheard of yet.
In 1956 at age six, I was in the same classroom, my mom having enrolled me in grade one. The only grade-one textbook at that time was Pepe and Pilar.
Our school supplies were cheap. Seven pieces of pad paper cost only five centavos.
We did not have to buy books in public schools. The government lent us all our textbooks, returnable at the end of the school year, to be relent to the next batch.
Inflation was a slow process as prices remained constant for a decade or more. In the mid 1950s and until the mid-1960s, gasoline cost 30 centavos per liter. I should remember because I worked as our jeepney conductor during summer vacations.
I remember that a bus ride from San Jose to Iloilo City cost only a peso.
The minimum wage of government employees at that time was P120 per month, and that was good enough.
We need to multiply that amount by a hundred or more to hit the equivalent of today's wages.
We practiced "business" in first year high school in 1962. Each day, a group of us freshmen at the Antique High School would be assigned by our Economics teacher, Miss Diana Grasparil, to man the school's retail store. One day, she read to us a letter from a soft drink company announcing price increase – from ten centavos to 15 centavos per bottle.
"Class," she told us. "This is just the beginning of bad news for your parents. Their income would buy lesser goods."
I had thought of asking my parents to raise my allowance, which was a peso and fifty centavos per week, but changed my mind out of pity for them.
Miss Grasparil's words ring truer today than in those days.  We earn much more money than our parents did, but a 12-peso pair of rubber shoes in the 1960s now costs three thousand pesos or more.
—0—
PAVIA DADS WANT MORE POWER TO REPLACE ILECO 1
"Affordable electricity" was the reason cited by the Sangguniang Bayan (SB) of Pavia, Iloilo in a resolution.
The resolution as introduced by SB member Jose Maria Trimañez — chairman of the Committee on Transportation, Franchises, Communications and Information Technology – requested Cong. Mike Gorriceta (2nd Dist. Iloilo) to make representation in Congress to open the franchise to another power distribution utility, MORE Electric and Power Corp.
Pavia, around 9 kilometers north of Iloilo City, is serviced by the Iloilo Electric Cooperative 1 (ILECO-1).
MORE Power, the sole distribution utility in Iloilo City, currently charges a residential rate of P7.99 per kilowatt-hour, much lower than ILECO-1's P10.90.
The move was triggered by a privilege speech of SB member Daniel S. Fajardo II, who pointed out that a decrease in the cost of electricity would benefit both the financially-drained residential and business sectors in this time of pandemic.
MORE Power charges the lowest electricity rates in the country, as low as P6.45 last June.  This was due to the initiative of its president, Roel Z. Castro, who had successfully inked the most consumer-favorable deal with the environment-friendly geothermal plant of Power Sector Assets and Liabilities Management (PSALM) in Tongonan, Leyte.
That aforesaid rate could have remained steady had a freak accident not damaged a submarine cable of the National Grid and Power Corporation that transmits power from the generating companies to the distribution utilities.
A backhoe operated by the Department of Public Works and Highways (DPWH) had uprooted a 90-megawatt (MW) submarine cable of the National Grid Corporation of the Philippines (NGCP) along the Bio-os River in Amlan, Negros Oriental.
"San-o pa ayhan ang Pavianhon maka-enjoy sang barato or manobo nga presyo sang kuryente?" asked Fajardo. "We are adjacent to Iloilo City. It is our duty to provide our stakeholders with cheaper power to help them grow their businesses and will hopefully translate to more investors, jobs and tax revenues for the municipality of Pavia."
Fajardo was insinuating that Pavianhons had lost hope in ILECO-1's capability to cut price.
I guess additional business would attract MORE. The town is made up of 18 barangays with a combined current population of around 71,000.
The Pavia SB's interest in MORE was inspired by the latter's success in the takeover of the previous distribution utility in the city, Panay Electric Co. (PECO), since February 29, 2020, in the wake of the expiration of the latter's franchise and its grant to MORE Power by an act of Congress.
I don't really know, however, whether Pavia could avail itself of the distribution change sought for, considering that ILECO-1 is not a Congressional franchisee. It is classified as a cooperative under the supervision of the National Electrification Administration (NEA).
To describe the uncertainty in Spanish,"Que sera sera."