By Karen Joyce Pumaren
In this era of technology, kids cure their boredom with videos on YouTube, Netflix series, and games offered in the virtual space.
Evidently, the robust Larong Pinoy in the past became an unusual practice in contemporary Philippine society, particularly the game called spinning tops.
The very origin of spinning tops, which Filipinos call as Trumpo or Turumpo, can be traced to 35th century BC, nearly six thousand years ago. But in the Philippine context, it was a robust game in the 1980s to early 2000.
The popularity of this outdoor game resonated throughout the past generations that it was recognized as a traditional game of Filipinos and tagged as Larong Atin or Larong Pinoy by the National Commission for Culture and the Arts (NCCA).
Notably, Larong Pinoy, like Turumpo, is dubbed as "Laro ng Lahi" and categorized as "Yaman ng Lahi", it's a game of our heritage and the treasure of our culture.
Hence, as we embrace the continuously advancing technology, let's keep our culture and heritage alive by remembering and playing our traditional games beginning with spinning our Turumpo.
The Making of Trumpo
            The term Trumpo refers to both the actual game and the instrument used. To play the game, it is essential to first learn about the instrument and how to make it.
            Bonifacio "Boning" Eclarino, a native of Iloilo born in the 80s, described the Trumpo instrument and detailed the step by step process of crafting it.
"Ang Trumpo ginatawag man day-a nga kasing diya sa Iloilo, kahoy ini nga ginkorte kono nga kalabanan may lansang nga stand sa idalum," Eclarino said
(Trumpo is also called Kasing in Iloilo, it is a conical shaped wooden material which is often attached with a nail on the bottom that serves as a stand.)
            According to Tito Boning, the process of Trumpo-making resembles woodworking. The craftsman must find the right material, measure and cut properly, shape accurately, and polish perfectly.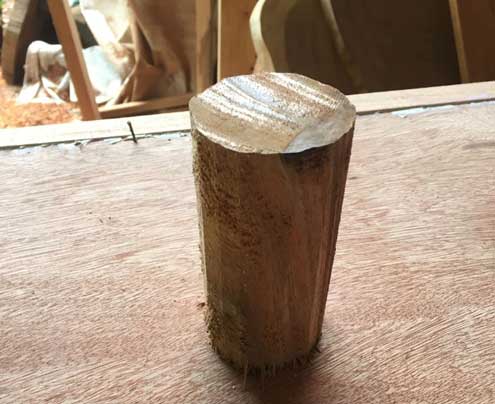 FIND AND CHOOSE. The strongest and most efficient wood material should be used.
In making a good and durable Trumpo, the first step is to find a strong and smooth wooden material.
"Bayabas, Ipil-ipil, kag Narra ang sami nga ginagamit nga kahoy mag-ubra sang Trumpo kay bisan ano mo kapabuyong kag paupas indi dali-dali nga maguba kag manami ang pagbuyong na. Pero bisan ano nga kahoy pwede man subong gamitun ta danay acacia," Eclarino explained.
(Guava, Ipil-ipil, and Narra are always used in making trumpo because they're sturdy and won't easily break even with constant spinning and brawling. But any wood is fine, in my demonstration I'll use Acacia.)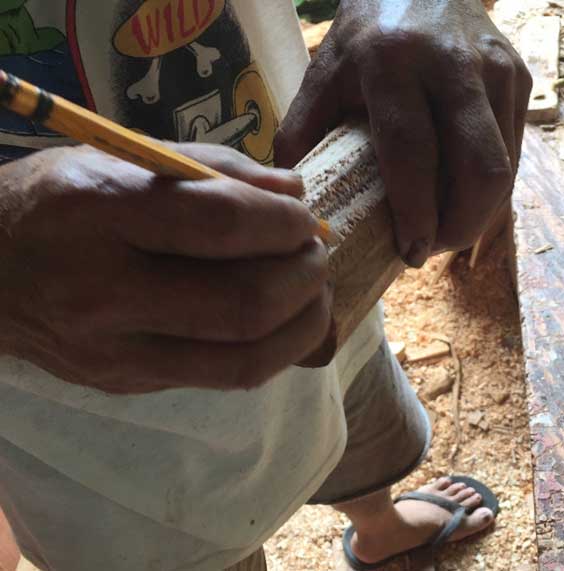 MEASURE & CUT. The chose wooden material is measured and cut accordingly.
If the wood material has been chosen, the next step is to cut a portion of the tree depending on the size of the trumpo you would like. The sizes of Trumpo varies but commonly the body is measured in five centimeters and the stand is in two centimeters.
"May hanggod may gagmay man pero kalabanan daw mga sa lima siguro kasentimetros ang lawas tas buli daw mga duha," Eclarino added.
(There are big ones and small ones but the standard size for a trumpo is five centimeters for the body and two centimeters for the lower portion.)
The chosen wooden material will be skinned out and lined according to the desired size and measurement then cut accordingly.
"Linyahan mo ang kahoy dayun udton mo depende sa gusto mo nga kahanggudon sang imo trumpo. Kay maubra ta ka normal size nga trumpo nagutod ako mga pulo ka sentimetro ang kalabaun. Dayun dapat hilagisan," Eclarino furthered.
(Line and cut the wood depending on the size of the trumpo you're making. Since we're making a normal size trumpo, I cut approximately ten-centimeter-long wood and removed the skin.)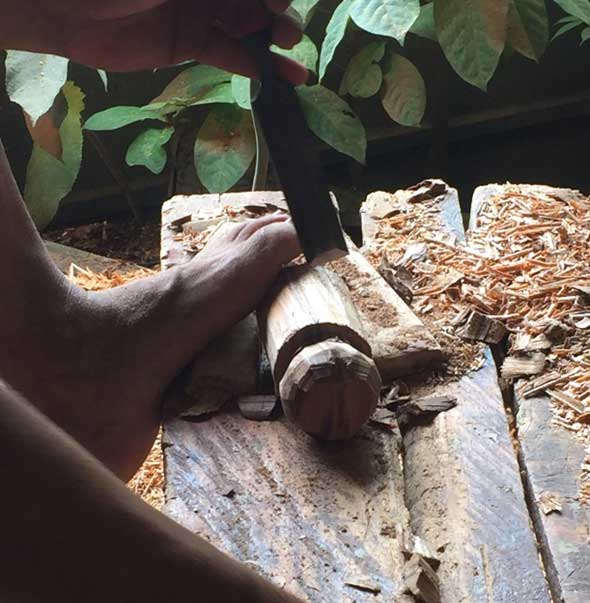 SHAPE. The wood cut is carved to follow a conical shape.
After the measuring and cutting, the tedious shaping process begins.
"Ang pagkorte sang trump mabudlay kag madugay. Mano-mano ang pag-ubra gamit ang sundang ukon tinggib," Eclarino warned.
(Shaping the trump is hard and time consuming. You need to do it single-handedly using a wood chisel or a sharp knife.)
Boning opted not to use nails in making trumpo since he finds it dangerous for the children playing. Instead he skillfully shaped the bottom portion of the wood just like nails.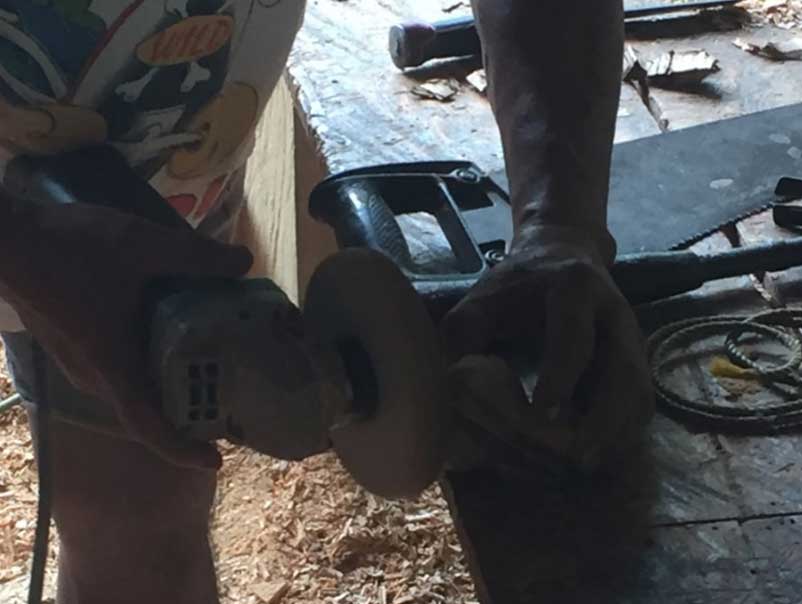 POLISH. When the trumpo is formed, the next step is to polish it.
When the trumpo is successfully shaped, it is important to polish it using either a polishing equipment or papel de liha (sandpaper). The craftsman can even design or color his or her trumpo based on his/her preferences.
"Kung makortehan mo dun, ipolish kag designan mo para manami turukon. Kuskusan papel de liho pwede man drawing kag pintahan," Eclarino advised.
(After shaping, it is important to polish and design it to look pleasant. Rub the papel de liha on it or draw and paint.)
THREAD. The trumpo is swirled using a thread attached on the tanza.
            In order to use the trumpo, one needs a "tyate" or a thread with a tanzan on the other end.
"Para sa higot ukon tyate, gagamit sang small or medium sized nga lubid. Mga 80 to 100 centimeters nga lubid ang gamitun dasun ihigot ang isa ka punta sa tanza," Eclarino added
            (For the tie or cord called tyate, a small or medium sized rope is used. It measures around 80 to 100 centimeters; the other end of the rope is tied with the tanzan.)
            The tanzan will act as the player's grip to the tyate.
When everything is ready, it's time to play Trumpo.
 The Playing of Trumpo
Nexier Lex Sosarno, a 90s kid and certified trumpo player, explained how the trumpo game is commonly played in most parts of Iloilo.
"Damo pamaagi sa paghampang sang trumpo. May ara exhibition kung sa diin gapalawig-lawing kag panami-nami buyong sang trumpo, may ara man paupas trumpo," Sosarno said.
(There are a lot of ways to play Trumpo. First through exhibitions where players observe the quality and duration of the spin. Second, players do a target match.)
            If the spinning of the trumpo is unstable or not good players it kangkarot however if it is smoothly spinning they refer to it as matining. 
"Para magtiyog ang trumpo, dapat ihigot ang tyate sa lansang pero sa tunga-tunga lang, ang punta sang lansang gaguha. Kung sa mga puro kahoy nga trumpo may ihigot ang lubid sa tunga sa magtinigiban," Sosarno detailed.
(For the trumpo to spin, the thread should be swirled around the nail, make sure that the tip of the nail is still visible. If you're using ang purely wooden trumpo, the thread shall be swirled on the carved-out section.)
In a Trumpo target match the main objective is to keep the trumpo spinning and undestroyed.
"Magpa-upas ka trumpo, ang player ginatarget kag ginaigo ang trumpo sang iya kontra, ang una matumba kag guba amo ang pride. Amo na bintaha kung baskog ang kahoy nga ginamit sa paghimo sang trumpo," Sosarno noted.
(In playing Trumpo target match, a player targets and hits the trumpo of the opponent, the first to stop spinning and break is the loser of the match. This is the reason it is important to use a strong wood material when making a trumpo.)
The loser of the game receives a katis, a punishment wherein the loser's trumpo receives a direct hit from the winner's trumpo.
The Importance of Trumpo
"Sa paghimo sang trumpo madamo nga bagay ang matun-an sang bata. Una malawig nga pasensya kay ang pag-ubra sang Trumpo indi mahapos. Sunod, sa ang mga kahoy sa palibot makilala nila halin, narra, ipil-ipil, bayabas, acacia, kag damo pa nga iba," Eclarino expressed.
(Filipino children will learn a lot in making Trumpo. First, patience because making trumpo is not easy, it is tedious. Next, they will learn different trees in their community, narra, ipil-ipil, guava tree, acacia, etc.)
            The process of making trumpo is a way of cultivating essential Filipino values to the younger generation. Furthermore, it allows kids to explore their community and learn important elements of their country.
            "Ang paghampang sang Trumpo gintudlo ni tatay sa amon nga mga magburugto. Ang nabal-an ni tatay gintudlo may daya kang amon nga lolo kag mga apoy. Pila ka henerasyon nga ginatudlo ang hampang nga daya importante nga ipadayon ni," Sosarno expressed.
(My father taught us, his children, how to play trumpo. My father's knowledge of the game was taught by our grandfather and forefathers. It is being passed down to generations and it's important to teach the next generation of this game.)
Trumpo is a traditional game that encompasses generations, it is a bridge that connects youths with their parents and elders.
Indeed, Trumpo holds a great value on the country's culture and heritage. Now that stellar products of technology are rapidly emerging, will we keep trumpo spinning?
Karen Joyce Pumaren is a Communications and Media Studies student of UP Visayas.