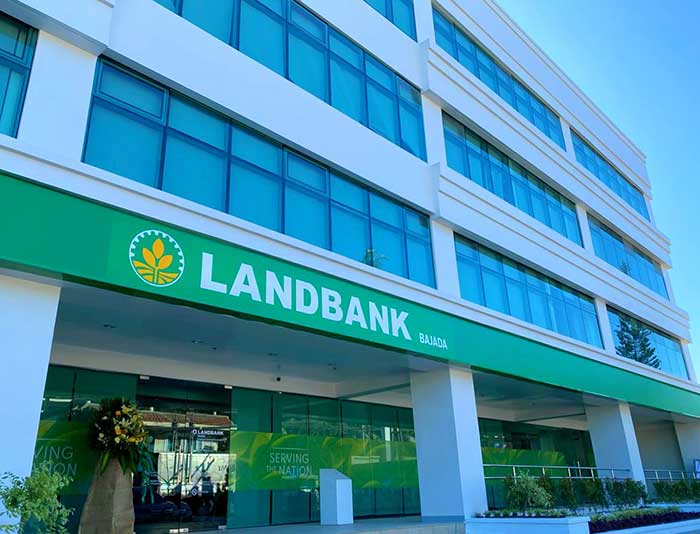 DAVAO CITY – The Land Bank of the Philippines (LANDBANK) strengthens its presence in Davao City and nearby localities with the opening of a four-story corporate center in Bajada, Brgy. Buhangin, to provide convenient access to a wide array of banking services.
The LANDBANK Davao Corporate Center—the bank's biggest corporate center outside of the National Capital Region—will serve the various banking and financial needs of over 30,000 customers in East Mindanao, as it houses the Bank's major touchpoints and local offices.
Department of Finance (DOF) Secretary and LANDBANK Chairman Carlos G. Dominguez III and LANDBANK President and CEO Cecilia C. Borromeo, alongside Mindanao Development Authority (MinDa) Secretary Maria Belen Sunga-Acosta and Davao City Councilor Diosdado Angelo Mahipus, Jr., led the inauguration rites for the LANDBANK Davao Corporate Center on 24 June 2022. They were joined by LANDBANK Director Jaime L. Miralles, Executive Vice Presidents Alex A. Lorayes and Liduvino S. Geron, and other Bank senior officers.
"The Davao Corporate Center underscores LANDBANK's commitment to expanding its reach and bringing its services to all Filipinos," said Finance Secretary Dominguez. "I see this corporate center as LANDBANK's investment in one of the fastest-growing regions in the country. With the infrastructure build-up in the region and the great potential the area holds, rapid growth will transpire here in the next few years," he added.
Meanwhile, LANDBANK President and CEO Borromeo underlined LANDBANK's expanded role in nation-building by supporting a broad range of development sectors.
"LANDBANK has been a strong arm of the government in advancing inclusive development programs, accelerating growth of local economies, and bringing banking services to the farthest reach of our country. Moving forward, LANDBANK will build on its growth momentum and bring to a higher gear its pursuit of serving the nation," said LANDBANK President and CEO Borromeo.
Located on the ground floor of the Davao Corporate Center is the LANDBANK Bajada Branch, which will service customers from the four districts of Davao City, including various local and national government offices, private establishments and retail clients.
The Branch has three onsite automated teller machines (ATMs) to cater to the cash requirements of over 40,000 beneficiaries of the Conditional and Unconditional Cash Transfer (CCT/UCT) programs of the Department of Social Welfare and Development (DSWD), government employees, teachers, students, and other local residents.
The LANDBANK Bajada Branch also features a Digital Corner where customers can open a deposit account in only 15 minutes or less using the Bank's Digital Onboarding System (DOBS). Opening an account via DOBS provides automatic enrollment to LANDBANK's digital banking channels for safe and convenient online transactions.
On the third floor of the corporate center is the LANDBANK Davao Lending Center, which will cater to the financing requirements of local farmers and fishers, agrarian reform beneficiaries, micro, small and medium enterprises (MSMEs), cooperatives, and local government units (LGUs), among the Bank's priority sectors.
The Davao Corporate Center also serves as the official station of the LANDBANK Mobile ATM and Mobile Branch in Mindanao, which are on standby to service areas disrupted by disasters and calamities, as well as unbanked and underserved communities.
Other LANDBANK field offices in the corporate center are the East Mindanao Branches Group, Mindanao Lending Group, Davao Cash Operations Unit, Trust Desk, Loan Operations Management Department – Mindanao Unit, Davao Loan Operations Field Unit, Property Valuation and Credit Information Department – Davao Field Team, Cash Management
Solutions Department Mindanao, Davao del Sur Accounting Center 1, Agrarian Operations Center XI, Field Legal Services XI, and Organization Development Department Mindanao.
The Commission on Audit (COA) and Upland Southern Mindanao–Credit and Institutional Building Program (USM-CIBP) were also provided space within the corporate center.
LANDBANK currently operates a total of nine branches and one lending center in Davao City. This is complemented by 64 ATMs, two cash deposit machines (CDMs), and eight Agent Banking Partners (ABPs) that provide basic banking services on behalf of LANDBANK in areas with limited access to formal banking.
LANDBANK is the only bank present in all 81 provinces in the Philippines, with plans for continued expansion focusing on servicing the requirements of its diverse customer base nationwide.