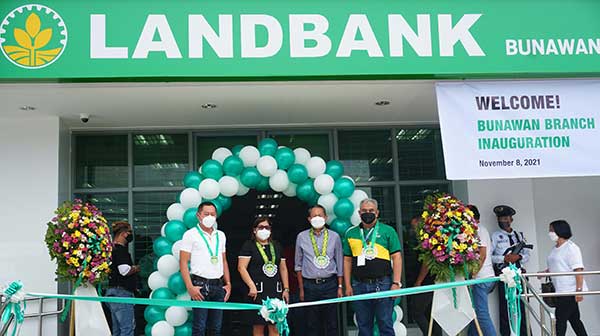 BUNAWAN, Agusan del Sur – The Land Bank of the Philippines (LANDBANK) officially inaugurated its newest branch and the first-ever bank in the first-class municipality of Bunawan in the Province of Agusan del Sur on 08 November 2021.
Strategically located at the Municipal Hall Compound in Barangay San Teodoro, the LANDBANK Bunawan Branch will service the town's ten (10) barangays, including the neighboring towns of Trento, Sta. Josefa, Veruela, and Loreto.
As the only bank present in the municipality, the branch is expected to serve the banking and financial requirements of over 4,360 farmers and fishers. It would also make transactions easier for 18,512 and 10,246 beneficiaries of the Conditional and Unconditional Cash Transfer (CCT/UCT) Programs of the Department of Social Welfare and Development (DSWD), respectively, when receiving cash payouts.
The Bunawan Branch's two ATMs are now part of Agusan del Sur's 11 LANDBANK ATMs. These would significantly help ease foot traffic in LANDBANK branches and ATM terminals to facilitate the cash withdrawals of the Banks' customers, which include government workers, teachers, police and military personnel, and small businesses in the area, especially during paydays.
"LANDBANK's network expansion is geared towards delivering quality products and services to more customers and meeting their emerging needs. While we ramp-up the expansion of our electronic banking channels, our branches and other physical touchpoints remain equally important in servicing our customers, especially those in the countryside," LANDBANK President and CEO Cecilia C. Borromeo said.
Bunawan Mayor Sylvia B. Elorde expressed her gratitude to LANDBANK for establishing a branch in the Municipality, which is also the third LANDBANK branch in the province of Agusan del Sur.
"The presence of your prestigious bank affirms that without a doubt, Bunawan is a developing town and that we are so proud of. I believe that your bank will contribute more to the fast economic growth of our community and will serve as a better foundation of productive investments to our people especially to our local farmers. With you, Bunawan will surely achieve what this administration hopes for all Bunawanons," she said.
The Bunawan Branch brings LANDBANK's physical network to a total of 412 branches and 68 branch-lite units across all 81 provinces nationwide, further extending its reach to serve more unbanked and underserved areas.