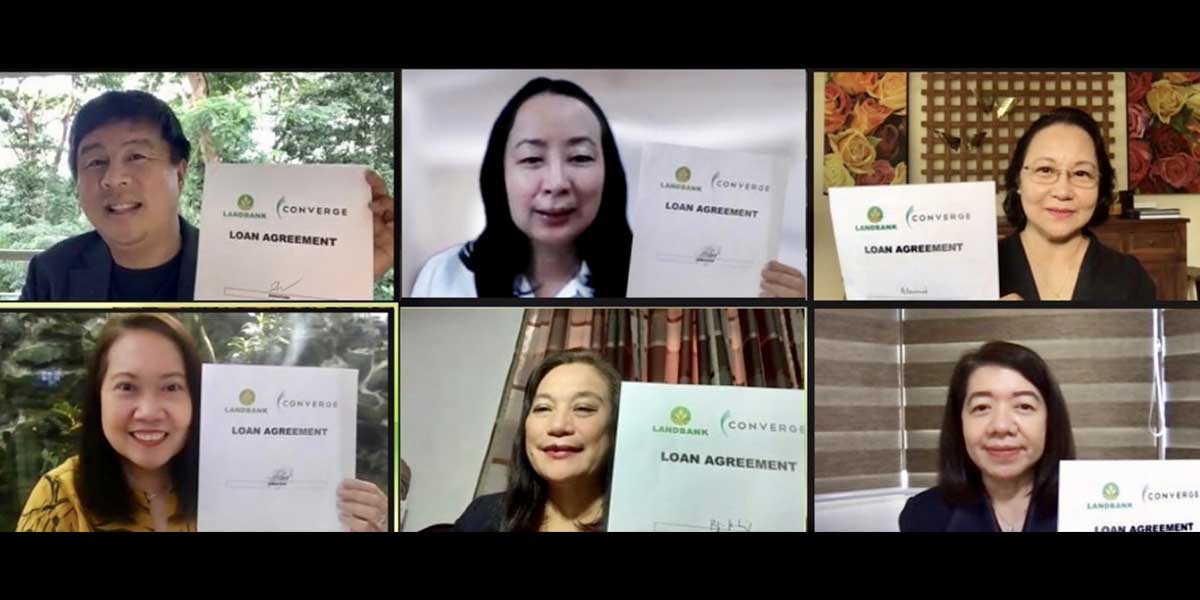 State-run Land Bank of the Philippines (LANDBANK) signed a P3-billion loan agreement with Converge Information and Communications Technology Solutions, Inc. (Converge) to help provide fast and reliable internet service to more subscribers nationwide.
LANDBANK President and CEO Cecilia C. Borromeo alongside Converge CEO Dennis Anthony H. Uy and President Maria Grace Y. Uy led the virtual loan signing ceremony to support the fiber broadband service provider's continuing terrestrial and subsea domestic network expansion and finance working capital requirements.
They were joined by Converge Deputy Chief Finance Officer Christine Renee R. Blabagno and LANDBANK officials, namely Agricultural and Development Lending Sector Officer-in-Charge, Senior Vice President Filipina B. Monje and Corporate Banking Group Head, Senior Vice President Ma. Celeste A. Burgos. Also present during the signing ceremony was Converge Chief Financial Office Advisor Matthias Vukovich.
During the virtual ceremony, LANDBANK emphasized the importance of investing in technology as more Filipinos adapt to a digital lifestyle due to the ongoing pandemic.
"We are hopeful on this new partnership between LANDBANK and Converge to ensure the delivery of fast and consistent internet services across the country. It is with urgency that we must support more users in adapting to home set-ups for work and education in the new normal. This is also aligned with LANDBANK's thrust of leveraging on digital innovations to provide uninterrupted, safe, and timely financial solutions to our clients, especially the unbanked and underserved," said LANDBANK President and CEO Borromeo.
Converge CEO Uy expressed his gratitude to LANDBANK for providing an accessible financial channel to expand their fiber footprint nationwide.
"This loan financing brings us one step closer to our goal of connecting the unserved and underserved areas in the country. The available funds will help us reach into untapped markets and really 'Go Deep' into existing ones," said CEO Uy during the virtual loan signing.
Converge will utilize the credit support from LANDBANK for its continued network expansion across the country, broadening its distribution reach, and boosting international connectivity.
The total loan package from LANDBANK will also include an additional short term loan line as well as a facility for its trade transactions amounting to up to P2 billion.
In line with servicing the emerging needs of its clients in the new normal, LANDBANK successfully facilitated 73.5 million transactions amounting to P1.307 trillion through its five major e-banking channels from January to July 2021. This represented comparative year-on-year increases of 12% and 65%, respectively.
As of July 2021, the Bank has also facilitated the opening of more than 1.7 million online accounts through its Digital On-boarding System or DOBS which digitizes the submission of account applications.
LANDBANK also launched recently the DOBS Mobile which facilitates online savings account opening in as fast as 10 to 15 minutes. The LANDBANK DOBS Mobile eliminates the need to line up in branches to open an account, in support of the National Government's Ease of Doing Business (EODB) initiative, as well as safety protocols imposed to limit COVID-19 infections.
LANDBANK also continues to waive fees for inter-bank fund transfers via InstaPay and PESONet for retail clients until September 30, 2021.