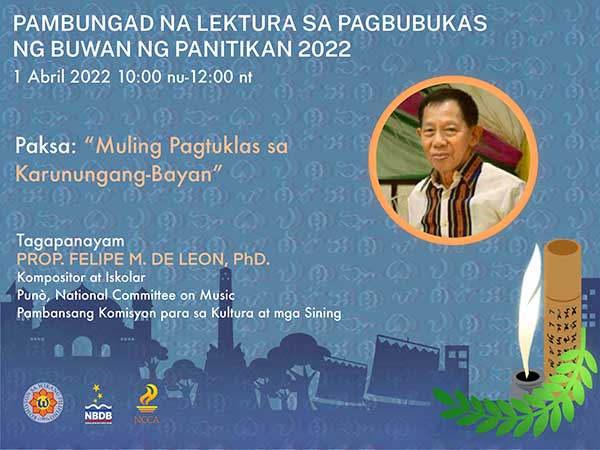 The Komisyon ng Wikang Filipino (KWF) will kick off Literature Month 2022 on April 1 at 10:00 a.m. with a webinar.
The webinar will begin at 10:00 a.m. and will focus on a topic centered on the theme "Muling Pagtuklas sa Karunungang-Bayan."
Dr. Felipe De Leon Jr., a renowned composer and expert in language and culture, will host the webinar. He is also the Head of the National Commission for Culture and the Arts' (NCCA) National Committee on Music.
The webinar is part of KWF's mandate to conduct conferences, seminars, and other discussion groups in order to discover and assist in resolving difficulties and concerns pertaining to the development, dissemination, and preservation of Filipino and other Philippine languages.
Proclamation No. 968, series of 2015 directs that the KWF, the National Book Development Board (NBDB), and the National Commission for Culture and the Arts (NCCA) to spearhead the planning, coordination, and execution of related programs and events in commemoration of the month of literature in accordance with the above-mentioned topic.
Those interested in attending the webinar should call the Sangay ng Edukasyon at Networking at 85473188 or email komisyonsawika@gmail.com for any questions or clarifications. KWF will issue an e-certificate to attendees of the aforementioned webinar.