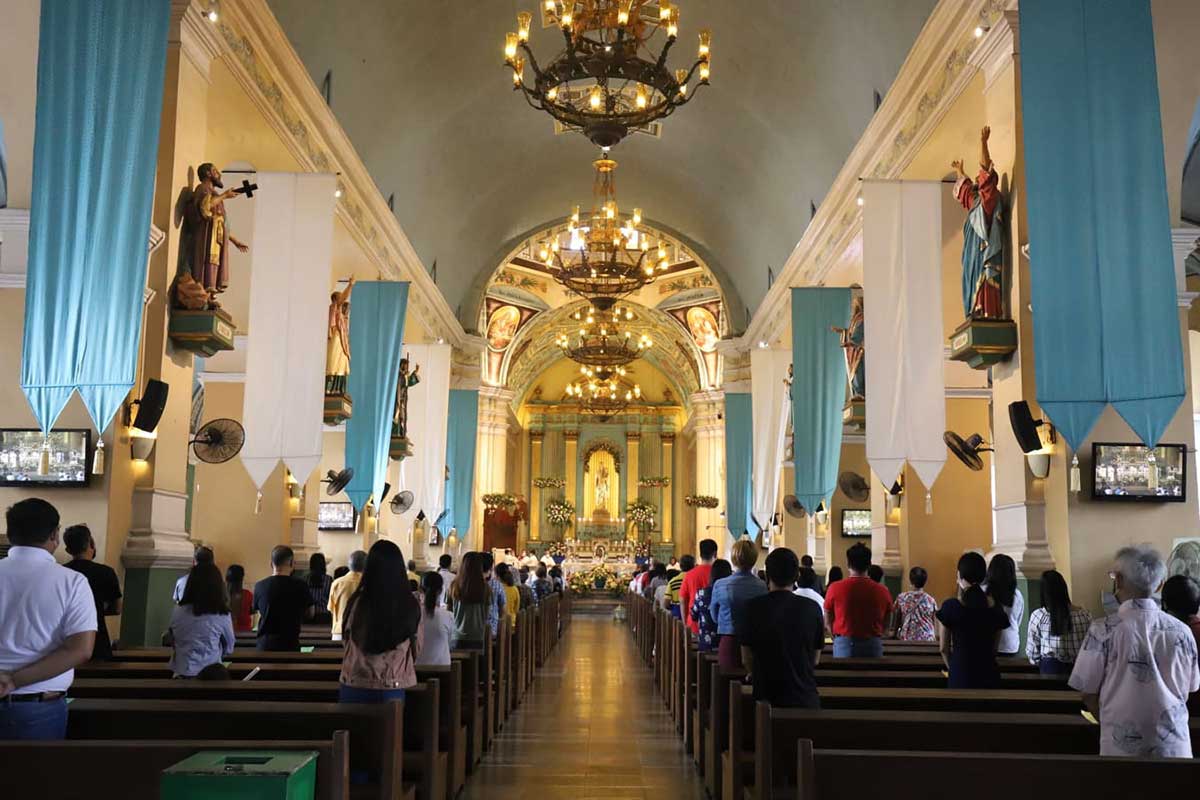 The Catholic church has urged devotees of "Nuestra Señora de la Candelaria" or "Our Lady of Candles" to further strengthen their faith amid the COVID-19 pandemic as the district of Jaro, Iloilo City celebrates its annual fiesta today, Feb 2, 2022 with less fanfare.
According to Fr. Angelo Colada, director of the Commission on Social Communication of the Archdiocese of Jaro, it is already the second year that the Archdiocese has celebrated the feast of Our Lady of Candles while in the pandemic.
Hence, the Church has decided to cancel activities which would involve mass gathering of devotees.
Processions and the traditional "palapak" were suspended for two years due to the threats of the pandemic.
"Since yari kita sa panahon sang pandemic, gindula ta ang mga activities nga posible makatuga sang paglaton sang virus. Amo na ginuntat ta ang prosesyon, ikaduha na nga tuig, wala man sang palapak," he said in an interview with Radyo Pilipinas Iloilo last Sunday, Jan 30.
Instead, masses will be held in the grotto and the main altar of the Jaro Cathedral in Jaro district which will also be streamed online via the Facebook page of the Archdiocese of Jaro.
Colada said 12 masses will be held at the grotto while 8 masses will be held at the main altar today.
Masses at the grotto will start from 4:30 a.m. up to 6:30 p.m. while masses at the main altar will start from 4 a.m. up to 7 a.m.
The high mass will be led by Archbishop of Jaro Most Rev. Jose Romeo Lazo D.D. at 8 a.m.
Colada advised the devotees of Our Lady of Candles especially those who are elderlies and those with co-morbidities to pray at the comforts of their own homes and attend the mass virtually.
For those attending the masses physically, he reminded them to observe the minimum public health standards.
"Sa mga may balatian kag masakit, sindi lang anay kita sang kandila, may iban pa man nga inadlaw so tungod sa sini nga sitwasyon, tinir lang sa ila balay. Ang aton 'nanay' makaintindi man na siya. For those nga ma-attend follow protocols especially social distancing," Colada added.
Colada also urged the Devotees to pray for the end of the COVID-19 pandemic and to offer prayers for patients who are in isolation.
"Sa tanan nga devotees, mangamuyo kita nga kabay pa matapos na ining pandemya kag pangamuyuan man naton ang mga nagamasakit sang Covid-19 nga ginaisolate nga malumpawasan ang ini nga pagtilaw," he added.
Before the pandemic, thousands of devotees flocked to the National Shrine of Our Lady of Candles to celebrate the Feast of Nuestra Señora de la Candelaria.
The image of Our Lady of Candles was the only Marian image in the country that has been "canonically crowned" by then Pope and now St. John Paul II on February 20, 1981.
Our Lady of Candles was also named as "Patroness of Western Visayas", gathering devotees not only from Iloilo but also other areas in Western Visayas including other parts of the country. (DG)