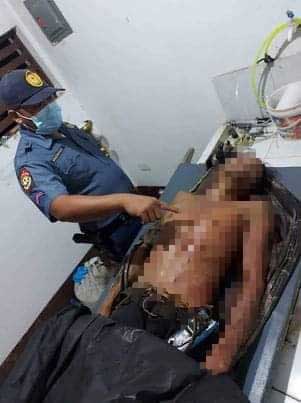 By Glazyl Y. Masculino
BACOLOD City – Police are waiting for the decision of a family on the filing of case against a barangay official who allegedly killed his brother after the latter hacked him at Barangay Basak, Cauayan, Negros Occidental last Sunday.
Police identified the victim as Richard Caballero, 49, while the suspect was identified as his older brother, Barangay Basak Kagawad Freddie Caballero, 51.
Police Lieutenant Colonel Roberto Indiape Jr., town police chief, said the incident occurred when Freddie pacified Richard, who was allegedly drunk and creating alarm and scandal in the area.
Indiape said the victim was allegedly armed with a bolo, and was about to go to a neighboring barangay when the suspect dissuaded him from doing so.
"Ga ma-oy daw ining biktima na nakainom, gin saway lang siya sang magulang, galing gin unahan niya (victim) labo ang suspect," Indiape said.
Freddie probably got irked and drew his .38 caliber revolver and allegedly shot Richard.
Indiape said the victim suffered two gunshot wounds in the body and was declared dead on arrival at a hospital.
Freddie also suffered a minor hack wound in his left arm and was discharged from the hospital yesterday, Indiape said.
The suspect voluntary surrendered to the police and turned over the firearm allegedly used in the incident.
"May mga record naman ang biktima sang ma-oy, kapila na da siya nga ginasaway sa ila lugar kung makainom," Indiape said.
Indiape said the brothers had no grudges or misunderstanding against each other. "Hinubog lang gid ato sang biktima," the police chief added.