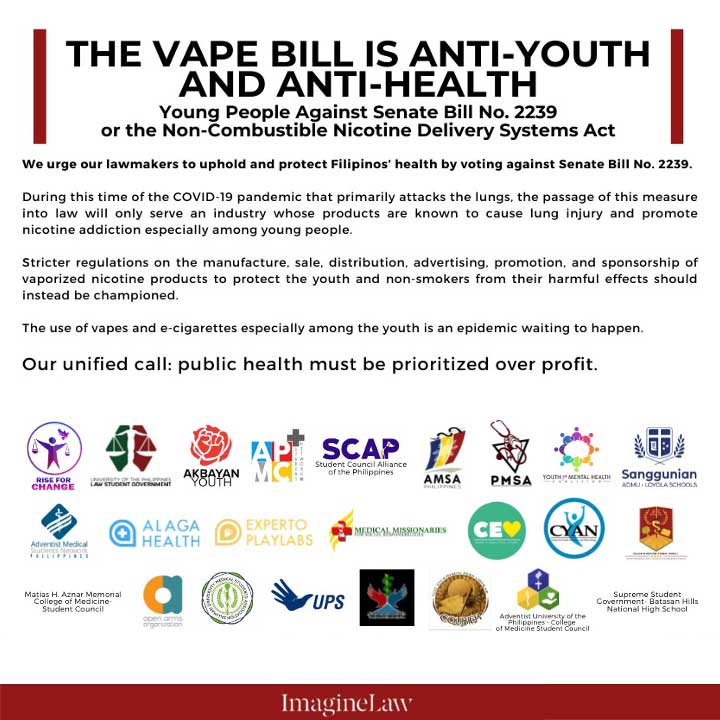 Youth and student organizations urged senators recently to junk a measure that relaxes regulations on the sale, manufacture, and marketing of vapes and e-cigarettes in the country.
Senate Bill No. 2239 or the Non-Combustible Delivery Systems Act, commonly-referred to as Vape Bill, is set to be deliberated as the Senate session resumes after a two-week pause due to the lockdown in Metro Manila.
"The Vape Bill will put young people's health at risk as it weakens existing public health regulations, while prioritizing industries that profit from the harms brought by the manufacture and sale of vapes and e-cigarettes," read the youth statement, signed by more than 20 youth organizations that include student councils, community-based youth groups, and medical student associations.
Student Council Alliance of the Philippines (SCAP) National Secretary-General Nathalie Walker said that their organization opposes the measure because it will lower the minimum age of purchase of said products from 21 to 18 years old. "This is 'two steps back' from existing regulations set by current laws to protect public health," Walker said. "We should instead strengthen regulations on age access to protect young people and public health, especially during this pandemic," she added.
"The bill is also contrary to prevailing medical opinion that nicotine exposure at a young age impairs maximum development of the brain," she also said, citing the medical opinion of the Philippine Pediatric Society (PPS).
Dr. Dexter Galban, Chief Executive Officer of youth-led digital health social enterprise Alaga Health, also said that the Vape Bill espouses the false narrative that vapes and e-cigarettes reduce the harm caused by smoking. "Vapes and e-cigarettes are neither effective harm reduction tools nor are helpful to smokers who want to quit," he said. "Masked by flavors and scents, these products still cause harm to smokers because they keep them highly dependent on dangerous substances. Some smokers end up consuming both, leading to even more significant health threats. There are also thousands of harmful chemicals inside vapes and e-cigarettes that cause lung injury," Galban added.
Public interest law organization ImagineLaw expressed alarm that the bill will roll back prohibitions against flavorings. "SBN 2239 removes the ban on all flavorings other than plain tobacco and menthol, allowing vape and e-cigarette makers to use and market flavorings to appeal to young people and children," Atty. Sophia San Luis, the law group's Executive Director, said.
"These flavorings do not only mask the harshness of nicotine to lure non-smokers, especially the youth, into a lifelong addiction; they also mask the harmful effects of vapes and e-cigarettes," she added.
"We urge our lawmakers to uphold and protect Filipinos' health by voting against Senate Bill No. 2239," the youth groups asked the Senators. "Stricter regulations on the manufacture, sale, distribution, advertising, promotion, and sponsorship of vaporized nicotine products to protect the youth and non-smokers from their harmful effects should instead be championed," their statement urged.