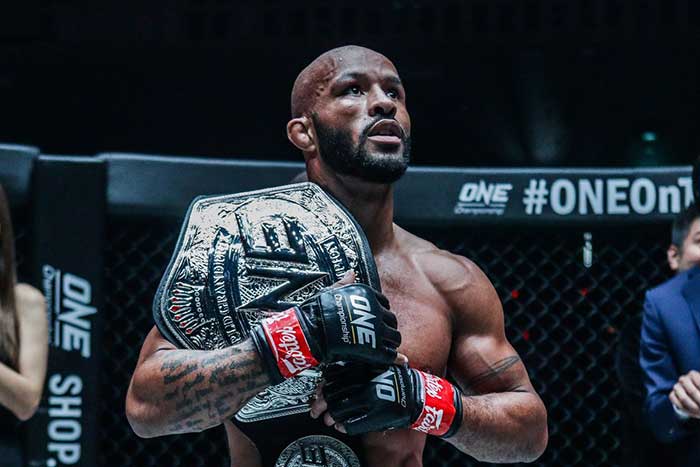 By Leobert Julian A. de la Peña
Ladies and gentlemen, Mixed Martial Arts (MMA) living legend Demetrius Johnson is back!
After suffering a shocking knockout loss during his first encounter with Adriano Moraes, the former Ultimate Fighting Championship (UFC) pound-for-pound king completed his revenge tour and snatched the ONE Championship flyweight title in style.
Johnson returned the favor after knocking out Moraes in the last minute of the fourth round with a two-hit combination done in just three seconds.
Setting traps and baiting Moraes to cut the distance, Johnson finally got a clear angle and landed a vicious right straight punch that wobbled the former ONE flyweight champion.
Johnson then followed up his right straight with a brutal left knee after Moraes got pinned in the cage that was enough to knock him out cold.
It was a tightly-contested clash in the first three rounds as Moraes was able to dominate Johnson on the ground in the first 10 minutes.
Every time Johnson fired that head kick, Moraes was clever to catch his foot which resulted in an easy takedown.
Moraes perfected that move two times that edged Johnson in the initial scorecards but the complexity of the fight entirely changed in the third round.
Johnson already measured his desired distance and bullied Moraes in the stand-up fight, hitting him with his boxing combinations at will while remaining slick to avoid any takedowns.
Moraes came right back in the first minute of the fourth after executing several perfect counter punches but soon as Johnson flipped the switch, everything just went his way and turned the last three minutes into a hitting clinic.
"I get beat up in the gym all the time, after I lost to him. This is the first one where I thought, 'I need this one back. I truly believe that I'm still getting better at 36 because the team I surround myself with, I'm still getting better. I'm happy and I'm grateful," Johnson said after the fight.