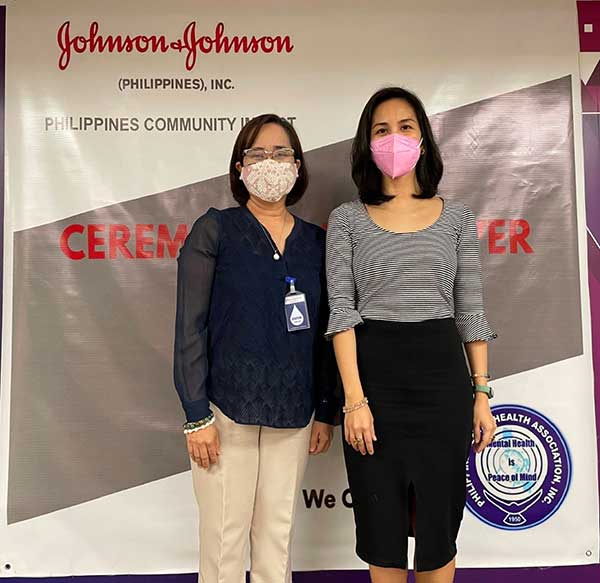 Even as the world slowly transitions to a new normal, the COVID-19 pandemic still affects the mental health of many Filipinos.
Understanding this, Johnson & Johnson (Philippines), Inc. (J&J Philippines) commits to continue its support of programs that help alleviate anxiety and support mental health across different communities. Most recently, J&J Philippines turned over a donation of Php 2.6 million to the Philippine Mental Health Association (PMHA) to support their mental health and psychosocial support programs for frontline health workers.
Says PMHA's National Executive Director: "Our partnership with J&J Philippines started in 2020 when by working together we were able to reach more than 6,000 individuals composed of frontliners, COVID-19 patients and survivors, as well as OFW repatriates and other sectors,  through online workshops and psychosocial support. At the height of the pandemic and until 2021, hundreds of people who were experiencing mild to moderate mental health problems were given individual counseling."
"But beyond the numbers, we were able to significantly raise awareness among health workers on the importance of caring for their mental wellness especially since this has an impact on the communities they serve. Without the support from J&J Philippines, it wouldn't have been this easy to roll out initiatives for the mental well-being of people, especially for our frontliners," adds Dr. Carolina Uno-Rayco.
"We know that bearing the weight of the pandemic response caused our frontline health workers severe physical fatigue and elevated psychological distress," says J&J Philippines communication and public affairs leader Ana Ongpin. "We are privileged to have been given an opportunity to extend a helping hand to them through our long-standing partnership with PMHA. We are committed to support them in awareness, educational and consultative efforts that better ensure the mental well-being of our health workers, especially since these selfless people in the frontline are known to put the well-being of others before their own and don't realize that their being unwell will have an impact on those they care for."