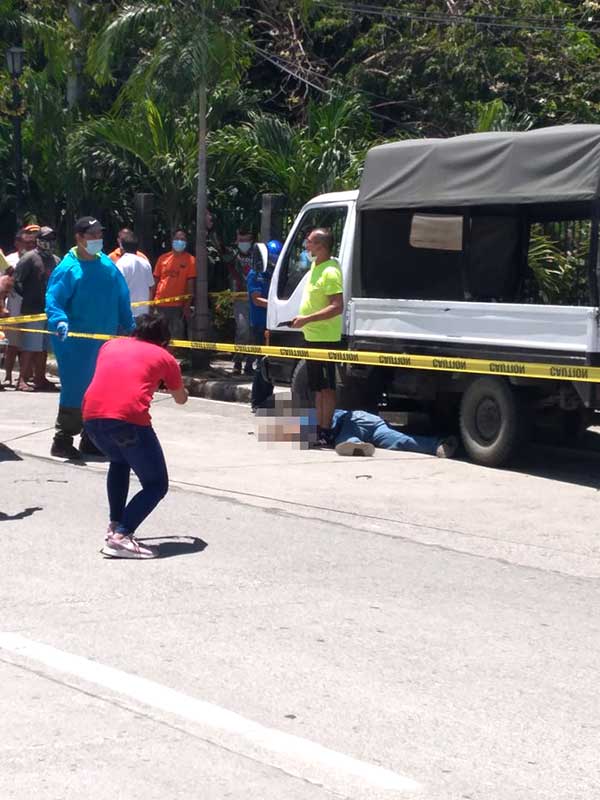 By Jennifer P. Rendon
A member of the Bureau of Jail Management and Penology (BJMP) was gunned down at Barangay Bolong Oeste, Sta. Barbara, Iloilo morning of March 18, 2021 all because of a simple road rage.
Jail Senior Inspector Andrew Larupay, who was assigned to La Carlota City, Negros Occidental and a resident of Lambunao, Iloilo, instantly died from multiple gunshot injuries.
Colonel Gilbert Gorero, Iloilo police chief, said a member of the Philippine Army's 12th Infantry Battalion based in Camp Carreon, Calinog, Iloilo, was taken into custody following the shooting incident.
Army Sergeant Bjourn Kirby Sanchez Esposo was collared in a hot pursuit operation.
At around 3:10 pm Thursday, Staff Sergeant Nilo Sorolla Jr., 40, of Barangay Binangkilan, Santa Barbara, and Citizen Armed Force Geographical Unit (CAFGU) member Nilo Silao, 47, of Magsaysay St., Calinog, Iloilo, voluntarily surrendered to the police to shed light on the incident.
Police investigation showed the incident could have stemmed from a case of road rage.
Larupay was driving a white sedan while the Army personnel were on board an Elf truck.
Reports claimed that the two vehicles were racing with each other from Cabatuan town.
Larupay may have been irked after the Army personnel honked its horn while they were passing Cabatuan.
When the victim reached Bangga Dama in Sta. Barbara, Larupay parked his vehicle and alighted. He then flagged down the truck with the two Army soldiers and the CAFGU member on board.
The three were on their way to the market when the incident happened.
Before Esposo could even alight, Larupay allegedly assaulted him.
"Witnesses couldn't be sure if Larupay thumped him on the head or grabbed him by the neck," Gorero said.
Investigation indicated that the three truck passengers identified themselves as Army personnel.
Esposo even surrendered his driver's license and apologized to Larupay.
But the victim allegedly moved to draw his gun from his waist.
Esposo said he was left with no choice but to shoot him. He then alighted from the vehicle, picked up his driver's license, and checked if Larupay was still alive.
When Esposo saw him moving, he immediately sought cover to the truck before fleeing.
His two other companions also fled.
Larupay was proclaimed dead on the scene.
Eight ammunition shells were recovered from the crime scene.