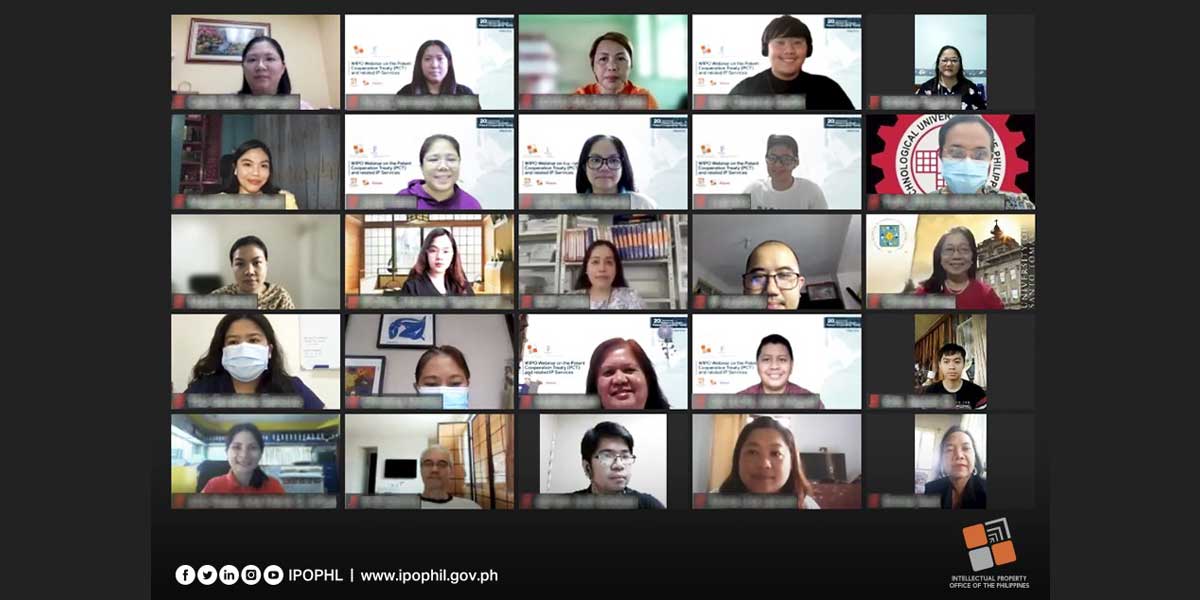 In celebration of the Philippines' 20th year of accession to the Patent Cooperation Treaty (PCT) last August 17, the Intellectual Property Office of the Philippines (IPOPHL) reiterated its push to help local innovators explore foreign markets, touting the ease of filing through its PCT and related international services.
To commemorate the occasion, IPOPHL partnered with the World Intellectual Property Office (WIPO) in hosting a webinar to provide an overview of the PCT, its application process and IPOPHL's related IP services. The webinar was attended by various members of government, academe, and industry.
IPOPHL Director General Rowel S. Barba opened the event and remarked how Filipino innovators, including independent ones, "are capable of riding the technological revolution and taking on the global stage."
"With global patent protection, local innovators are given the opportunity to gain from more markets, take full profit from the technological revolution, and connect with international partners––all with the comfort of having a first layer of protection that is a patent grant," Barba said.
For our part at IPOPHL, we continuously and aggressively help our innovators succeed in international filings as we strive for a more accessible IP system," he added.
Engr. Crista De Guzman, who leads IPOPHL's PCT Section, enticed innovators to take advantage of the Office's services as an International Searching Authority and International Preliminary Examining Authority (ISA/IPEA).
"We would like to invite everyone to consider international patent protection internationally by filing a PCT application and choosing IPOPHL as the competent international authority. Significant discounts and waived fees may be taken advantage of by eligible Filipino applicants. Rest assured, that you get quality service from the office that conforms to international standards," De Guzman encouraged.
For her part, WIPO Deputy Director General for Patents and Technology Lisa Jorgenson commended IPOPHL as one of the top-performing international patent authorities in terms of completion and transmittal of international search reports to the WIPO.
Also gracing the event was Department of Science and Technology (DOST) Secretary Fortunato T. dela Peña, who affirmed the agency's commitment in providing assistance to Filipino inventors and innovators.
Atty. Christopher E. Cruz, University Legal Counsel of De La Salle University, talked about the university's first-hand experience as an applicant under the PCT system and proudly shared that their PCT applications have now entered the national phase in the US, South Korea, Singapore and Vietnam.
"We had a lot of help that made our activities possible, such as a collaborating partner in UP Manila, and government support especially from DOST and IPOPHL who made it easier for us to take the first steps," Cruz shared.
Different PCT experts also shared their expertise at the anniversary webinar.
WIPO's PCT International Cooperation Division Counsellor Anjali Aeri provided a refresher on the PCT and also presented the latest developments. Aeri said the opportunity for collaboration among IP offices is the biggest advantage of the IP system, noting this can accelerate patent search, examination and grant in the national phase.
Meanwhile, WIPO's Senior Customer Support Assistant Pascal Piriou conducted a demonstration of the ePCT, a web-based portal that provides PCT online services for both applicants and IP offices worldwide.
Closing the webinar was IPOPHL Deputy Director General Nelson P. Laluces who challenged attendees "to take the next bold step that is to be part of the large pool of PCT filing assistance program beneficiaries whom IPOPHL serves and hopes to lead to success."
The PCT is a system of seeking patent protection in several or all of the 153 PCT contracting parties by filing one application, making it simpler, easier, and more-cost effective compared to filing directly to each of the contracting states.