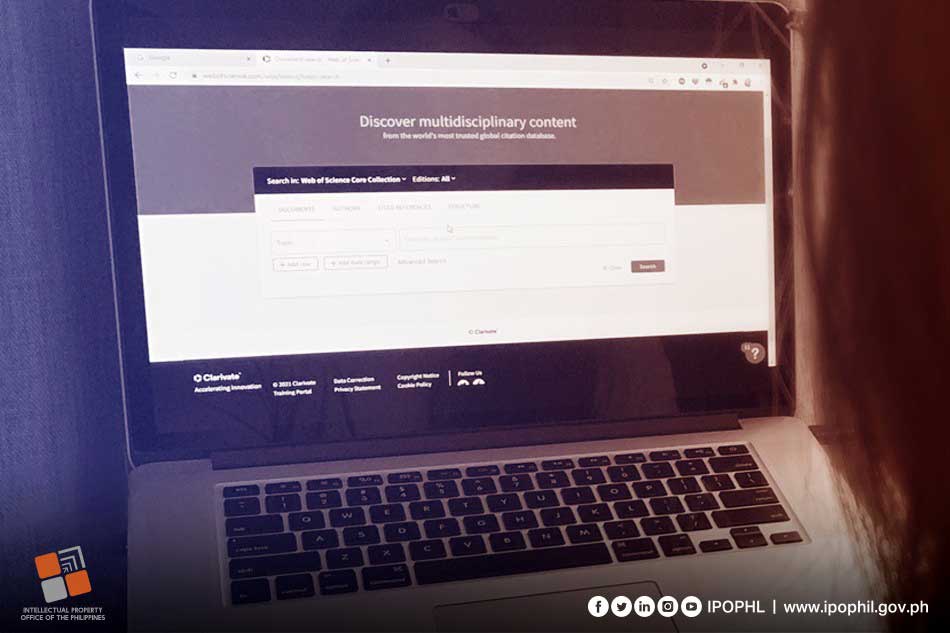 Over 100 patent examiners from the Intellectual Property Office of the Philippines (IPOPHL) were recently trained to keep in step with new search techniques adopted in certain scientific literature databases, ensuring the novelty of innovations approved for intellectual property (IP) protection by the Office.
The webinars, held August 4 to 5, were conducted by the Bureau of Patents (BOP), in coordination with Clarivate Analytics and CAS-American Chemical Society, which respectively maintain the Web of Science (WoS) and the Scientific and Technical information Network (STNext).
The two are databases widely used by the academe for citation review, including intellectual property offices for searching non-patent literature (NPL).
NPL is any literature that is not approved, pending, expired or withdrawn at an IP office. As they provide a wide scope of information on a field of technology, NPL's help fulfill the goals of prior art searches in determining the patentability, particularly the novelty, of an invention.
Maintained by Clarivate Analytics and with over 34,000 journals, the WoS is a subscription-based database that provides comprehensive citation data for many different academic disciplines.
At the webinar, Clarivate Analytics Senior Solution Consultant Dr. Subhasree presented the new features of the WoS and explained how they can be optimized by searching with the right keywords and format.
Meanwhile, the STN is a database used for searching both NPL and published patents on chemical-related listings.
Pamela Oon, Senior Customer Success Specialist at the American Chemical Society, guided participants how to tap the features of the STNext, the newest STN platform. Oon said the latest upgrades can provide a faster searching capability in a more organized approach.
The webinars are part of the BOP's efforts to continuously upskill patent examiners and enable IPOPHL to perform its duties as International Searching and Preliminary Examining Authority (ISA/IPEA)
"As the 23rd ISA/IPEA under the Patent Cooperation Treaty, BOP endeavors to maintain relevance and responsiveness of its examination practices to technological developments," BOP Director Lolibeth R. Medrano said.
"It is therefore vital for BOP to provide continuing education programs for its patent examiners in pursuit of IPOPHL's vision of strengthening the protection of intellectual property rights in the Philippines by producing quality service both as an IP Office and as an ISA/IPEA," she added. (IPOPHL)