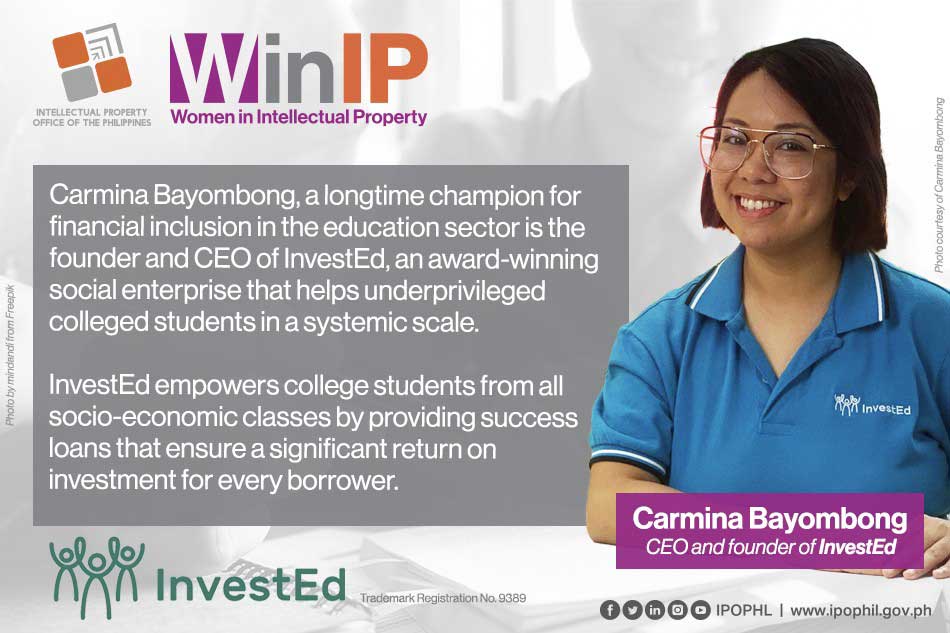 As the pandemic weakened many families' economic capacities, it is feared that the population of dropouts and out-of-school youth have been pushed higher, in turn creating wider vacancies for higher value-added jobs in the long term.
Desiring to conquer financial troubles and uncertainties brought by the crisis, Filipinos have turned to financial lenders like InvestEd that enable access to education, upskilling, and a more financially stable future.
"We've experienced a surge of demand during the pandemic," said InvestEd CEO and Founder Carmina Bayombong.
"With the pandemic and industry 4.0 making job markets more competitive, people need to continuously improve themselves to compete. This is now the only way to truly secure one's future. Access to quality education, whether traditional or non-traditional, is more important than ever," Bayombong said.
The most affected by the crisis today are the poor, she lamented, noting that reduced incomes have surely narrowed household spending to essentials such as food and shelter.
Bayombong is a longtime champion for financial inclusion in the education sector, beginning her college years. Back then, she worked in student organizations' small scholarship programs and the Sangguniang Kabataan –– a council representing the youth in the barangay level –– where she saw first hand the great need for educational funding that for so long had not been addressed sufficiently.
"I also saw how primitive selection processes were. In the 21st century, selection criteria were still mainly about grades. When in fact, in this highly digital and competitive world, financially disadvantaged students just couldn't compete," Bayombong said, citing the absence of a level-playing field for the poor.
"They never had money for quality education from the beginning, they didn't have the gadgets to learn properly in a highly digital learning environment, and lastly, they worked part time jobs during their free time leaving them no time to focus on their academics. This led me to think about new ways to identify students who are worth investing in," she added.
While her work toward better access for education financing started in college, the idea for her startup InvestEd may have been seeded even earlier when her own parents took on loans and scholarship programs to secure their college diplomas.
"Just by being their daughter, I grew up to know the power of education and how difficult it was to get that diploma when you aren't financially privileged," Bayombong said.
Today, her startup InvestEd has raised about $1.6 million in funding and served hundreds of underresouced but high potential dreamers since its establishment in 2016. The students it helped saw an increase of 24% to 320% in household income after graduation while some were the first in their families to attend college.
By offering easy, non-collateral education loans payable once borrowers are employed after graduation, InvestEd has changed the landscape for education, creating a flexible and affordable payment term personalized for each student's situation and evolving needs.
InvestEd does not only offer its student borrowers financial assistance but also membership into its community and coaching on employment, career development and financial literacy.
For this, the startup was awarded a P1 million grant by the Ideaspace Foundation; a $100,000 grant by Dubai World Expo 2020's Top 120 Global Innovators; and the EduTech Leadership Award by the World Education Congress. It was also recognized as one of the Top 100 Most Inspiring Social Innovations and Entrepreneurs by Social Enablers.
Bayombong herself earned several accolades and milestones. She became part of the Obama Foundation's Asia Pacific Leaders Program and was awarded the Outstanding Women in Nation's Service Award and a $100,000 Grant by Cartier Women's Initiative Award.
Behind these rewards are stories of success which Bayombong hopes to create more not only in the Philippines but in all developing markets.
Helping developing countries
At present, InvestEd is using its funds to expand its reach, improve its products and further R&D for its proprietary Risk Engine which turns capital invested in student loans to become sustainable.
In the future, Bayombong hopes to end the problem of education finance in other developing economies. The borderless dream was inspired when Bayombong worked for several education social enterprises and non-profits in West Africa, Southeast Asia and the United States.
"I saw the same things I saw locally when it came to education finance. The status quo of how difficult it was to finance higher education for low-income students was the same in all developing markets," she said.
"We see that we can end the education finance problem in the developing world by creating a way to de-risk student loans at scale," she said.
As the startup plans to venture into global markets in the long term, Bayombong said they are keen to protect their trademarks in these markets as they have done in the Philippines to secure the stable growth of Invested.
"In the early days of InvestEd, we decided to apply for a trademark for our logo. For a small cost, we were able to avoid costly risks down the road," Bayombong recounted.
Securing registered trademarks before market launch is part of the lessons Bayombong shares to budding and fellow entrepreneurs as a startup mentor herself. She explained the failure to practice early trademark protection can embolden others to copy growing brands and unfairly take in revenues supposedly meant for the original enterprises.
"Registering for a trademark and protecting the brand that you've worked hard to build is very important. For any growing business, it is important that you have legal rights to use your logo. Without it, anyone can use it," the InvestEd founder said.
Bayombong also has a message for women entrepreneurs with big dreams and innovative ideas but lack the courage to compete in the market: "entrepreneurship is difficult but worth it."
"If you'd like to try it, just do it. The worst that could happen is that you grow and you learn a lot. And if all goes well, you would have positively impacted people's lives." (Janina Lim, IPOPHL Media Relations Officer)