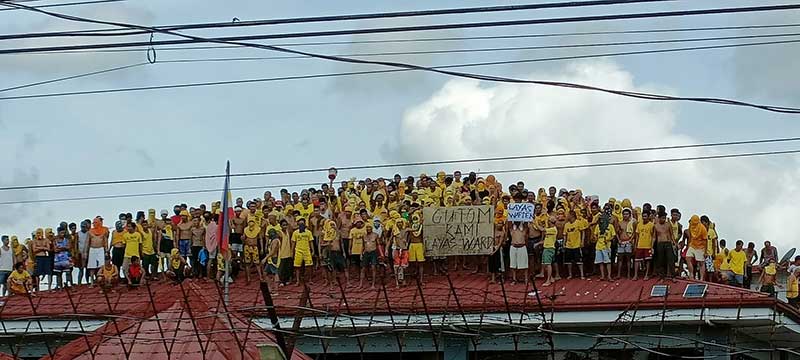 By Jennifer P. Rendon
More than a hundred persons deprived of liberty (PDLs) held a noise barrage on the rooftop of the Iloilo District Jail-Male Dormitory in Barangay Nanga, Pototan, Iloilo.
The inmates raised at least two demands: better food ration and the relief of the warden, Jail Chief Inspector Norberto Miciano, Jr.
The inmates also displayed a placard with the words "Gutom na kami. Layas warden (We're hungry. Leave warden)."
According to reports, the inmates scaled the jail facility's rooftop around 7:30 a.m. on Wednesday.
Atty. Jairus Anthony Dogelio, Bureau of Jail Management and Penology-Region 6 (BJMP-6) spokesperson, admitted that IDJ personnel did not get wind of the inmates' plan.
They were able to gain access to the rooftop and timed their protest action for the scheduled mass.
The mass is usually held on the building's second floor.
At around 3 a.m., access to the mass venue was opened. The prisoners rook this chance in making their way to the rooftop.
A few hours into their protest, Dogelio announced that the BJMP-6 leadership has ordered the relief of Miciano.
Inspector Woody Palmejar, the deputy warden, replaced Miciano.
Aside from wanting to talk to the media, the inmates also want to meet Governor Arthur Defensor, Jr, Mayor Rafael Enrique Lazaro of Pototan, and BJMP-6 regional director Jail Chief Superintendent Clint Russell Tangeres.
The PDLs asked Defensor to check on their situation and how the facility is being run.
In a statement, Defensor asked the inmates to "go down."
He said he would talk with the BJMP-6 about how they could solve the matter.
Limited food, pricey commissary
The inmates claimed that they were provided limited food, not enough to quell their hunger.
But there's more to it than just meager food.
An inmate also wrote a note claiming that their rice has broken bottles and had to endure eating rotten fish.
When relatives come to visit and bring them food, the authorities allegedly limit the food that could be supplied to them. They also alleged that some of their food was being "confiscated."
Why does the IDJ do that?
The inmates and their relatives believe that they were done to compel them to buy food from the jail facility's commissary.
The inmate who wrote the note claimed that it was nothing but business.
Another inmate also scribbled a note saying, "Ang warden di tama ka-corrupt." (The warden here is so corrupt.)
He also claimed that they were so fed up with eating "tuloy" or "tamban" fish, a variety of sardines.
Pork is allegedly offered to those who can afford it.
An inmate's relative claimed that a can of sardine, which costs around P20-25, is being sold at P60.
Water is also being limited which forced prisoners to buy a bottle for P60.
"I pity those inmates who have relatives who can't visit them regularly. They are deprived of food and water," another inmate's kin said.
PROBE
Dogelio has assured that an investigation will be done to determine the veracity of the PDLs' complaints.
Tangeres has also scheduled to talk to the protestors.
As of early afternoon, the inmates' noise barrage has yet to end.