"Trust the management."
This has been Maria Theresa "Mhyla" Feguro-Dano's guiding mantra since she started working for MORE Power Iloilo for almost four years now.
Myla is married to Michael Dano, a licensed geodetic engineer, who runs their family surveying company, mother to two active boys, academically focused Michael Angelo and the bubbly Michael Filrey, ages 18 and 7 respectively.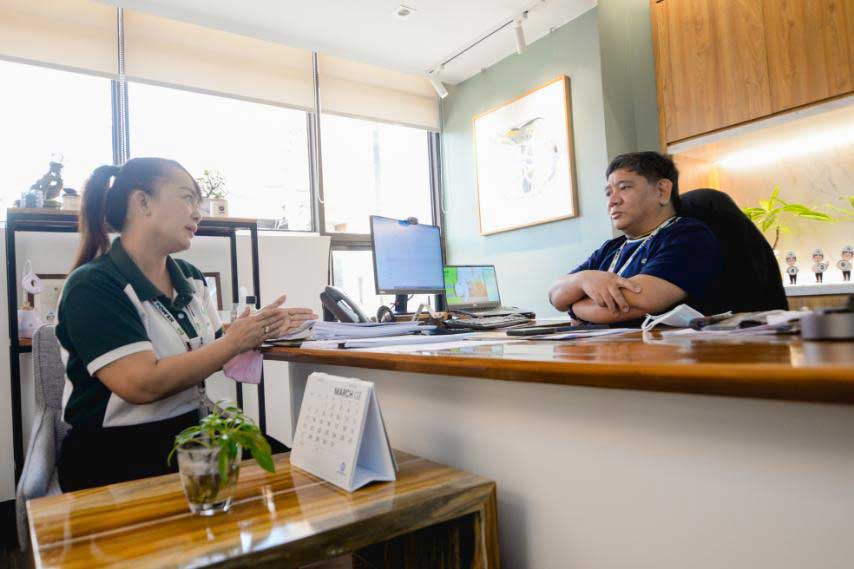 HOW IT ALL STARTED
Flashback November 2018.
She happily shared that she's one of the few that was specifically handpicked by Mr. Roel Z. Castro, President of MORE Power, to be a part of the inception team, long before the company started their operations in Iloilo city.
In particular, she was tasked to prepare for the licenses of the office operation and later she was assigned to helm the top accounts under the Key Accounts division, considered as the elite squad under the Customer Care Department.
Guided by the vision of Mr. Castro, which is "excellent customer care at all costs," Myla is driven to excel and deliver top notch customer service ever. Most often she goes beyond the call of duty to carry out her tasks. Handling 185 key accounts is no small feat after all.
HUMBLE BEGINNINGS
Myla graduated from the University of Iloilo with a bachelor's degree in Business Administration. She started her Master's in Business Administration at the University of San Agustin Iloilo and finished it at the International Academy of Management and Economics in the year 2000.
Whilst in college Myla has been a working student, which gave her the opportunity to be exposed in a corporate setting. A stepping stone she capitalized on as she worked in different companies throughout the years; until she called it a day in 2004 to focus on her family life.
She took a part time teaching job in the University of Iloilo until her path and Mr. Castro's crossed again.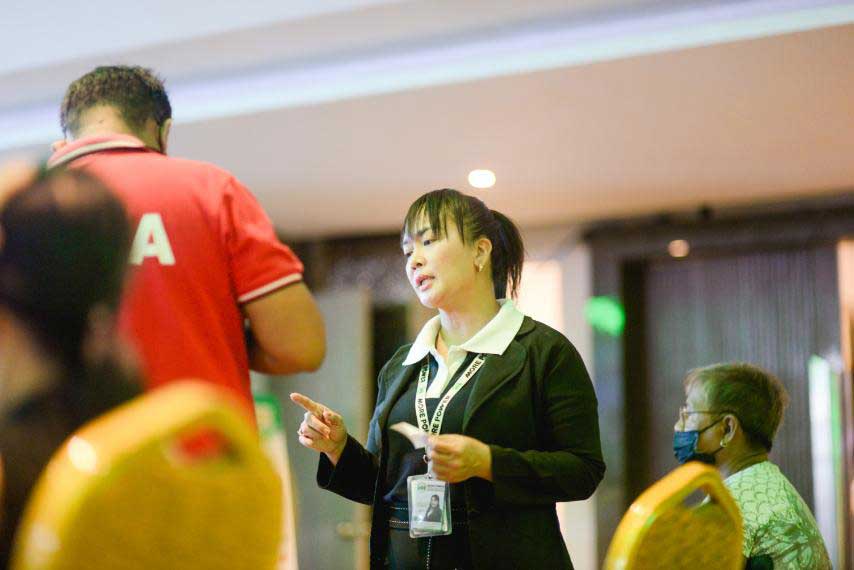 DRIVEN AND MOTIVATED TO EXCEL
Handling key accounts with only four members in their division as a start up team, Myla motivated herself to excel under the mentorship of their Customer Care head, Maricel Pe.
Faced with challenges and rejection during the early stage of MORE's takeover, she worked hard to establish a relationship with the barangays and business sector of Iloilo city by participating in community dialogues and doing a thorough research on consumer accounts. This helped her in structuring her own routine in the office when MORE finally took over the operations from the previous distribution utility.
A normal daily routine for her is the non-stop ringing of the telephones, meetings, attending to concerns both over the phone and in the office; overseeing her team to perform their tasks according to the daily goal targets and even "mothering" at times to ensure a smooth flow of operations.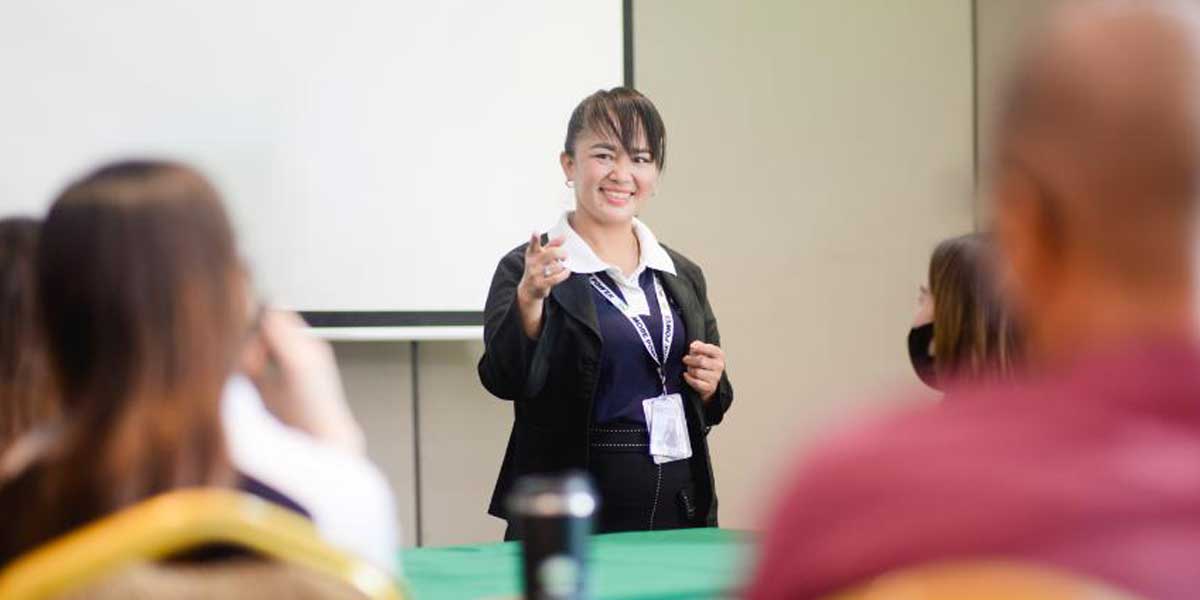 At the start of her hectic day, she would remind herself to always anchor to the guidance of the Holy Spirit on how to face the challenges. As she performs the day's task, Mr. Castro's foresight "there's no room for mediocrity," would echo in her head over and over, fueling her drive to excel.
Myla made a lot of adjustments over the past three years of MORE's operation. Her division is the busiest in the office and requires her attention all the time. Six staff is currently under her wing and she ensures that the daily grind goes smoothly.
She strives to inspire and guide her team; making them work in a highly motivated environment. She makes it a point to influence them the culture of MORE Power; "excellence beyond the call of duty."
She introduced a holistic approach among her team to keep the fire burning so to speak. Luckily, the approach seems to work.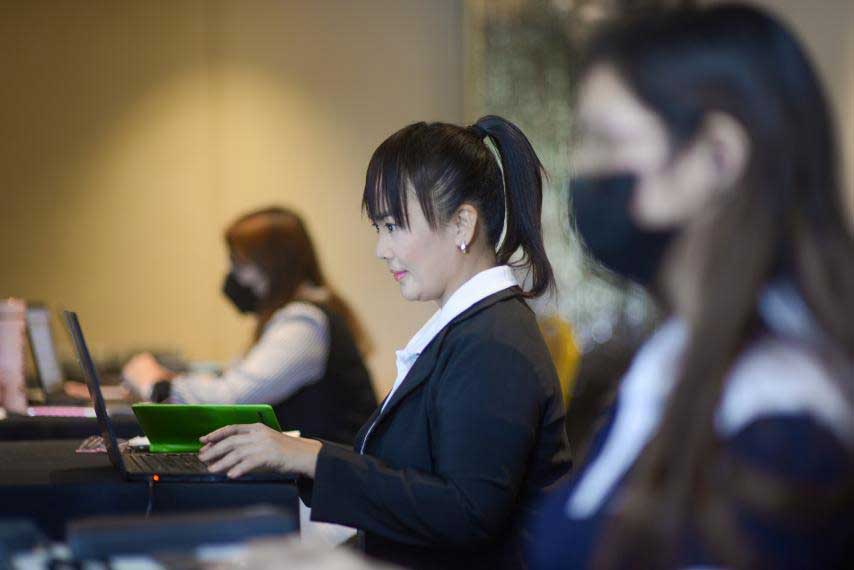 BALANCING WORK AND FAMILY LIFE
Myla agrees that women nowadays need to work to help in the family's finances. In her case, however, she doesn't have to. But she chose to work with MORE and made that commitment to continue working because she values the trust Mr. Castro has given to her. She wants to prove that she has chosen the right path; hence no hanging her gloves anytime soon.
She is grateful for having a very supportive and loving family; her husband understands the demands of her work and the erratic hours sometimes. Her older son Angelo, helps his brother in his school work while the young Michael is all agog about his mom being the "hero of brownouts." The little boy frequently hears the calls of consumers during power interruptions. Myla discloses this with a hearty laugh.
REALIZATIONS
"Working with MORE made me realize the value of patience, tolerance, acceptance and appreciation," Myla candidly shared. She realized a lot of things which she said are not even worth a sweat. The influence of Mr. Castro played a vital role in her career. She learned how to focus and pay attention to detail; leaving no room for error.
INSPIRING MESSAGE
"Being a pioneer employee of MORE is not easy; despite my previous corporate experiences, it seems I'm a beginner again. I almost considered giving up, but because I believe I'm in a good company, I really work hard and focus on my assigned tasks and give my energy to the satisfaction of the customers. The workload seems so heavy, but I consider it as a way to build confidence. Confidence that I was able to influence my colleagues to continue serving the Ilonggos. It has been four years with MORE but each day is considered as challenging and a part of the learning process.
I am excited each day to report to work, because I trust the management that they keep on formulating ideas on how to amaze the customers with the services we give them.
With my life status now, I am so grateful to the management of MORE especially to our President Mr. Roel Z. Castro for giving me such a huge responsibility, resolving difficult concerns that made me stronger yet staying humble.
There's a saying, "you can't serve two masters at the same time." As a working mom, working with MORE is so instrumental that I am able to serve my fellow Ilonggos but my duty as a mom and as a wife is never compromised. There is always a balance and I am proof of that.
Working with MORE is not easy, but I endure hardships as an act of discipline; and discipline will lead you to success." (Pearl Dapitan for MORE Spotlight)