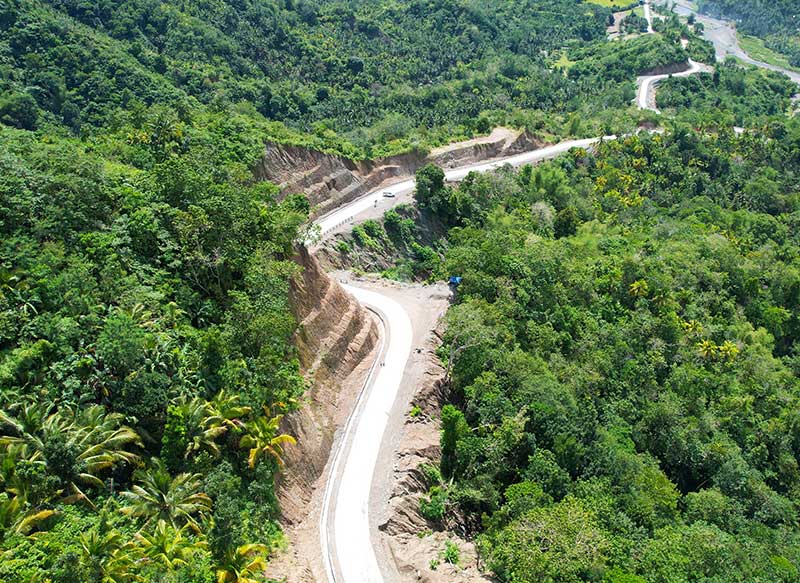 Transport of agricultural products from the far-flung community of Brgy. Culipapa in Hinobaan, Negros Occidental is now faster with the improved farm-to-market road.
The road project implemented by the Department of Public Works and Highways (DPWH)-Negros Occidental 3rd District Engineering Office leads to various farm lands in Sitio Cemeco.
According to District Engineer (DE) Rodney A. Gustilo, the ₱48.25-million project is funded under the District's 2020 General Appropriations Act (GAA).
It involves concreting of the initial 1.95-kilometer portion of the 8.5-kilometer stretch from the national highway. It also includes grouted riprap for slope protection, and metal railings on identified areas with high elevation.
"The rugged road lies in the mountain side, which is a potential area for production of crops and other agricultural products. From its original narrow road, it was widened into 5 meters, providing enough space for big vehicles to access the area," Engr. Gustilo said.
"People used to travel for an hour via habal-habal (improvised motorcycle) or 3 hours on foot or hauled by carabao, in transporting their products to the market, which was a bit inconvenient, costly and took longer time to reach the market. Hence, with this concrete road, 4-wheel vehicles can enter even the remote area, thereby hauling and transporting of products from farms to market becomes easier, faster, more convenient, and at a lesser cost," he added.
Romeo A. Castillo, a farmer from Brgy. Culipapa said that the road concreting project has brought convenience to the people in the area.
"When traveling to Sition Cemeco before, a habal-habal had a hard time reaching our place due to undeveloped, rugged road and agricultural products were then carried manually by farmers to the market. Through this good road, we can easily transport our products to the market. From the previously half sack of rice carried by a motorcycle, now it can carry 4 sacks and deliver easily to the market because the road is better now," Castillo said.
With this concrete road, residents are looking forward for a convenient and more comfortable travel from their far-flung community to the town center.
They are likewise hopeful that through this infrastructure development, their social and economic situation will be better and access to basic government services like health, education, peace and security will be ensured. (DPWHR-6)