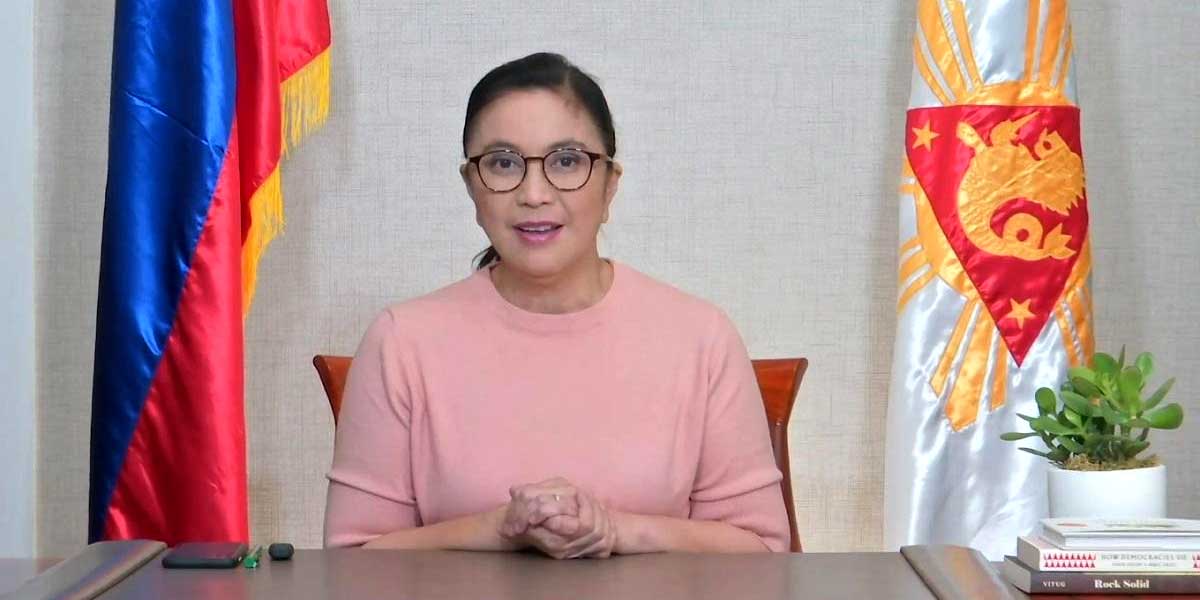 By Joseph B.A. Marzan
Ilonggo groups on Saturday joined the growing chorus to push Vice President Leni Robredo to run as president in the May 9, 2022 National and Local Elections.
Iloilo for Leni was launched on August 21, featuring local leaders of Robredo's party, Liberal Party, as well as other supporting groups.
This was spearheaded by the LP Iloilo Magayon Chapter and the Iloilo chapters of the party's subgroups Liberal Youth, Kababaihang Liberal, Liberal Muslim Women, and Liberal Seamans Volunteers for VP Leni.
Other groups who have joined include the Iloilo chapters of the Partidong Manggagawa and its subgroups PM Youth and PM Women, Akbayan and Akbayan Youth, SENTRO, 1Sambayan, Team Pilipinas, Women for Leni, and Lawyers for Leni, among other volunteer groups.
LP Iloilo Magayon chapter chairperson and Lead Convenor of Iloilo for Leni Gerard Peñaranda read out the groups' manifesto of support for the vice-president's potential presidential candidacy.
The manifesto mentioned the coronavirus disease 2019 (COVID-19) pandemic, violence against women, recurring human rights violations, lack of national unity, the government's leniency towards China amid the West Philippine Sea controversy, continuous poverty, government corruption, and over-all poor performance of the current administration, citing that Robredo would be the one to face these issues head-on.
"Dahil dito ninanais namin na si Bise Presidente Leni Robredo ay tumakbo bilang susunod na Pangulo ng Republika ng Pilipinas. Naniniwala kami na siya ang karapat-dapat na mamuno sa ating bansa, iaahon tayo sa ating kinalalagyan ngayon, magiging tapat at maghahatid ng dekalidad na serbisyo sa bawat Pilipino," the manifesto read.
(Because of this, we want Vice President Leni Robredo to run as the next President of the Republic of the Philippines. We believe that she is the right person to lead our country, lift us up from our current state, be truthful and deliver quality service to every Filipino.)
The manifesto also acknowledged the difficulty of the campaign ahead of them, vowing to stick to Robredo even as she leads the country moving forward.
"Magiging mahirap man ang laban, hinding hindi naming iiwanan si Leni Robredo at sasamahan naming siyang pamunuan ang isang malawak na puwersang demokratikong magtataguyod sa tunay na pagbabago sa ating bayan," closed the manifesto.
(The fight will be hard, but we will not leave Leni Robredo and we will be with her to lead a wide democratic force which will build genuine change in our country.)
LP national Director General and Iloilo provincial Board Member Jason Gonzales, called for Ilonggos to give support to Robredo through their personal social media accounts, saying that they can make 30-second personal testimonial videos answering the question, "Why Leni Robredo?"
Gonzales also mentioned that many support groups in the country are also springing up, including in other parts of Panay Island.
"We can greatly help through our personal Facebook accounts. The answer needs to be personal. We don't give a script. The hashtag #KayLeniTayoAngPanalo should also be included. I am asking everyone to make their personal videos. Make it creative, make it fun, and make it funny," said Gonzales.
SOLIDARITY MESSAGES
Several of Robredo's closest allies, as well as her vehement supporters also shared solidarity messages during the launching.
Former Senator Bam Aquino called the launch a "significant day", mentioning the 38th death anniversary of his uncle, Benigno "Ninoy" Aquino Jr.
Aquino likened his late uncle's push for a "more democratic society where people can lead" and not relying on one person alone.
He said that Robredo had "continuous discernment" on whether or not she would run, adding that she preferred the candidate who "was in the best position to win".
He also brushed aside questions on whether or not he would run for senate in the upcoming elections, saying that his priority right now was support for Robredo's candidacy.
"Before [Ninoy] went home, he had many messages for us, one of them being 'the people must lead', that we all become leaders. It's not enough that one person leads us or fixes all our problems. The Filipino people must secure our future from people causing evil, and also to lead ourselves and the country. I think that's the same kind of leadership we can see in Leni Robredo, where she inspires people to unleash their heroism," Aquino said.
Economics professor Cielo Magno of the University of the Philippines School of Economics believes that Robredo's leadership can pull the country out of the economic problems caused by the COVID-19 pandemic, which she attributed to President Rodrigo Duterte's "toxic" leadership.
Magno cited data by the National Economic and Development Authority (NEDA) which showed that the COVID lockdowns cost the country P150 billion per week with 600,000 workers affected and 250,000 individuals dragged into poverty, in the National Capital Region alone.
She said that Robredo was the kind of "new leader" that "gives the country hope, renewed trust in our institutions, and prioritizes the people."
"In the current spread of COVID, the government's response is corruption, failure, violence, and lack of compassion. There's none to blame but Duterte's toxic leadership, and this will just continue if the Duterte brand of leadership continues. (sic) We don't deserve this. We need a leader with the care, ability, and the knowledge to respond, and who can inspire to surpass not only the challenges of the pandemic but also the problems in our country and reverse-course to revive our economy," Magno said.
Rene Bong Magtubo of 1Sambayan Iloilo and PM welcomed the launch, saying that the movement was a local move for a unified opposition slate in the upcoming polls.
Robredo was named as one of 1Sambayan nominees for president in its virtual convention held last June 12.
Magtubo said that 1Sambayan will close its nomination process by the end of August, and will release its endorsements shortly before the filing of certificates of candidacy in October.
"I think that your efforts [in launching Leni for Iloilo] is an important part of the process for 1Sambayan's consideration, given that many organizations who are here are also part of 1Sambayan," Magtubo said.
Magtubo also said that Robredo has met virtually with national PM leadership, including labor union members and other sectors, which he said made them feel her serious advocacy for laborers, women, and the youth.
But Robredo had made it clear to them that she had not made a final decision on whether she would run or not.
Former senatorial candidate Samira Gutoc also joined the launch, and called democratic forces to come together behind Robredo.
Gutoc left the LP earlier this month to join another political party, Aksyon Demokratiko, where she currently sits in its national executive board.
The vice president pushed for housing of displaced persons during the conflict in Gutoc's hometown, Marawi City.
"The vice president's first instruction when we had our assessment at the [LP] headquarters in Cubao was to strengthen our ranks, strengthen the opposition, and coalesce if possible. This is what we are doing on the ground. The opposition is hard up, and we have to come together, all democratic forces on all democratic fronts," said Gutoc.
The LP's national president, Senator Kiko Pangilinan, said he saw the launch as a sign that people in the grassroots have recognized Robredo as a leader with strength and compassion.
Pangilinan also mentioned the COVID-19 pandemic, likening the country to a ship in troubled waters, whose captain and crew have disagreed on the direction.
He emphasized on Robredo's initiatives under the Office of the Vice President in response to the COVID-19 pandemic, as well as the "unqualified opinion" or the highest audit rating given by the Commission on Audit (COA).
He said that while Robredo had not decided, it did not mean that she was indecisive, citing their recent meeting on August 19, and added that she was "weighing things".
"This launching of Iloilo for Leni is a sign that the grassroots is awakening and looking and aspiring for leadership that is truly strong and with compassion. The Philippines is a ship, and we are in the middle of the sea being hit by a storm. If we don't have change in 2022, the ship will surely sink. Vice President Leni has shown how to respond to COVID, and she has laid down some suggestions," said Pangilinan.
Senator Leila De Lima showed her support through a letter head by her Chief of Staff, Fhillip Sawali, which focused on the vice president's dedication in her work as well as being an inspiration to women in the country.
In her letter, De Lima also mentioned the OVP's COA rating while berating the Duterte administration's multiple audit issues flagged by auditors, as well as Robredo's COVID response initiatives.
"Amid the consistent corruption issues surrounding the Duterte regime even during the pandemic, VP Leni's leadership is a breath of fresh air. (sic) In spite of the criticisms, fake news, and violence, VP Leni shows the strength of a woman, the ability to lead with a heart for service, and compassion for Filipinos. VP Leni is the 'busy' president who does not kill nor steal, and embodies the service people need right now," said De Lima in her letter.