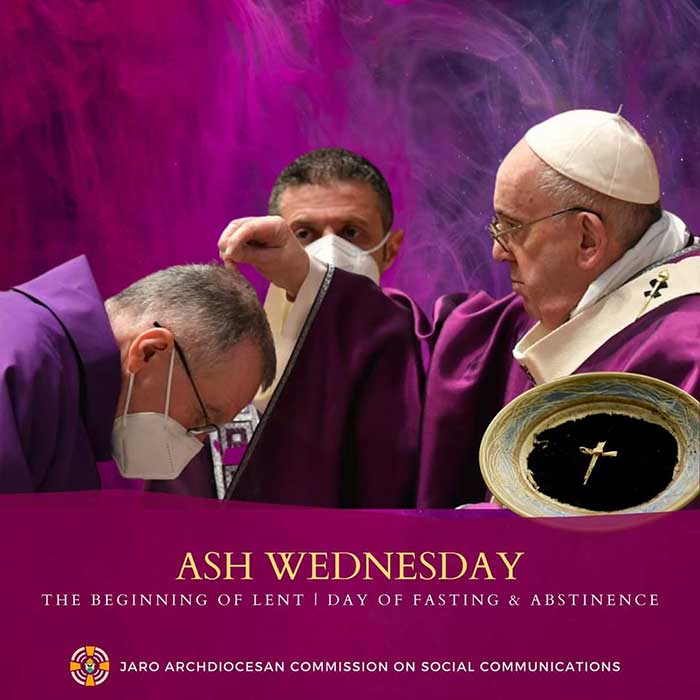 Ilonggo devotees gathered at the Jaro Metropolitan Church in Jaro district on Wednesday, March 2, 2022 to have their foreheads marked with ash in observance of Ash Wednesday.
The Ash Wednesday marks the start of the Lent season for the Catholics. Lent is the 40-day period from Ash Wednesday and before Eastern Sunday where praying, fasting and giving of alms are observed to commemorate the passion, death, and resurrection of Jesus Christ.
According to Rev. Msgr. Jose Marie Amado Delgado of the Archdiocese of Jaro, Ash Wednesday is an important celebration for Catholics as it calls the devotees to unite and repent on their sins
"Ining panahon sang kwaresma nga ginasugdan sang sining Miyerkules sang Badlis, liwat nga nagatawag sa aton agod magtingob kita mamalandong," he said in his homily on Wednesday morning.
Last year, the Archdiocese of Jaro implemented the "no contact" policy in addition to the practice of health protocols such as wearing of face masks and face shield to prevent any possible transmission of the COVID-19 virus.
Instead of the usual marking of the foreheads, small portions of ash were sprinkled on the heads of the churchgoers last Ash Wednesday.
But this year, the Archdiocese of Jaro has foregone the "no contact" policy and the usual cross sign were marked in the foreheads of the churchgoers as a sign of repentance.
Msgr. Delgado also appealed to the devotees to pray for the COVID-19 patients and end of the Ukraine-Russia conflict.  (DG)