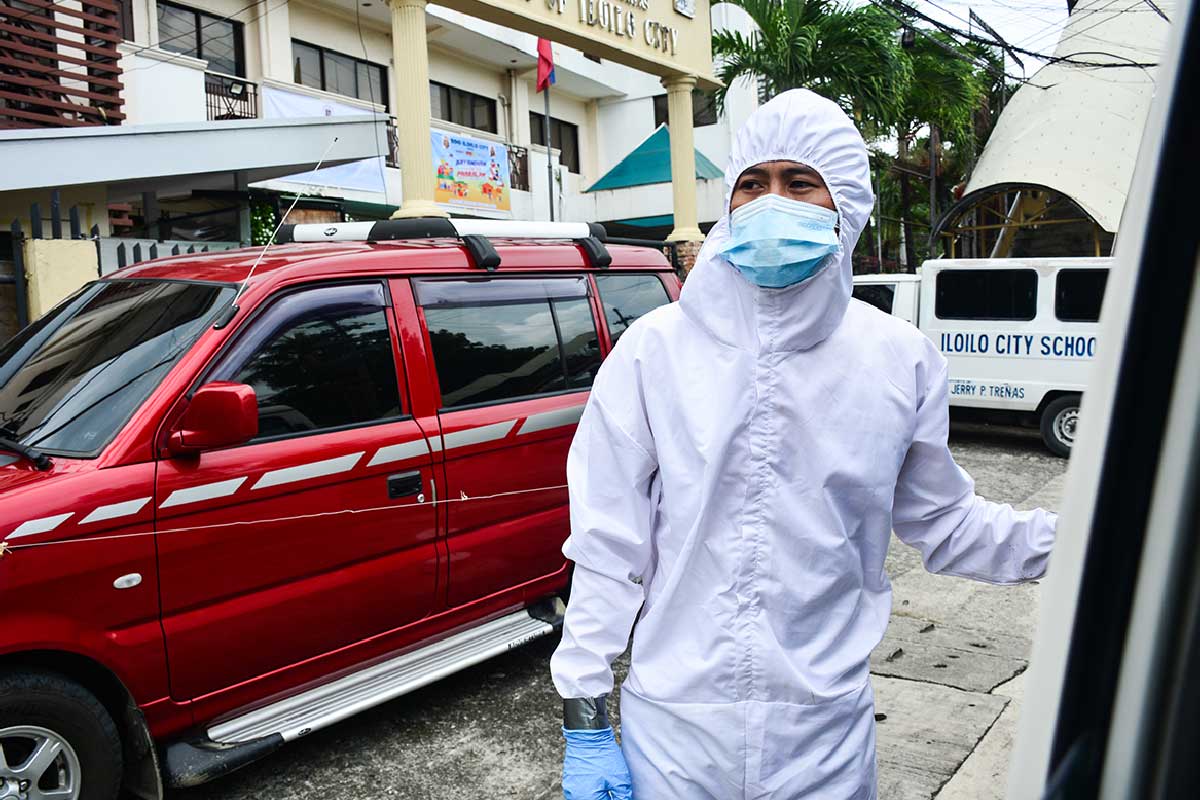 By Joseph B.A. Marzan
The Alliance of Health Workers-Iloilo (AHW-Iloilo) on Wednesday said healthcare workers in the city and province of Iloilo support the Filipino Nurses' United's (FNU's) 10-day "deadline" for additional compensation amid the coronavirus disease 2019 (COVID-19) even if many of them were hesitant to voice out their concerns.
The FNU last Monday started a 10-day countdown against the Department of Health (DOH), saying that the national government must have reviewed the list of healthcare workers who were entitled to benefits like the special risk allowance (SRA).
The countdown was a response to DOH Undersecretary Leopoldo Vega's memorandum to CHDs dated Aug. 21 directing them to grant the benefits under Republic Act No. 11494 (Bayanihan to Recover as One Act or 'Bayanihan 2') within 10 days.
The memorandum also mandated CHDs to send to the central office a list of eligible public and private healthcare workers who were entitled to benefits until last Tuesday, Aug. 24.
RA 11494, which was signed by President Rodrigo Duterte on Sept. 11, 2020, entitles public and private health care workers to a Special Risk Allowance (SRA), life insurance, and Meals, Accommodation, and Transportation (MAT) Allowance.
RA 11519 extended the benefits of RA 11494 up to June 30, 2021.
The President also issued Administrative Order Nos. 35 and 36 to implement two benefits under Bayanihan 2, the Active Hazard Duty Pay (P3,000) and the SRA (P5,000). Both compensations are pro-rated based on the number of working days rendered.
The Active Hazard Duty Pay is entitled to all personnel of hospitals and other health facilities, while the SRA is limited to those who are directly tending to COVID-19 patients.
This was also on top of the hazard allowance mandated by Rep. Act No. 7305 (Magna Carta for Health Workers), which is an additional 25 percent (for those with Salary Grade 19) or 5 percent (for those with Salary Grade 20 and above) to health workers' monthly basic salary.
The FNU told Inquirer.net that 65 percent of its members have not received SRA from September to December 2020, while 88 percent have not received the benefit from December 2020 to June 2021.
'BACK AND FORTH'
According to DOH-Western Visayas Center for Health Development's (DOH-WV CHD's) Regional Accountant Christine Abuzo on Aug. 18, the regional office has transferred P462.06 million for the SRA for Sept. to Dec. 2020, and P221.73 million from Dec. 2020 to April 2021.
Daily Guardian also previously filed a Freedom of Information (FOI) request with the DOH-WV CHD for a breakdown of funds released to the district and provincial hospitals in Iloilo province, but we were referred to the Iloilo Provincial Hospital Management Office (IPHMO).
The IPHMO was also unable to disclose how much was released to their hospitals, and instead referred us back to the DOH-WV CHD.
AHW-Iloilo coordinator Ruth Alinsangao told Daily Guardian on Wednesday that the SRAs have not been released to some of the hospitals. She cited West Visayas State University Medical Center (WVSUMC) in Jaro district which had not received benefits for Dec. 2020 to April 2021.
Alinsangao said she had asked other healthcare workers in private hospitals in Iloilo City such as St. Paul Hospital and the Iloilo Mission Hospital, and they told her that they have not yet received any of their entitled compensation.
She said that the hospitals under DOH (Western Visayas Medical Center, Western Visayas Sanitarium, Don Jose S. Monfort Memorial Medical Center Extension Hospital), have received much of their allowances due to the direct funding from the health department. But health workers were not able to receive them properly because of lack of information.
For district and provincial hospitals in Iloilo province, the payrolls were still being processed but they have not yet confirmed if the workers there have received the payments.
Alinsangao admitted that the AHW-Iloilo had difficulty getting in touch with medical frontliners in the hospitals due to COVID surges.
Some health workers reached by AHW said they had to spend their personal money for their meals, accommodations, and transportation expenses.
As an example, Alinsangao mentioned DOH-WV CHD's direction to hospitals to expand their COVID-dedicated beds, without provision of additional nurses to tend to the beds. Hospitals then resorted to using nurses from non-COVID wards to catch up with this added capacity.
The Iloilo City Government did supply additional nurses to augment these shortages, but Alinsagao said some have not reported to work because they were not getting paid by the city government.
"In a DOH hospital, we talked to one of the healthcare workers there, and they tend to spend more than P1,000 just for their meals alone in one day. All healthcare workers are affected, except for those [hospitals] under the DOH, who were already able to receive, but only did their best to catch up," Alinsagao explained.
As to the FNU's call, she said that healthcare workers including the AHW-Iloilo members were in support of intensified calls and possible strike actions but difficulties in accessibility make it harder for the workers here to raise their voices.
She cited the close distances and the ease in transport accessibility between hospitals and healthcare facilities in Metro Manila, which make it easy for healthcare workers there to join forces and protest.
"In principle and in their selves, Ilonggo health workers support [the FNU's call], but they have hesitation to come out and talk to the media, unlike those in Metro Manila that they are many who can come together and can be vocal. Many have been complaining here too, but they have found it difficult," she said.
Alinsagao said that the DOH must use its financial capability to support hospitals in expanding their respective bed capacities while the end of COVID pandemic was "nowhere near sight".
"The government has to answer to the need. The DOH has money in the budget to solve all of this. Our hospitals have been stretched but understaffed, and the local governments do not have enough to support that for longer periods of time. The pandemic isn't going away soon, and the government, especially the DOH, should answer for these expansions and not throw them to the hospitals, she said.
Daily Guardian also reached out to FNU Iloilo Chapter President Zanita Glenda Plaga, but she had not responded as of this writing.