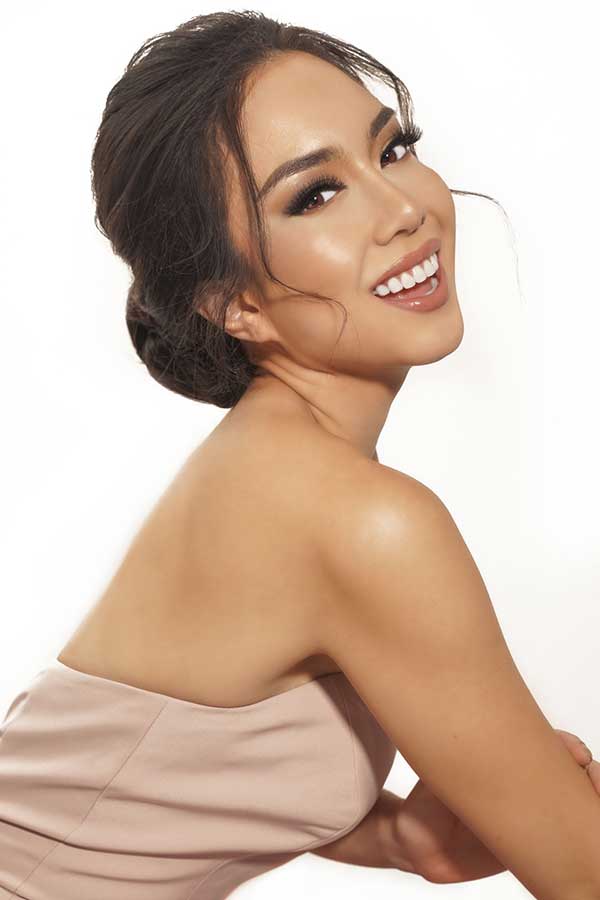 By Joseph B.A. Marzan
Iloilo province's bet to the Miss Universe Philippines (MUPH) 2022 said she is cautiously confident on her journey and mission to bag the coveted crown.
Vanessa Ann Caro, who hails from Calinog town, was revealed to represent the province on Feb 11, 2022 by Manila-based beauty camp Aces & Queens (A&Q).
Caro made it to the first elimination round of the pageant and was announced as part of the Top 50 last Feb. 28.
In a press conference on Monday, Caro said that in a scale of 1 to 10, her confidence in the pageant was at "8".
"Two points are left out because number one, I haven't gotten into the Top 30 yet, and number 2, I think I'd be a '10' when the final night comes," Caro expressed.
Part of her preparations include mental activity, saying that she was praying, staying grounded, keeping herself mentally stable.
"At the end of the day, when I go on stage for the final performance, it's just me myself and I, and while I'm very grateful for my entire team for supporting me, I still need to maintain my sanity," she said.
She said she looks up to Miss Universe 2015 Pia Wurtzbach, who she said "broke the drought" in the Philippine pageant industry.
"From the people that I've worked with, they all say that she's very kind and gracious and loving, and as a titleholder, I think all of us need to be that way as well," she shared.
Her advocacy includes women empowerment and mental health, among other advocacies that she can affect as an empowered woman.
Caro also revealed working with the Panay Bukidnon tribe in Calinog, who she hopes to continue working with if she wins the pageant.
"As empowered women, we're not just supposed to stick to one advocacy. It should be about caring about everything that affects us as women, and everything that we can affect. So, we shouldn't be focused on just one [advocacy] but be well-rounded citizens that care about the entire projection and sustainability that we can contribute to the province," she said.
Her 'glam squad' team is led by renowned Ilonggo designer PJ Arañador, the pageant's accredited partner in the province.
Arañador is joined by fashion designers Totong Gellangarin and Jun-G Candelario, jeweler Regina Espinosa, branding and finishing trainor Dennis Mallada, and socmed creator Jemuel Garcia III, along with other designers, photographers, make-up artists, and other assisting professionals.
Caro is also being trained by A&Q which also helped Miss Universe 2015 Pia Wurtzbach and trained Miss Universe 2018 Catriona Gray during her Miss World 2016 stint.
Her stint is also being supported by the Iloilo Dinagyang Foundation, Inc., whom she had also worked with when she was crowned Miss Iloilo Dinagyang 2016, and her high school alma mater Hua Siong College of Iloilo.
Arañador, who called the Miss Universe pageant as the "Olympics of pageants", said that the team is confident that they may be able to take the crown for the province.
"Our women are known for brilliant minds, and Vanessa has that (sic). When [she] approached me to become a delegate, I did not have a second thought. She is beautiful, elegant, eloquent, charming, and organized. With Vanessa, we are confident she will get the crown," said Arañador.
Caro also visited Iloilo Governor Arthur Defensor Jr. and other provincial government officials at the provincial capitol on Monday.
Defensor gave a recorded message to express their pride and gratitude for her representation of the province.
"Your fellow Ilonggos are very proud of you, and we fully support you in your quest to win the most-coveted Miss Universe Philippines crown," the governor said.
Calinog town mayor Francisco Calvo congratulated and expressed their support for Caro in the competition.
Caro is set to engage in the MUPH's online challenges which will determine her spot in the pageant's Top 30.
"We would like to assure you [Caro] that the municipality [of Calinog] will support you. [Gellangarin] is from Calinog and it would be easier for him to coordinate with us as to the things you probably would be needing from us," the mayor said in his message read by Calinog municipal administrator Rachel Manero.
If successful, Caro would be the second Ilongga to win the crown, after Rabiya Mateo who represented Iloilo City in the inaugural edition of the pageant in 2020.
Other Iloilo province representatives included Kim Chi Crizaldo (2020) and Monica Villanueva (2021).
Miss Universe Philippines 2021 Beatrice Luigi Gomez is set to crown her successor on April 30, 2022.
The MUPH winner will represent the country at the 71st Miss Universe pageant later this year, seeking to succeed Harnaaz Sandhu of India.