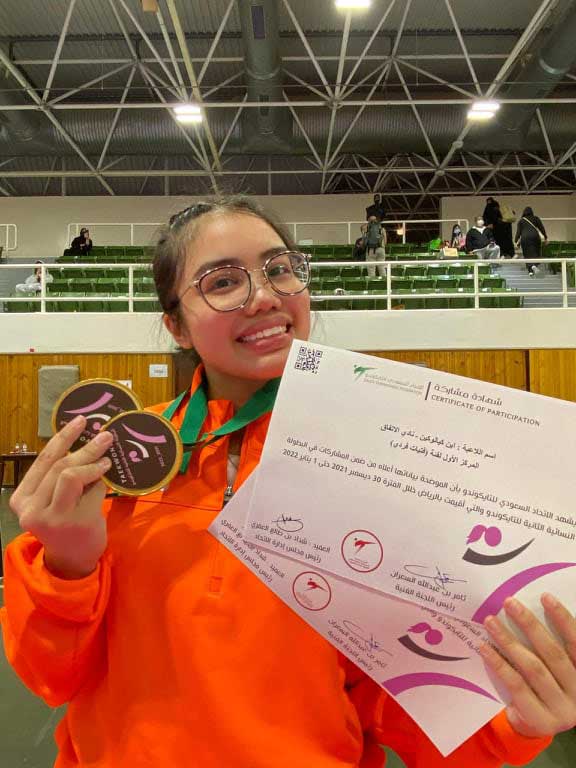 By Leobert Julian A. de la Peña
Ayenne Quialquial, an Ilongga jin training under renowned coach Flora Navales and the A. DIASNES Taekwondo Gym, just shocked the whole world after winning three gold medals during the Second Kingdom Women's Championship held in Riyadh, Saudi Arabia.
Although based in Khobar City, Saudi Arabia, Quialquial is training under the online taekwondo class of Coach Navales, one of the best CPU Golden Lions jins during her time and also a former member of the Philippine national team.
In the Kyorugi category, coach Navales worked hand-in-hand with another Ilonggo legendary taekwondo mentor in coach Alan Diasnes.
Quialquial then took up a private poomsae class under coach Navales to enhance her current skills which paid off bigtime after her recent medal haul.
The star jin dominated the Junior Female Blackbelt division and swept three categories: Individual poomsae, team poomsae, and the 49-kg individual sparring.
During her competition day in Riyadh, coach Jihad Albaharna and coach Rahaf Al-Johi mentored Quialquial.
Quialquial is only one of the few bright prospects in the world of taekwondo and is just 16 years old with a rank of 3rd Dan Blackbelt.