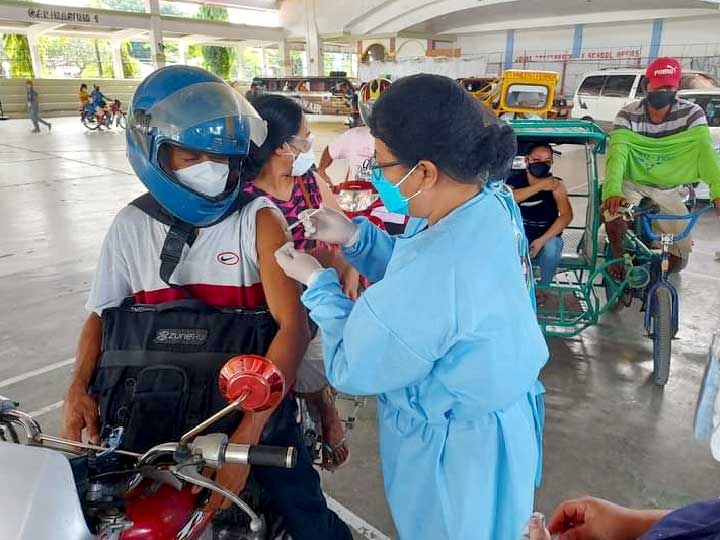 Hundreds of residents of San Joaquin received their COVID-19 vaccines without flocking to inoculation centers after the town piloted the first-ever drive-thru vaccination in the city and province of Iloilo on August 14, 2021.
The project was initiated by former Health secretary and incumbent 1st district Rep Janette Garin.
According to Garin, they conducted the dry-run of their drive-thru vaccination program in the town of San Joaquin particularly at Garinasium 1 in the town's public plaza.
Garin said the goal of the drive-thru vaccination is to minimize mass gatherings and prevent the spread of Covid-19.
"Ginadry-run drive thru vaccination program para indi magtingob ang kasimanwa ta sa isa ka lugar, indi maglaton-laton ang COVID ilabi pa nga may Delta variant kita. Si Lolo, Nanay, Tatay indi mabudlayan magpabakuna kag gasakay lang sa tricycle ukon motor," she explained on her social media page on Saturday.
More than 200 residents of San Joaquin have registered for the dry-run of the drive-thru vaccination roll-out.
Before the actual vaccination, the residents were subjected to an online orientation and medical evaluation and assessment.
"Ang medical evaluation kag assessment ginhimo ta virtual para ang aton interview paagi sa computer kag makita kag maistorya isa isa maskin wara gakit-anay," Garin explained.
Garin personally administered the vaccines to the residents in their cars, tricycles, motorcycles, and other types of vehicle.
As the last part of the process, vaccinated individuals were required to undergo post-evaluation. The post-evaluation stage is located in front of the plaza where the vehicles can temporarily park.
The drive-thru vaccination in San Joaquin is the first in the entire province and city of Iloilo.
Meanwhile, Bacolod City has also started their drive thru vaccination on Sunday at the 5th-floor parking area of Ayala Malls Capitol Central.