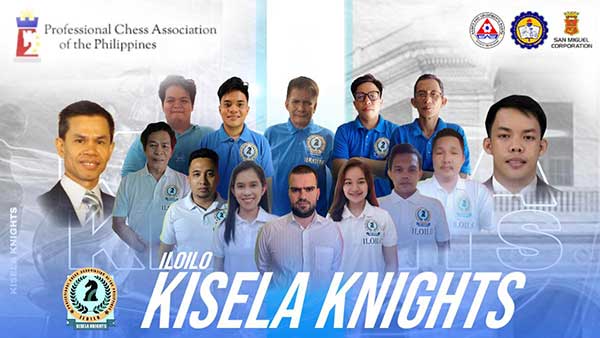 By Leobert Julian A. de la Peña
The Iloilo Kisela Knights fell to the mighty San Juan Predators during the grand finals of the 2021 Professional Chess Association of the Philippines (PCAP) San Miguel Corporation-Ayala Land Premier Association Cup playoffs.
Iloilo failed to win a single set and force Armageddon against San Juan and got swept in just two games, 19-2, 11.5-9.5.
From the get-go, San Juan immediately took full control of the head-to-head matchup after limiting Iloilo to only two points in the first set.
For the first time in this conference, the Kisela Knights failed to score a single playing board in the Blitz category that automatically put San Juan ahead, 7-0.
Despite a good start from GM Rogelio Antonio Jr. in the Rapid category, the rest of the team failed to score and saw themselves in a deep hole after giving the first match, 19-2.
The Kisela Knights finally captured their groove in the second match and were better offensively than their first match performance.
However, despite a strong performance from Iloilo, San Juan still got the victory and edged the Kisela Knights, 11.5-9.5.
It was still a good run for the Kisela Knights after punching their second-straight PCAP grand finals appearance and proved to everyone they are still the no. 1 team in the Southern division.