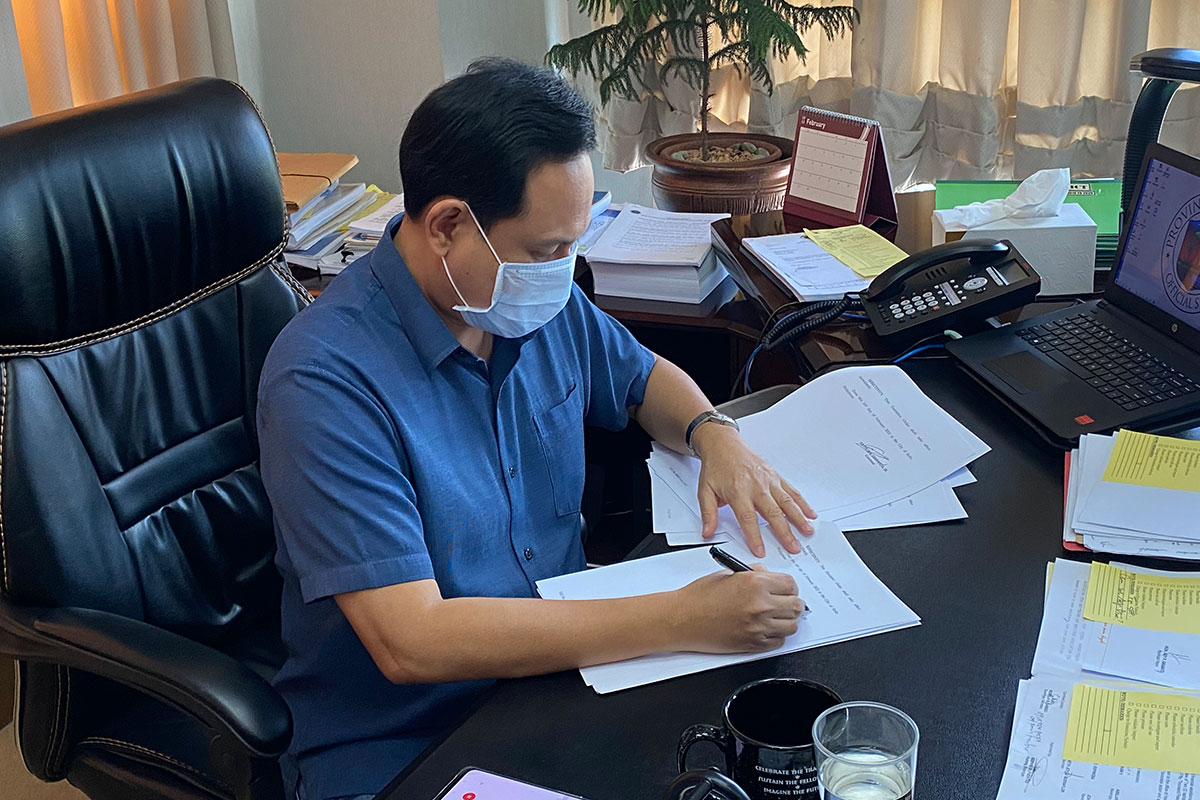 By Joseph B.A. Marzan
Fully vaccinated travelers and children below 5 years old will no longer undergo Reverse Transcription-Polymerase Chain Reaction (RT-PCR) testing for the coronavirus disease 2019 (COVID-19) before entering Iloilo province starting Wednesday, Feb 16, 2022.
The latest protocol is stipulated in Executive Order (EO) No. 040-B which Iloilo Governor Arthur Defensor Jr. issued to extend the province's Alert Level 3 status.
Prior to the new edict, travelers entering Iloilo province, regardless of their vaccination status, were required to present a negative result of their RT-PCR test taken 72 hours or 3 days prior to their scheduled travel.
In lieu of a negative RT-PCR test result as prescribed in Under EO 040-B, travelers must upload a scanned image of their vaccination card, vaccination certificate, or VaxCert as proof of full vaccination.
For children below 5 years old, they would not be required to present or submit any requirements as they are explicitly exempted from the testing rule.
Returning residents are still required to present a valid government ID as proof of residence upon their arrival, and a notice of coordination with their local government unit (LGU).
But both groups will still be subject to close monitoring by their LGUs and Barangay Health Emergency Response Teams (BHERTs) for 10 days from their arrival. If they show symptoms within that period, they shall be admitted into facilities for quarantine and treatment until their recovery.
Non-resident travelers are also required to coordinate with the LGU where they will be staying in and will be subject to protocols and quarantine procedures implemented by accommodation establishments or monitoring by LGUs if they are not staying in such establishments.
Defensor told Daily Guardian on Wednesday that he was supposed to issue the new edict on Tuesday, but he instead waited so they could validate the protocols set by the national government before making any actions.
"We will remove the RT-PCR requirements for fully-vaccinated travelers for inbound travel. We also exempted those below 5 years old because they cannot get vaccinated yet. It is also an incentive so that people who come here [partially vaccinated and unvaccinated] can also get vaccinated here," the governor said.
LIQUOR BAN
The governor also issued EO No. 002-C which also extended the ban on serving of alcoholic drinks and other related beverages in food and other high-risk establishments.
Defensor stressed that the extension of the prohibition was to ensure that people can take off their masks safely in places where they are allowed to.
"That is a risk reduction measure that we need because we take off our masks in restaurants. That is only few of the places where we allow people to mask off. It is even riskier than a meeting with many people," he said.
But he also clarified that the sale of alcoholic drinks for private consumption in households are still allowed.