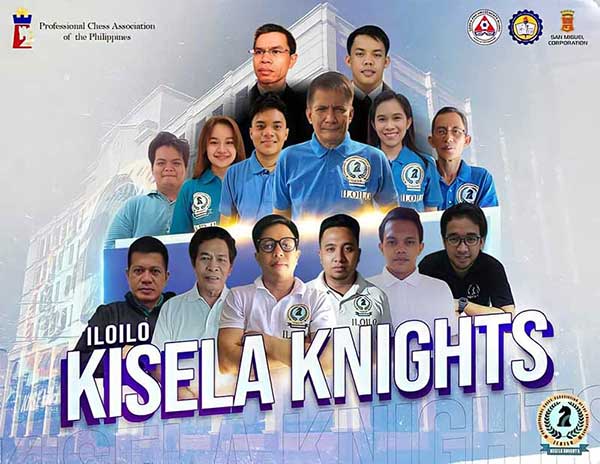 By Leobert Julian A. de la Peña
The Iloilo Kisela Knights extended their winning streak to nine and are still undefeated in the ongoing 2022 Professional Chess Association of the Philippines (PCAP) Wesley So Cup.
Iloilo continued to roll and earned another game-day sweep after demolishing Cagayan De Oro, 16-5, and Palawan, 16.5-4.5.
Fresh off tightly-contested wins against Camarines-Iriga and Toledo, the Kisela Knights are back to dominating their opponents and were just the clear winners from the get-go of their June 4 PCAP schedule.
The Kisela Knights immediately found their offensive rhythm against Palawan after grabbing the huge 6.5-0.5 lead in the first seven playing boards.
Iloilo's offensive onslaught continued in the rapid category as GM Hovhannes Gabuzyan and NM Fritz Bryan Porras kicked off the match with a 4-0 run.
However, Palawan's WCM Christy Lamiel Bernales countered with a win to get her squad back on track but GM Rogelio Antonio Jr. retaliated for Iloilo after winning board no. 4.
The Kisela Knights then closed the show after sweeping the last two playing boards courtesy of NM John Michael Silvederio and Mark Jossel Mariano.
It was the same story against Cagayan De Oro as Iloilo again pulled off a massive 6-1 score in the first seven playing boards.
Despite dropping board no. 3 and 4 in the rapid category, Iloilo stormed back and won the last four boards to establish a 10-4 score in the last seven playing boards.
GM Antonio Jr. led Iloilo with back-to-back board wins backstopped by the heroics of NM Rolly Parondo Jr., NM Fritz Bryan Porras, and NM Silvederio.
With another sweeping game day, the Kisela Knights are now 9-0 in the ongoing tourney and are still the no. 1 team in the Southern Division.