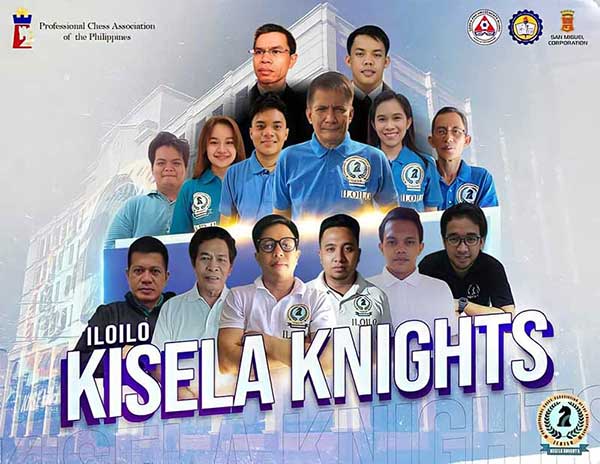 By Leobert Julian A. de la Peña
The Iloilo Kisela Knights pulled off a clutch run against Tacloban to oust them in the ongoing 2022 Professional Chess Association of the Philippines (PCAP) Wesley So Cup and clinched another semifinal seat.
Despite a dominating first encounter against Tacloban, the Kisela Knights needed an Armageddon tiebreaker round to fend them off after losing the second match.
Iloilo immediately pounced on Tacloban in their opening duel and crushed them 20-1, and was bound for another convincing PCAP match day.
Tacloban's lone score came in the blitz category after Remegio Galenzoga outdueled NM Rolly Parondo Jr. in the fifth playing board.
The Kisela Knights bounced back and handed Tacloban a disappointing 14-0 sweep in the last seven playing boards and were only one series away from another semifinal trip.
However, Tacloban found its lost touch in the do-or-die Game 2 and countered with their own offensive scheme that put the pressure back on Iloilo.
Iloilo led 4.5-2.5 after the blitz category but Tacloban came roaring back during the rapid and outscored the Kisela Knights 11-3.
GM Hovhannes Gabuzyan, GM Rogelio Antonio Jr., and Karl Viktor Ochoa led the Kisela Knights' charge during the Armageddon round and went against the Tacloban trio of Jimmy Ty Jr., Norman Jasper Montejo, and Galenzoga.
The Kisela Knights then wasted no time finishing the series and dealt Tacloban a 3-0 sweep to set up a highly-anticipated semifinal duel against the Toledo City Trojans.