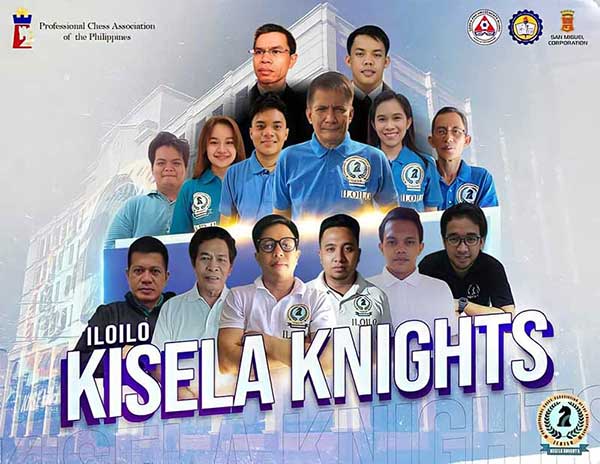 By Leobert Julian A. de la Peña
The Iloilo Kisela Knights maintained their place as Southern division's best team after racking another back-to-back winning match day in the ongoing 2022 Professional Chess Association of the Philippines (PCAP) Wesley So Cup.
With the twin wins, the Kisela Knights just notched their eighth-consecutive win in the tournament and improved their win-loss record to 29 wins and two losses.
Iloilo was fresh off a stellar match day against Toledo and Surigao and continued their surge after asserting their master over Cagayan De Oro, 20-1, and Camarines-Iriga, 16-5.
It was an overwhelming outing for the Kisela Knights against Cagayan De Oro after taking full control of all the 14 playing boards.
The Kisela Knights held Cagayan De Oro to just a point after the blitz category, 6-1, and sent the final blow in the last seven playing boards after sweeping them, 14-0.
Iloilo's performance against Cagayan De Oro became one of their best offensive outputs this year and brought their momentum against Camarines-Iriga in the very next game.
As in their match against Cagayan, the Kisela Knights displayed the same offensive ferocity in the blitz category against Camarines-Iriga.
However, the opposing team showed fight in the first seven playing boards and managed to pull themselves within a point, 4-3.
The Kisela Knights then opened the rapid category with two-straight wins courtesy of GM Hovhannes Gabuzyan and Karl Viktor Ochoa and was followed up with a game-sealing four-board winning streak.
Iloilo will only have three remaining games in the last round of the elimination phase before the start of the playoffs.