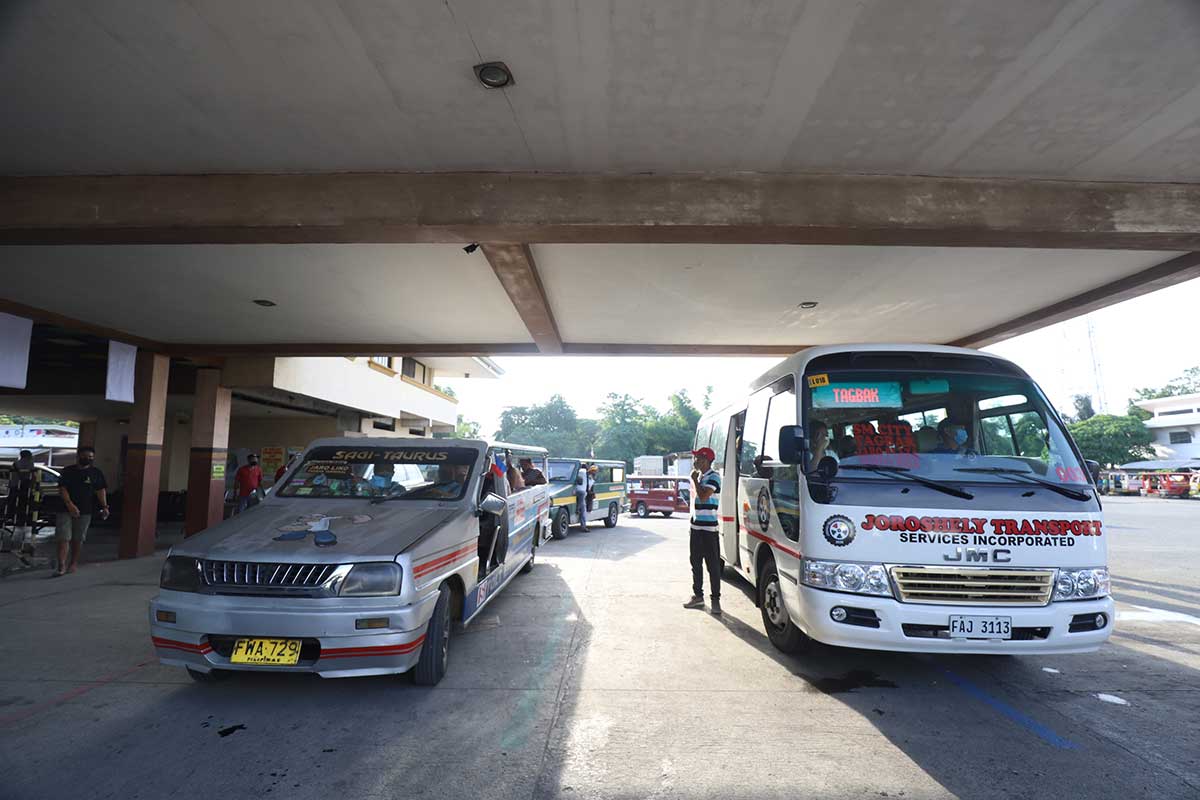 By Joseph B.A. Marzan
Officials in Iloilo province hope that there would be "harmony and clarity" in the next few weeks and even months on new transport route policies, after the difficulties identified during the initial implementation of Iloilo City's Local Public Transport Route Plan (LPTRP).
Pavia town councilor Jose Maria "Pyt" Trimañez, chairperson of their Sangguniang Bayan's transportation committee said that there was basic confusion over the implementation of the city's LPTRP.
"We made a plan in the past week, but at the time, it wasn't able to catch up with the June 12 and 13 implementations [of the Iloilo City LPTRP]," Trimañez told Bombo Radyo Iloilo.
"On June 13, we had observations that we need to change our agreement last week. I believe that it is clearer to us because we identified where the passengers alight in Pavia, and what to ride in Iloilo City," he added.
Trimañez also said that he was told by residents that the situation on Wednesday, compared to Monday, had already improved.
He said that they are open to implement adjustments that must be made to harmonize the implementation of the city's LPTRP.
"There are improvements, and hopefully whatever needs to be adjusted, [Pavia] is open, Iloilo City [may be] open," the lawmaker stated.
"We are positive because we were able to identify concerns and challenges in the previous days, and we were able to implement where Pavia residents can ride and alight. Hopefully, we would be able to solve [further] the challenges we experienced," he added.
PROVINCIAL ROUTE PLAN
Iloilo Provincial Planning and Development chief Mario Nillos also confirmed on Wednesday that they were already able to submit their LPTRP to the Land Transportation Franchising and Regulatory Board.
There are 8 inter-area routes proposed by the provincial government under its LPTRP, travelling vice-versa, including:
-Oton-Santa Barbara-Leganes;
-Poblacion Oton-Iloilo International Airport (point-to-point);
-Oton-Santa Barbara-Zarraga-Dumangas Port;
-Tubungan-Iloilo City (Mohon Terminal via Leon);
-Passi City-San Enrique-Anilao-Barotac Nuevo-Dumangas;
-Tubungan-Igbaras-Miagao-Iloilo City (ITGSI via C1 Road);
-San Miguel-Cabatuan; and
-Barotac Viejo-San Rafael.
Nillos said that based on the national government's edicts in relation to the LPTRP, the provincial plan should only be implemented within its administrative boundaries.
This means that the routes going to Iloilo City, which has a separate administrative body from the province, are expected to terminate at the Pavia People's Terminal and the Mohon Terminal, which is already within the city's Arevalo district.
"When we look at it, the connectivity of passengers going to and from the city go through the province. Our mandate is that the routes should be within the administrative boundaries, that's why [under] the Iloilo City [LPTRP], provincial jeepneys terminate at the designated terminals, except at [Pavia People's Terminal and ITGSI Terminal in Ungka]," Nillos explained.
He added that inter-town routes were based on financial viability of the cooperatives, who also provided input on them, to operate on these routes, among others.
"One of the factors we were looking at is the financial viability of the cooperatives because, if they are only in a short distance, it would not be financially viable. So we have chance to the routes to extend," Nillos explained.
"The cooperatives themselves suggested [the routes]. If there were one or two cooperatives granted franchises for these routes, then they would be the ones to agree on the number of units to operate from their respective sides, so that there would be a win-win situation. The consultation here had been extensive, with transport groups [from the 1st to 5th districts]," he added.
The Iloilo City LPTRP, which started implementation last Sunday, June 12, prohibited the operation of jeepney routes from the towns of Leganes, Oton, Pavia, and San Miguel into the city streets.